Listen to this article
In an exciting and prestigious partnership, WOW Resorts has teamed up with the esteemed JW Marriott to unveil a truly remarkable project in the heart of Al Marjan Island, Ras Al Khaimah (RAK), UAE. The JW Marriott Al Marjan Island Resort & JW Marriott Residences Al Marjan Island is set to become a beacon of luxury and opulence, with an estimated value of USD 1.3 billion upon completion.
A Monumental Collaboration
This collaboration between WOW Resorts and JW Marriott marks the birth of the first JW Marriott-branded resort and residences on Al Marjan Island, a cherished destination for tourists and investors alike. The project is expected to attract over five million visitors annually, further enhancing the island's reputation as a global hotspot for tourism and opulent living.
An Architectural Masterpiece
Described as an "architectural masterpiece," this project is the brainchild of celebrity Beverly Hills Architect Tony Ashai, in collaboration with Dubai-based Lead Consultants Architecture Design Unit (ADU). The blend of international expertise and local inspiration promises a structure that will captivate the world.
Opening Doors in 2026
Anticipated to open its doors towards the end of 2026, the JW Marriott Al Marjan Island Resort & JW Marriott Residences Al Marjan Island will mark WOW Resorts' debut in the UAE's Northern Emirates. With over two and a half decades of experience in crafting hospitality and real estate projects across North America, WOW Resorts is poised to redefine the essence of hospitality and residential opulence.
Exquisite Haven for All
This extraordinary property is designed to cater to a wide audience, including aspiring homeowners, discerning globetrotters, nature enthusiasts, and aficionados of aquatic sports. It promises to be an exquisite haven where luxury resort living meets the beauty of nature.
An Exclusive Portfolio
The project comprises an exclusive portfolio of 524 residences, ranging from 1-bedroom to 4-bedroom residences and luxurious penthouses. Additionally, it features 300 meticulously appointed guest rooms that offer a glimpse into a world of comfort and luxury.
Breathtaking Ocean Views
Nestled against the backdrop of breathtaking turquoise waters, the JW Marriott Al Marjan Island Resort & JW Marriott Residences Al Marjan Island provide uninterrupted vistas of the vast ocean. The allure of these views is simply irresistible.
Culinary Delights Await
For culinary enthusiasts, the property boasts a curated selection of seven distinctive dining venues, ensuring that every palate is satisfied.
Relaxation and Wellness
Guests and residents can look forward to an indulgent spa, refreshing pools, and a state-of-the-art fitness center, all aimed at providing relaxation and rejuvenation.
Convenient Accessibility
Positioned conveniently, the property is just a leisurely thirty-minute drive from the RAK airport and less than an hour's journey from the Dubai International Airport. This ensures easy accessibility for residents and visitors, making it a sought-after destination.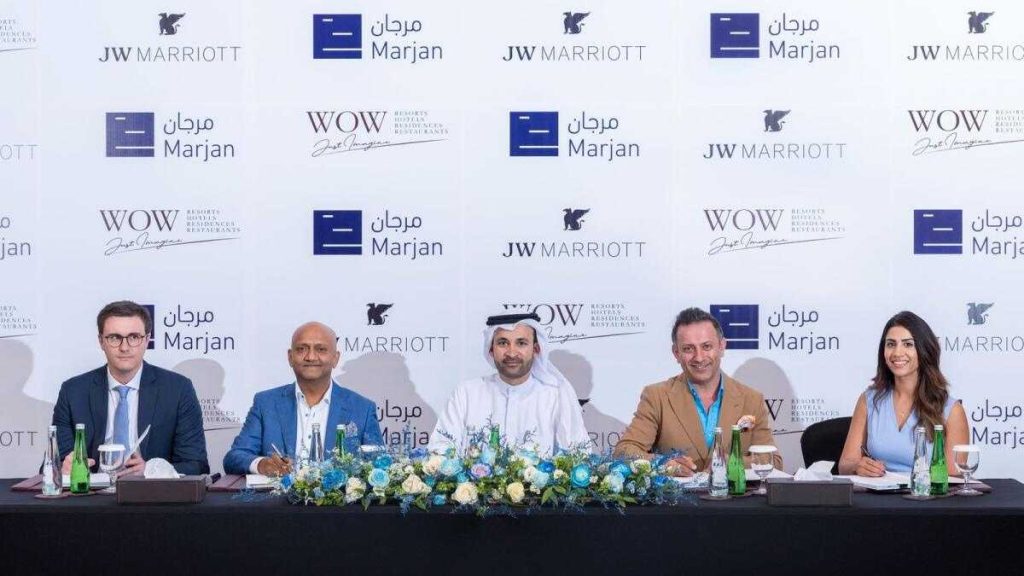 Gratitude for a Prestigious Partnership
Anwar Ali Aman, Co-Founder & Co-CEO of WOW Resorts, expressed his gratitude for the prestigious partnership, acknowledging the privilege of working with Marriott International and Al Marjan Island on this flagship project.
A New Chapter Begins
Bhupender 'Bruce' Patel, Co-Founder & Co-CEO of WOW Resorts, sees this collaboration as the beginning of a new chapter in their journey. With the rising demand for waterfront living, their commitment to enhancing the experiences of guests and residents is unwavering.
Unparalleled Living Experiences
Arch. Abdulla Al Abdouli, Chief Executive Officer of Marjan, shared his delight at welcoming JW Marriott and WOW Resorts to their flagship development. He believes that the luxury offerings of JW Marriott Al Marjan Island Resort & JW Marriott Residences Al Marjan Island will enhance investment opportunities and the appeal of waterfront living in prime leisure hubs.
A Truly Unique Project
Jaidev Menezes, Regional VP, Mixed-Use Development EMEA for Marriott International, described the project as truly unique. He emphasized that it will provide an unparalleled experience for both visitors and residents. With stunning beaches, luxurious outlets, and world-class amenities, Al Marjan Island is quickly becoming one of the most sought-after destinations globally.
Bright Prospects for Ras Al Khaimah
Ras Al Khaimah, particularly Al Marjan Island, has been witnessing consistent and steady demand for residential and tourism developments. This indicates a promising future for real estate investment opportunities in the northern emirate. The sustainable growth in Ras Al Khaimah's real estate market and the allure of waterfront living experiences have attracted investors from across the globe, solidifying Al Marjan Island's status as an investment and lifestyle destination.
This collaboration between WOW Resorts and JW Marriott has undoubtedly set the stage for a new era of luxury living and tourism in the UAE. The JW Marriott Al Marjan Island Resort & JW Marriott Residences Al Marjan Island promises to be a remarkable addition to the region, combining opulence, natural beauty, and world-class hospitality in an unparalleled setting. As the project moves towards its grand unveiling in 2026, it beckons investors and travelers from around the world to experience the very best that Ras Al Khaimah has to offer.