Listen to this article
Every care is taken to create a relaxing and stress-free stay at the 4-star BM Beach Resort in Ras Al Khaimah. Whether you are a family looking for space, safety and privacy, a couple seeking a luxurious romantic getaway, or a large group needing several ocean rooms to accommodate your entire party, this modern BM beach resort in RAK is the perfect accommodation for you.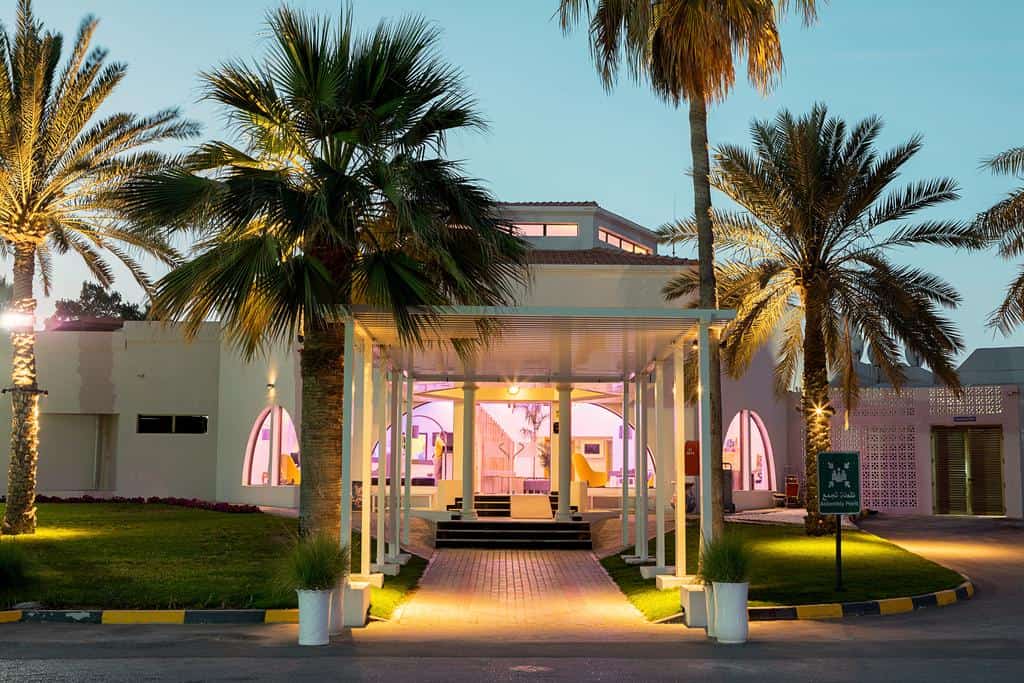 Nestled between the coast and the hills of Ras Al Khaimah, this ultimate staycation destination occupies a prime position on a long stretch of private beach.
Sprawling across a sandy 500 meter stretch of private beach with a view of Marjan Island, The BM Beach Resort offers a relaxing and stress-free stay in Ras Al Khaimah. With 253 chalets and cabanas, all guests can enjoy three different resort pools, diverse dining options, beachside bars, and unparalleled views of the Arabian Gulf. Perfect for couples looking for a romantic getaway, large groups looking for fun and sun, or parents looking to relax while their kid's frolic. BM Beach Resort RAK is also dog-friendly, making it ideal for weekends away with your K9 friend. Book now to experience leisure by the beach, the BM way.
BM Beach Resort RAK (Ras Al Khaimah) features 3 separate swimming pools and offers a range of recreational activities including tennis, volleyball, and water sports.
Enjoy the beauty of gulf (Al Khaleej) in Ras Al Khaimah, with one of the best hotels by Bin Majid Groups in Ras Al Khaimah. Book your stay now at the lowest online rates on the official website of Bin Majid Hotels and Resorts, Ras Al Khaimah
Rooms overview
Whether you're looking to unwind, celebrate, or spend time with the people you love — The BM Beach Resort RAK offers a wide range of accommodations with ultimate comfort. Their 253 cabanas and chalets all overlook either the pool or beach while still maintaining a feeling of privacy and tranquillity. Each room is equipped with a minibar, safe, free WIFI, satellite TV, air conditioning, and several other amenities.
CABANA KING OR TWIN ROOM
Their spacious Cabana Rooms measure an impressive 34 square meters and are set in a beautifully landscaped garden by the pool. With an array of modern amenities, these 33 classic rooms come with the choice of king-size or two twin beds.
STANDARD KING OR TWIN CHALET
Their Standard Chalet Rooms offer a spacious feel and spectacular views. Overlooking the pool, these 34 square meter rooms feature a private balcony and outdoor furniture to make the most of your stay. Choose between a king-size or two twin beds.
STANDARD TRIPLE CHALET
With a queen-size and a twin bed each, the Standard Triple Chalets accommodate up to three. Overlooking the pool, these 34 square meter rooms feature a private balcony and outdoor furniture to make the most of your stay.
DELUXE KING OR TWIN CHALET
Making up our dog-friendly 84 room residential block, the Deluxe Chalets measure 38 square meters each and feature a private, furnished balcony or patio. Amongst luxurious amenities, you are guaranteed a great view and the choice of either a king-size or two twin beds. Sprawled across the resort, these rooms overlook lush gardens, one of our three swimming pools, or the beach. Fun for both you and your four-legged friend.
PREMIUM KING OR TWIN CHALET
The Premium Chalets provide cosy comfort and charming views. Elegantly designed and furnished, these 34 square meter rooms are located on the ground and first floors — providing easy access to the beach. Each of these 48 chalets come with a balcony or patio and the choice between a king-size or two twin beds.
EXECUTIVE CHALET
Discover luxury by the sea by choosing one of our eight Executive Chalets. Stretching across 69 square meters, these spacious chalets feature a master bedroom with a king-size bed, a separate living room, and a large terrace or patio with outdoor furniture. Indulge yourself with extensive amenities, incredible views, and unparalleled service.
F&B OUTLETS
CUCINA
Catch the sunset, have a sundowner and indulge in an authentic Mediterranean dining experience. Located by the beach, Cucina is complete with a simple and relaxing garden seating where you can indulge in refreshing cocktails, and a culinary journey that takes your taste buds through an illusion of different flavours delivered to perfection. This is where you celebrate life's special moments.
OASIS
Explore flavours from around the world and service beyond compare at Oasis. With ample buffet and à la carte options, there's something for everyone at this laid-back spot. Open for breakfast, lunch, and dinner.
COCONUT GROVE
Escape the bustle of the city and immerse yourself in the rustic beach feel of Coconut Grove. Located on our private beach, this chic spot is the perfect place to get your toes in the sand and watch the waves crash. Enjoy inspired dishes and lounge beats with friends or sip on handcrafted cocktails as you laze on hammocks; the options are endless.
MADISON
Madison Sports Bar is your go-to hub for watching live sports broadcasts, playing bar games, or spending time with friends and family. Madison is the ideal place for conversation and cocktails with an extensive menu and daily happy hour. Bonus: it also has a dog-friendly garden!
WAIKIKI
Guaranteeing that you'll never have to leave the pool, Waikiki is a swim-up bar that serves refreshing snacks, fresh juices, cocktails, and iced drinks. With a friendly staff and quick service, pool days couldn't be more convenient.
CABANA
Located in the middle of a lush garden and by the pool, Cabana's location calls for excellence. And its relaxed feel and curated menu deliver. The laidback bar is open daily and serves a vast array of cocktails and spirits. Stop on by if you're looking to sit back and unwind.
ACTIVITIES
WATERSPORTS
With access to our 500 meter stretch of private beach, all guests have the option to partake in a variety of water sports organized by the resort. Pick your adventure: jet skiing, water skiing, sup board rides, kneeboarding, doughnut rides, kayaking, banana boats, sea scooters, and more.
POOL
Enjoy a refreshing dip and top up your tan at one of their three resort pools: one located right by the Cabana bar — adults only, one with integrated slides — great for kids, and one with the Waikiki swim-up bar — fun for all.
GYM
If you're looking to stay fit during your stay, visit TechnoGym. Equipped with high-grade cardio and strength machines, this gym is for all fitness enthusiasts, trainers, and guests alike.
FITNESS & SPORTS CLASSES
If you prefer to get your exercise with some company, sign up for one of their many fitness and sports classes. Led by trained professionals, these group sessions run daily from 9:00 a.m. to 5:00 p.m. Choose from a wide array of options: volleyball, water aerobics, step aerobics, yoga, boccia, Zumba, and more.
EVENING ENTERTAINMENT
The fun doesn't have to end when the sunsets. Join us every night from 8:00 p.m. to 11:00 p.m. on the beach for an array of evening entertainment. The lineup includes live music and dance performances, fire shows, DJ sets, comedy shows, and more. Non-resort guests are welcome to join with a minimum spend of AED 50.
KIDS ENTERTAINMENT
Travelling as a family and want to ensure your kids have as good of a time as you? Want some alone time but need to know they'll be safe and taken care of? Simply drop them off at the Kids Entertainment centre. With trained staff and several planned activities, we ensure they'll be in the best of hands.
DOGCATION
Planning a staycation with your furry friend has never been easier. BM Beach Resort RAK is proudly dog-friendly, offering a variety of services to ensure a pleasant stay for both you and your pooch. Upon check-in, you'll be shown to your room in our dog-friendly block: complete with private outdoor areas, no-leash zones, and a bar with treats for both canines and humans alike. They also have a dedicated dog beach where dogs can run free, as well as additional services like grooming and pet care.
BEACH & POOL ACCESS
Available to guests and visitors alike, the Beach and Pool Access pass offer ultimate flexibility, fitness, and fun. For just AED 99, you're able to visit our three resort pools and 500 meter stretch of beach, plus take advantage of their fitness and sports classes. If you're looking to sit by the pool and sip on cocktails, they've got you covered — at AED 150, you get a day pass with unlimited beverages from 11:00 a.m. to 5:00 p.m. And if you're looking to bring your canine friend with you, look no further. Dog day passes are available for just AED 100.
Latest Offers at BM Beach Resort
Coconut grove beach bar
operation timings: 11:00 pm – 12:00 am
• Shisha with a bottle of beer
AED 80
Daily – round the clock
• Beer Bucket
AED 120
Daily – round the clock
• 5 Pint Heineken
AED 150
Daily – round the clock
Waikiki pool bar
operation timings: 9:00 am – 6:00 pm
• Four of your favourite selected cocktails
AED 110
Daily – round the clock
• Bottle of beer with pizza or burger
AED 60
Daily – round the clock
• Shisha with a bottle of beer
AED 80
Daily – round the clock
Madison sports bar
operation timings: 2:00 pm – 1:30 am
• Four of your favourite selected cocktails
AED 110
Daily – round the clock
• Bottle of beer with pizza or burger
AED 60
Daily – round the clock
• Three-pint beer with any snack
AED 140
Daily – round the clock
Contact and Location of BM Beach Resort
For Inquiries and bookings please call 07 206 7000 /+971 58 205 0052 or email us fo.resort@binmajid.com
---
---
---