Listen to this article
Thousands of people worldwide witnessed the Epic Ras Al Khaimah New Year's Eve Celebrations (RAKNYE 2023) that impressed everyone with amazing fireworks show that smashed 2 Guinness World Records.
Ras Al Khaimah celebrated the start of the new year with an impressive pyro-musical show that broke two Guinness World Records. The city, known for its impressive fireworks displays, put on a memorable performance to ring in 2023.
Which 2 Guinness world records were set by Ras Al Khaimah's new year 2023 fireworks?
Ras Al Khaimah set two Guinness World Records with its New Year's Eve fireworks show. The city used 671 drones to set the record for the largest number of drones used in a simultaneous fireworks display, and 673 drones to create the largest aerial sentence formed by drones. The 12-minute performance featured a stunning pyrotechnic display and impressive fireworks.
Largest Number of Operated Multi-Rotors/Drones with a Simultaneous Fireworks Display
The Largest Aerial Sentence Formed by Multirotors/Drones
The spectacular Fireworks with pyro-musical show
Ras Al Khaimah's New Year's Eve fireworks show was a major attraction for visitors from around the world. The show featured state-of-the-art drones, nano lights, and a choreographed pyrotechnic display. Covering a distance of 4.7 km and reaching a height of 1,100 meters, the show set a new record for the largest number of drones used in a simultaneous fireworks display, with a total of 671 drones.
The show ended with a message saying "Happy New Year 2023," followed by a transition into the emirate's iconic "RAKashida" logo. The logo, inspired by the "kashida" concept in Arabic calligraphy, represents the emirate's three natural elements: the sea, desert, and mountains.
Commenting on this year's world record-breaking fireworks show, Raki Phillips, Chief Executive Officer of Ras Al Khaimah Tourism Development Authority, said: "Ras Al Khaimah has once again proven its position as a leading tourism destination that welcomes people from all over the globe. Not only have we set two new Guiness World Records titles for our #RAKNYE2023 celebrations, but we've also given thousands of visitors and residents a New Year's Eve show that they'll never forget."
What is a pyro-musical show?
When it comes to fireworks, A Pyromusical is as good as it gets. Pyro musicals are the future of fireworks displays worldwide which means ability to execute spectacular fireworks displays to music.
These breathtaking fireworks displays are choreographed perfectly in sync to chosen music or medley, making them truly unique.
The State of the art firing system will shoot the fireworks to the beat, rhythm and tempo of the music. This is all made possible by the use of specially designed 3D choreography software to create a mesmerizing and goose bump atmosphere for patrons to enjoy.
Also read: Previous Records broken by Ras Al Khaimah Fireworks
Ras Al Khaimah New Year 2023 Fireworks Preparation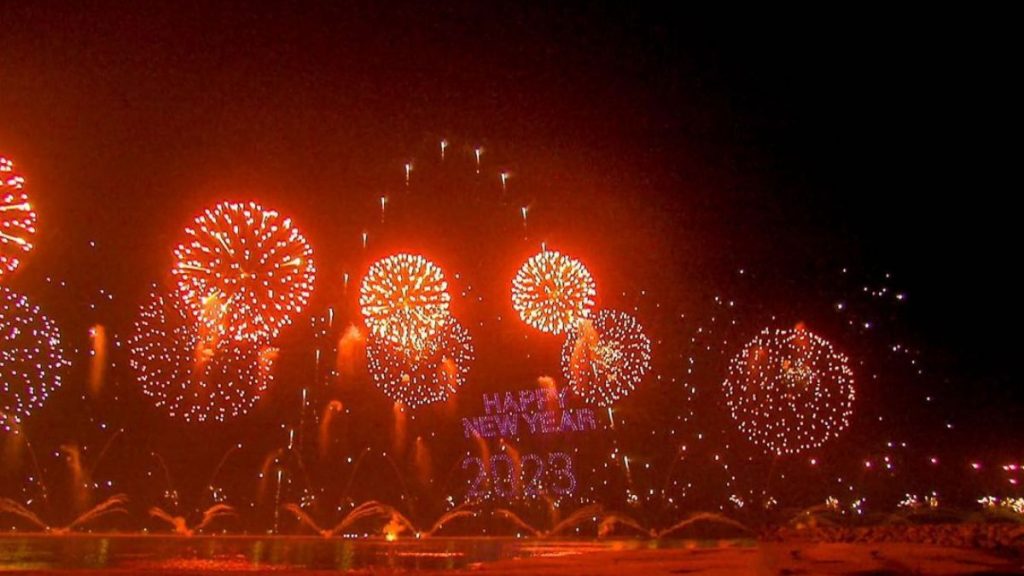 Over 5 000 hours of effort went into the preparations for the event which also included the deployment of more than 130 sea pontoons as well as hundreds of drones that pyrotechnics.
More than 670 drones lit up the sky, while fireworks, nano lights, colour and shapes ensured a dramatic display. The previous record was for 458 drones.
The Ras Al Khaimah City Fireworks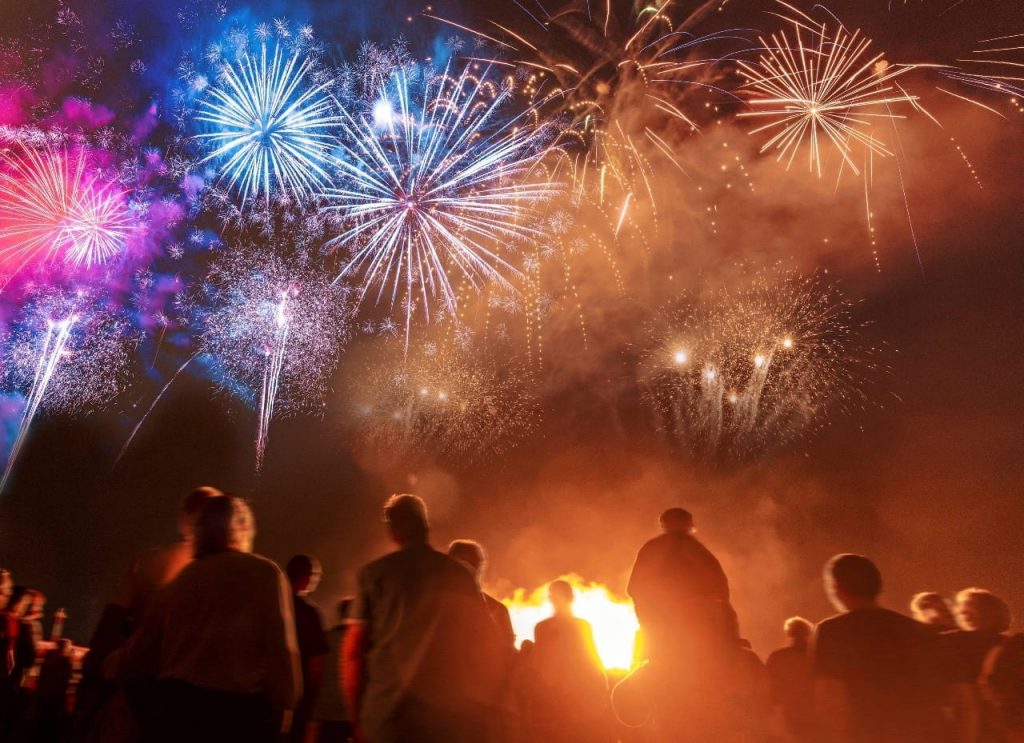 On new year's Eve, the city side of Ras Al Khaimah witnessed spectacular fireworks on the coast of Hilton Ras Al Khaimah Beach Resort.
The New Year Public Event in Ras Al Khaimah
The New Year's Eve celebrations in Ras Al Khaimah were part of a family-friendly festival held on Al Marjan Island. The festival included a concert, carnival-like performances, karaoke, and food trucks. The event was attended by 30,000 visitors and hotels across the emirate were fully booked, according to a statement from Visit Ras Al Khaimah.
In recent years, Ras Al Khaimah has made a tradition of breaking world records with its New Year's Eve fireworks shows. last year, it has set the record for the highest altitude multirotor/drone firework display and holds the records for the most unmanned aerial vehicles launching fireworks simultaneously and the longest fireworks waterfall.