Listen to this article
Welcome to the ultimate guide to Skate Park Ras Al Khaimah, the adrenaline-pumping hub for skateboarders, rollerbladers, and BMX bike riders. Located at Saqr Park, this skate park is a haven for thrill-seekers and sports enthusiasts alike. In this comprehensive article, we will explore the fascinating features of Skate Park Ras Al Khaimah, its state-of-the-art facilities, and the exhilarating experiences it offers to visitors of all ages and skill levels. Get ready to dive into the thrilling world of skateboarding in Ras Al Khaimah!
Skate Park Ras Al Khaimah: Where Adventure Begins
Unveiling the First of Its Kind
Situated within the beautiful Saqr Park, Skate Park Ras Al Khaimah is a groundbreaking facility that made its mark as the first skate park in the region. Spanning an impressive 620 square meters, this skate park stands as a testament to the region's growing skateboarding culture and passion for extreme sports.
A Unique Blend of Nature and Thrills
What sets Skate Park Ras Al Khaimah apart is its stunning location within a ghaf tree reserve. As you shred through the ramps and obstacles, you'll be surrounded by the natural shade and serenity of the park's lush greenery. It's a perfect fusion of nature's tranquility and the heart-pumping excitement of skateboarding.
Designing the Ultimate Playground
The design of Skate Park Ras Al Khaimah was entrusted to the renowned team at Hardcore Skateparks, who expertly crafted a playground that caters to every skater's desires. From bowls to pyramids, ledges to banks, and round rails to test your skills, this park offers a diverse range of obstacles for riders to conquer and showcase their talents.
Opening Doors to Epic Performances
Since its official opening by the Ras Al Khaimah Tourism Development Authority in February 2020, Skate Park Ras Al Khaimah has become a hotbed for incredible performances by world-class skateboarders. The park has played host to renowned international names such as Isabelly Avila, Garcia Rodriguez, and Virginia Fortes Aguas, who have graced the ramps with their awe-inspiring skills and jaw-dropping tricks.
Workshops: Learn from the Best
Skate Park Ras Al Khaimah not only provides a thrilling experience but also offers workshops where beginners and enthusiasts can learn key techniques, skills, and tricks. Led by experienced instructors, these workshops are a fantastic opportunity to hone your skateboarding abilities and take your riding to the next level.
Opening Hours and Admission
To ensure everyone can enjoy the thrills of Skate Park Ras Al Khaimah, the park opens its gates from Thursday to Saturday, welcoming visitors from 3 pm to 10 pm. The best part? Admission is absolutely free, allowing you to embrace the skateboarding spirit without breaking the bank.
Saqr Park: Where Fun Knows No Bounds
Beyond Skateboarding: Saqr Park Delights
Saqr Park in Ras Al Khaimah offers much more than just a skate park. It's a sprawling recreational area that caters to the diverse interests of visitors of all ages. From serene green spaces to exciting facilities, Saqr Park has something for everyone.
A Haven for Food Enthusiasts
When hunger strikes, Saqr Park's got you covered. The park boasts a delightful cafe and restaurant where you can grab a bite to refuel after an exhilarating skateboarding session. Additionally, designated barbecue areas allow you to indulge in a delectable outdoor grilling experience, surrounded by the park's vibrant ambiance.
Playtime for the Little Ones
Saqr Park ensures that children have a blast with a dedicated playground that sparks their imagination and lets them unleash their energy. Equipped with merry-go-rounds, carousels, bumper cars, and more, this playground guarantees endless fun for the little ones.
Peaceful Retreats and Outdoor Activities
For those seeking a tranquil escape, Saqr Park's lush green spaces provide a perfect setting for picnics, relaxation, and family outings. Whether you prefer cycling, jogging, or a leisurely stroll, the park offers ample pathways and scenic spots for outdoor activities that rejuvenate both mind and body. Don't forget to pack your favorite snacks and enjoy a serene picnic amidst nature's beauty.
Open Year-Round for Your Enjoyment
Unlike some seasonal attractions, Saqr Park welcomes visitors throughout the year. No matter the season, you can always count on this expansive park to offer a wide range of activities and facilities for a memorable experience.
Saqr Park's Exciting Kids' Play Areas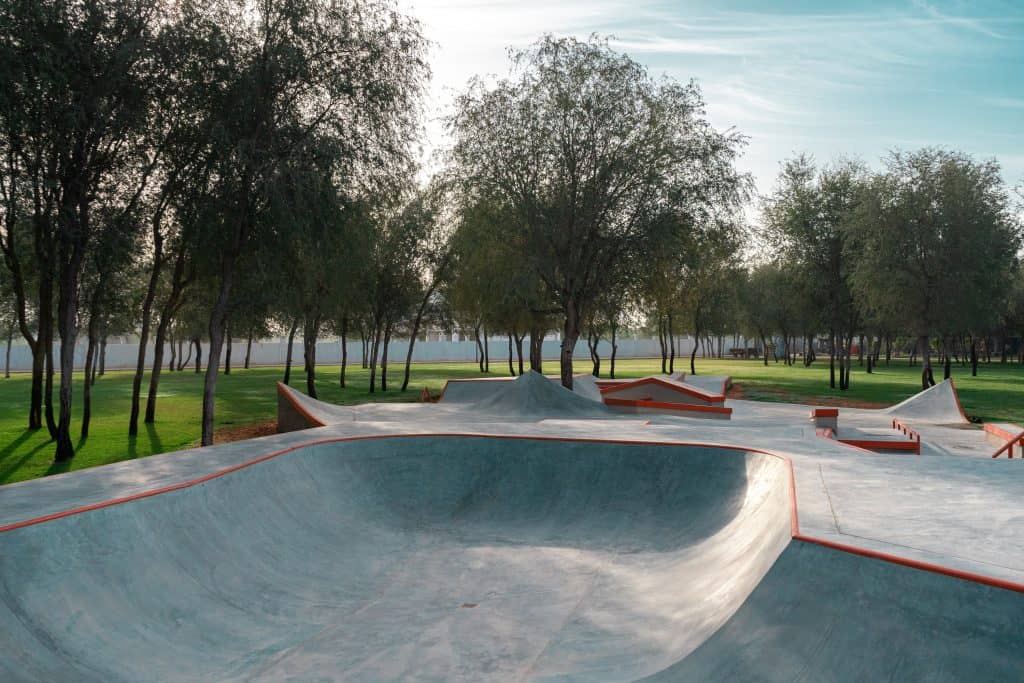 Playful Adventures for the Little Ones
Saqr Park in Ras Al Khaimah boasts captivating kids' play areas that guarantee a world of excitement and adventure. Children can immerse themselves in a variety of rides and attractions designed to bring smiles to their faces.
Thrilling Rides and Endless Fun
The kids' play areas at Saqr Park feature an array of thrilling rides, including merry-go-rounds, carousels, bumper cars, a splash ride, a rollercoaster, and a Ferris wheel. These exciting attractions ensure that children have an unforgettable experience filled with laughter and joy.
A Playground Paradise
Covering an expansive area of 63 hectares (155.68 acres), Saqr Park is the largest public park in Ras Al Khaimah. Alongside the captivating kids' play areas, the park offers abundant green spaces, playgrounds, and a host of other facilities that cater to the needs of families and children alike.
FAQs
Q: Is Skate Park Ras Al Khaimah suitable for beginners?
A: Absolutely! Skate Park Ras Al Khaimah offers sections and ramps specifically designed for beginners. With a supportive environment and experienced staff, beginners can learn and progress at their own pace.
Q: Can I rent skateboarding equipment at Skate Park Ras Al Khaimah?
A: Yes, Skate Park Ras Al Khaimah provides rental equipment for those who don't have their own. You can rent skateboards, helmets, pads, and other necessary gear on-site.
Q: Is there an age limit for using Skate Park Ras Al Khaimah?
A: There is no strict age limit at Skate Park Ras Al Khaimah. Skateboarders of all ages are welcome to enjoy the park. However, children under a certain age may require adult supervision.
Q: Are there any skateboarding competitions held at Skate Park Ras Al Khaimah?
A: Yes, Skate Park Ras Al Khaimah occasionally hosts skateboarding competitions and events. These events provide an opportunity for skateboarders to showcase their skills and compete against other talented riders.
Q: Are there any skateboarding lessons available at Skate Park Ras Al Khaimah?
A: Skate Park Ras Al Khaimah offers skateboarding lessons for beginners who want to learn the fundamentals or improve their skills. Professional instructors provide guidance and support to help you progress in your skateboarding journey.
Q: Can I bring my own food and drinks to Skate Park Ras Al Khaimah?
A: Yes, you are allowed to bring your own food and drinks to Skate Park Ras Al Khaimah. There are also nearby amenities where you can grab a snack or enjoy a meal.
Conclusion
Skate Park Ras Al Khaimah at Saqr Park is a thrilling destination that combines the love for skateboarding with the beauty of nature. From its groundbreaking status as the region's first skate park to the diverse obstacles that challenge riders of all levels, this park offers an unforgettable experience. Saqr Park itself is a haven for families, providing exciting facilities, delightful eateries, serene green spaces, and engaging kids' play areas. Whether you're a skateboarder looking for the ultimate ride or a family seeking a fun-filled day out, Skate Park Ras Al Khaimah and Saqr Park are the places to be. Get ready to embark on a journey of excitement, skill, and cherished memories in the heart of Ras Al Khaimah!
The new skating facility at Saqr Park is a key addition to what is the largest public recreational area in Ras Al Khaimah. Its opening aligns with RAKTDA's mandate to cater to the array of interests of visitors to the Emirate as well as the local community. It offers a well-equipped outdoor space spanning 620sqm for the UAE's growing skating community and guests to face off against a series of obstacles, including a bowl, pyramids, ledges, banks and round rails. The park will enhance Saqr Park's standing as a one-of-a-kind leisure venue and is set to become a hotspot for the Emirate's avid skateboarders, rollerbladers and BMX bike riders.
Guests will also enjoy its unique design, centered around greenspace in a Ghaf Tree reserve within Saqr Park. Using the surrounding nature as inspiration, the park incorporates Ghaf trees into its design to ensure the trees are both well protected as well as provide natural shading.