Listen to this article
Oktoberfest is the biggest and beeriest event of the year in Germany, and it's back in Ras Al Khaimah for another year. It started in Munich after a Royal Wedding got a little boozy and the couple vowed to make the party an annual affair. The celebration quickly caught on around the world and, of course, Ras Al Khaimah hopped on the bandwagon. So get your Bavarian dresses and get down to these venues in Ras Al Khaimah for some cheery beery, ompah–tainment.
The Frisky Fox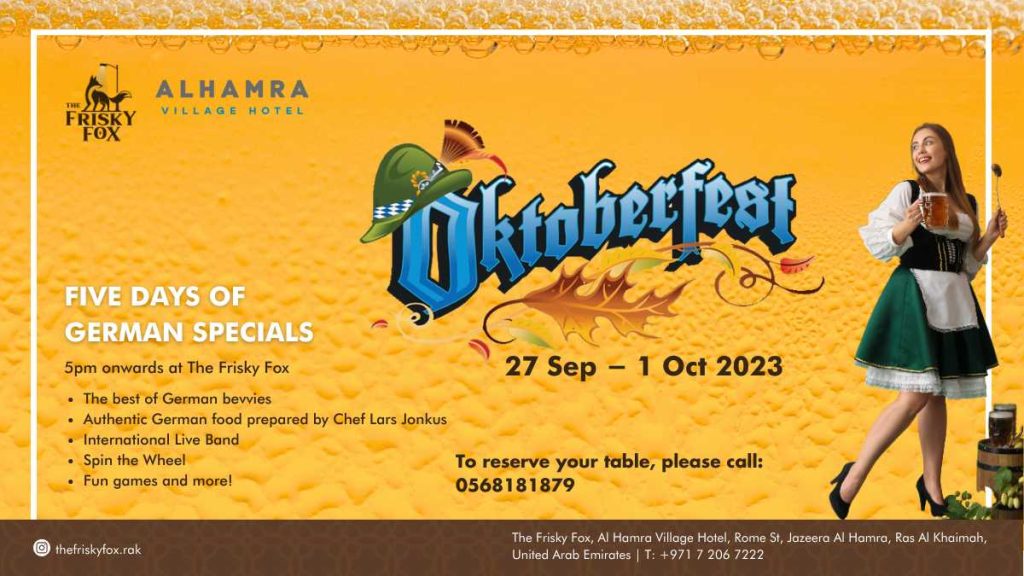 Indulge in the finest German bevvies and savor authentic German cuisine expertly prepared by Chef Lars Jonkus at The Frisky Fox. This five-day extravaganza promises to be a treat for all your senses!
Date: September 27th to October 1st | Time: 5:00 PM onwards
Here's what you can look forward to:
German Bevvies: Enjoy a selection of the best German beers, wines, and spirits that will transport your taste buds straight to Germany.
Authentic German Food: Chef Lars Jonkus will whip up mouthwatering German dishes that are sure to satisfy your cravings for traditional flavors.
International Live Band: Groove to the tunes of an international live band, creating an atmosphere of pure entertainment.
Spin the Wheel: Try your luck at our fun-filled spin the wheel game and win exciting prizes.
Fun Games: We've got a range of entertaining games lined up to keep you engaged throughout the evening.
Don't miss out on this incredible celebration of German culture and cuisine. Gather your friends and family and join us at The Frisky Fox for five unforgettable days of German specials!
For inquiries and reservations, please call 0568181879
The Huddle Sports Bar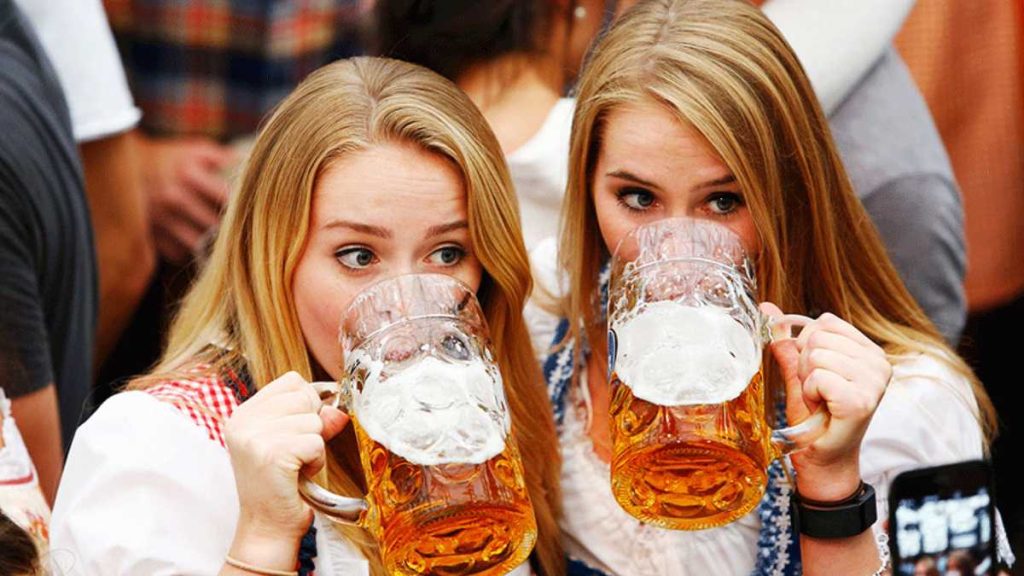 Get ready for a month-long extravaganza of German delights, brews, and endless fun! Join us for a memorable Oktoberfest experience that's bound to leave you craving for more.
Date: September 16th to October 28th | Time: Daily from 12:00 PM to 1:00 AM
Here's what we have in store for you:
German Food: Indulge in the rich flavors of authentic German cuisine that will tantalize your taste buds.
Brews Galore: Don't miss our special Oktoberfest offers – Buy 2, Get 1 Free on Löwenbräu Stein (1L) for AED 49 and Becks Can (50 CL) for just AED 21.
Endless Fun: Enjoy the lively atmosphere and immerse yourself in the spirit of Oktoberfest with music, games, and more!
Bring your friends and family for a one-of-a-kind celebration that pays homage to the world-famous Oktoberfest tradition.
Prost! Let's raise our glasses and make this Oktoberfest at The Huddle an unforgettable experience!
For reservations and inquiries, call 0569922286.
Boons Brasserie and Bar
Boons Brasserie and Bar is celebrating Oktoberfest from 16th September to 3rd October, featuring live music and an exclusive a la carte menu paired with unique German beers. This enchanting fortnight promises a hearty blend of traditional Bavarian culture intertwined with modern dining elegance, set against a backdrop of lively music, offering a unique experience that transcends the conventional Oktoberfest festivities.
Boons Brasserie's exquisite A La Carte menu is thoughtfully curated to teleport your taste buds straight to the heart of Germany. Paired with a selection of unique German beers, each dish promises an authentic taste of German traditions, perfected by the culinary expertise of our seasoned chefs.
Some highlighted dishes include Authentic German Spaetzle, Oktoberfest Outfit Burger, Curry Veal Bratwurst Hot Dog, and Salted Ball Park Soft Pretzels Basket, priced at 85 AED, 80 AED, 75 AED, and 45 AED respectively.
This venue, known for its European-inspired menu and a fully stocked bar, provides a warm and contemporary setting. It's a family-friendly place with a plethora of live entertainment options, making it a great choice for any day of the week.
For Bookings Call: 072460000
The Muse Social House, Al Hamra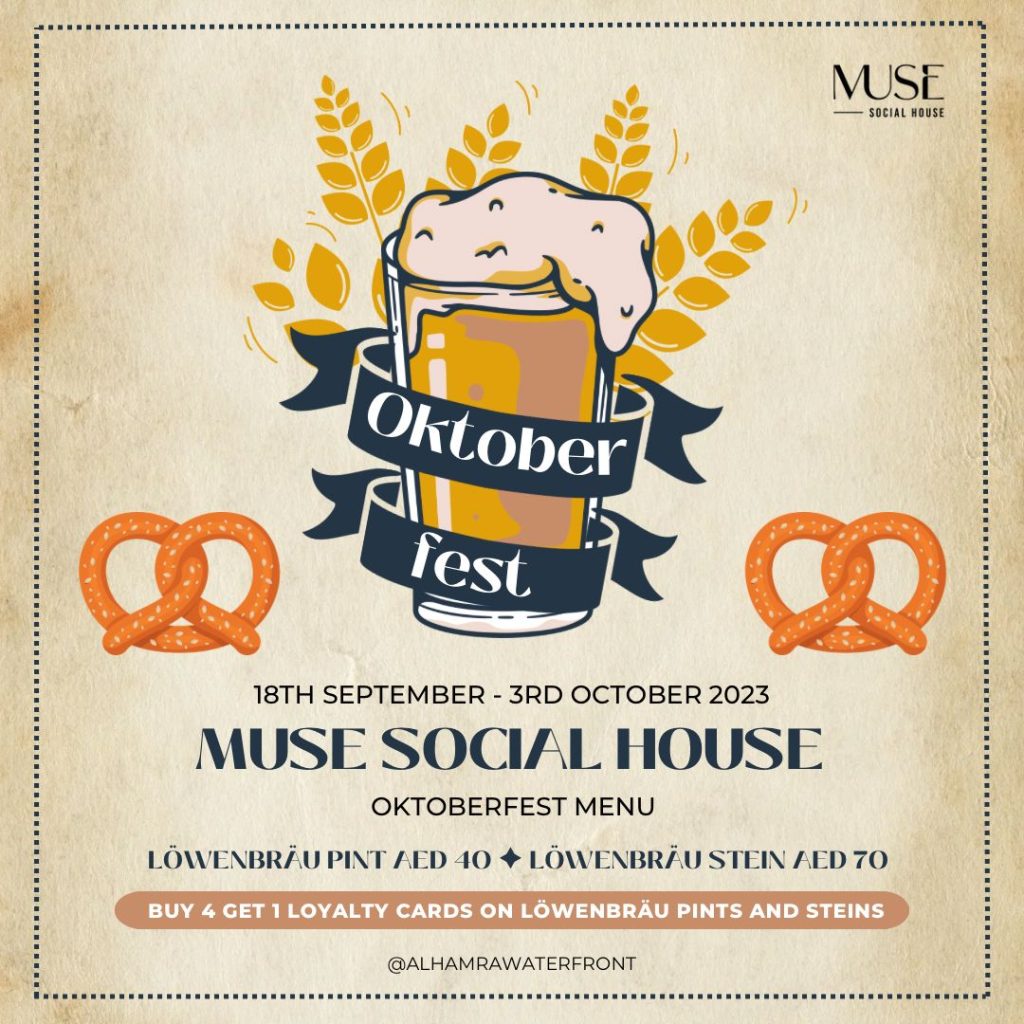 Join from 18th September to 3rd October for a spectacular Oktoberfest celebration that promises to be an unforgettable experience. Get ready for a fun-filled extravaganza featuring the perfect blend of Beer, Food, and Music!
Beer Specials: Lowenbrau Pint: AED 40 | Lowenbrau Stein: AED 70
Loyalty Rewards: Buy 4 Lowenbrau Pints or Steins and get the 5th one absolutely FREE with our exclusive Loyalty Cards!
Special Oktoberfest Menu: Indulge in mouthwatering German cuisine specially crafted to complement your beer. From bratwurst to pretzels, we've got all your Oktoberfest favorites covered.
Special Celebration on Friday 22nd September
Beer, Food, Music | Live with DJ Phil
Oktoberfest-themed games and competitions
Best Dress competition
Whether you're a beer enthusiast, a foodie, or just looking for a great time, The Muse Social House is the place to be this Oktoberfest season.
For more information and reservations, contact us at +971 504 322 068
Bunker Sports Bar at TowerLinks Golf Club RAK
Get ready for the ultimate Oktoberfest experience at Bunker Sports Bar! We've got amazing deals and festivities lined up just for you:
Dates: September 21st to October 13th
Drink Specials:
Laurenbrau 1 Ltr: AED 52
Bucket of 5 Bottles: AED 75
Oktoberfest Brunch: Every Saturday, indulge in a delectable 3-course set menu for 4 hours, and enjoy unlimited drinks for just AED 220!
Whether you're a beer enthusiast or a food lover, our Oktoberfest celebration has something for everyone.
For reservations and more information, call +971 521 233 0496.
Dukes Sports Bar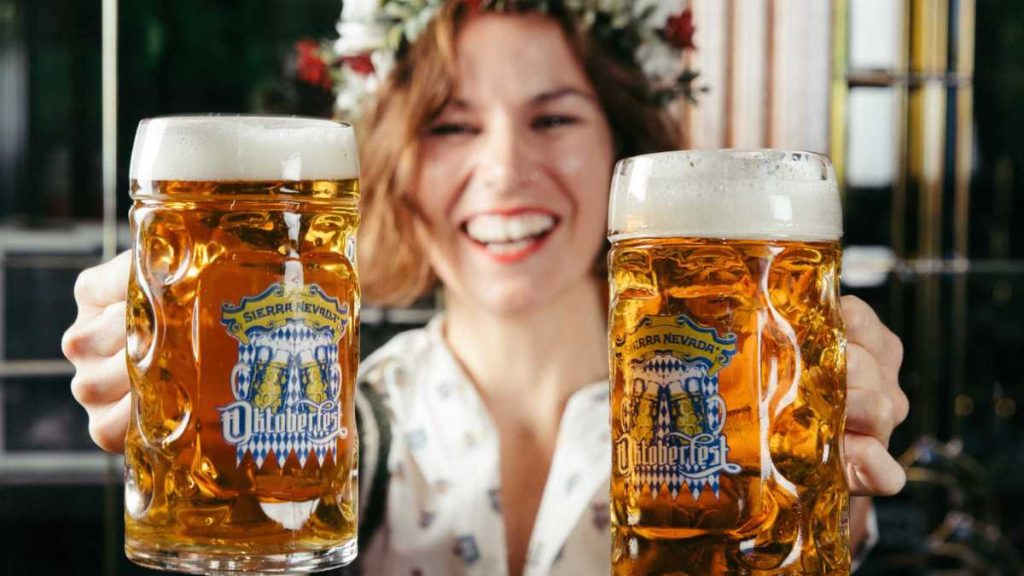 Get ready to raise your steins and indulge in the ultimate Oktoberfest celebration at Dukes Sports Bar! We've got an amazing lineup of deals and events to make this Oktoberfest unforgettable.
Date: September 30th to October 14th
What's Hot
30% discount on all alcoholic beverages
Get a bucket of ice-cold beer for just AED 85
Saturday Drunch: Experience the ultimate Saturday Drunch at Dukes Sports Bar during Oktoberfest!
What's Hot
3-course set menu featuring authentic German flavors and other culinary delights
Unlimited Lowenbrau Draught Beer
Timing: 7:00 PM to 11:00 PM
Price: AED 230 per person
For reservations and more information, call +971 55 793 1728.