Listen to this article
UAE is not only noticeable for its tall buildings but also for its world-class malls. Sharjah is the capital of UAE and is known for a number of mega malls.
Whether you are a shopaholic, gamer, foodie or movie lover, you must surely visit the malls in Sharjah to flaunt your UAE trip memories. Well, the list of malls is huge so it might be difficult for you to choose some of them. Moreover, visiting each of them would be also challenging if you have planned a trip for just 4-5 days.
So, we have decided to shed light on the descriptions and other details of the malls in Sharjah so you can choose any of them as per your preferences. 
List of the Best Malls in Sharjah
Here is the list of the top mega malls in Sharjah where you must surely pay a visit and explore different stores:
1) Sahara Center
Sahara Center is not only known for a number of shopping outlets but also for better dining options and entertainment sources. This way, you can have an amazing time at the mall by doing the activity of your choice such as shopping, gaming or having delicious food. If you are a shopping lover, you will be amazed to see a number of luxury brands such as Allen Solly, Nike, Adidas, Da Milano, La Senza, Mango, Lifestyle, Promod, etc. in one place. For dining options, you can enjoy sushi at Yoko Sushi, eat appetizing pizza by Russo's New York Pizzeria and a lot of other delicious stuff. Who doesn't love rides? There are more than 17 rides at the mall and you can have an adventurous, fun and amazing time there
Timings: Saturday-Friday: 10:00 AM-1:00 AM
Address: Al Nahda St. Near Ramada Sharjah, Sharjah, UAE.
2) Central Market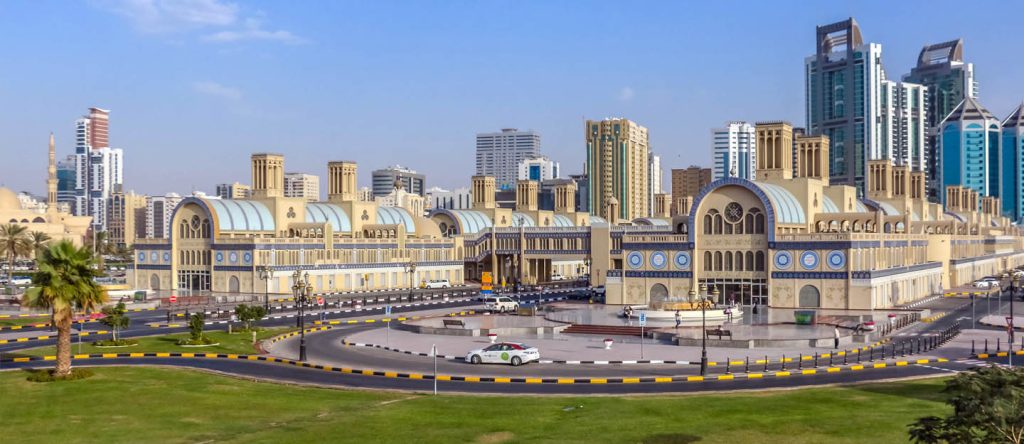 Don't get confused by the name. This is not a market, this is a mall that is popular because of its alluring architectural style. By checking the architecture of the mall from pictures or by visiting the mall, you will notice that two buildings are connected through abridge which gives it a fascinating look. There are more than 600 shops in the market that are packed with various items and products such as clothes, ornaments, electronic gadgets, perfumes, shoes and so on. As there are 600 shops in the mall, the name central market perfectly suits the mall.
Timings: Saturday-Thursday: 9:00 AM-1:00 PM, 4:00 PM-11:00 PM. Friday: 9:00 AM-12:00 PM, 4:00 PM-11:00 PM
Address: Al Buhaira Corniche, Khalid Lagoon
3) Sharjah City Center
This largest mall was established in 2001 and has utmost everything from clothes, perfumes, shoes, home decor items, furniture, restaurant and food courts, stationary, books, toys and even electronic gadgets. You will be astonished to see 120 international brands at this mall including Levi's Miniso, H&M, Puma, Aldo Shoes, Versace and so on. In cafes and restaurants, you will find Baskin Robbins, KFC, Macdonald's, Pizza Hut, Chilli and Nado's at Sharjah City Center. Moreover, the Magic Planet is a popular attraction for not only kids but people of all ages as well. In the Magic Planet, you can enjoy an assortment of rides and have super fun.
Timings: 10:00 AM-10:00 PM
Address: Al Wahda Road, Sharjah, United Arab Emirates
4) Al Shaab Village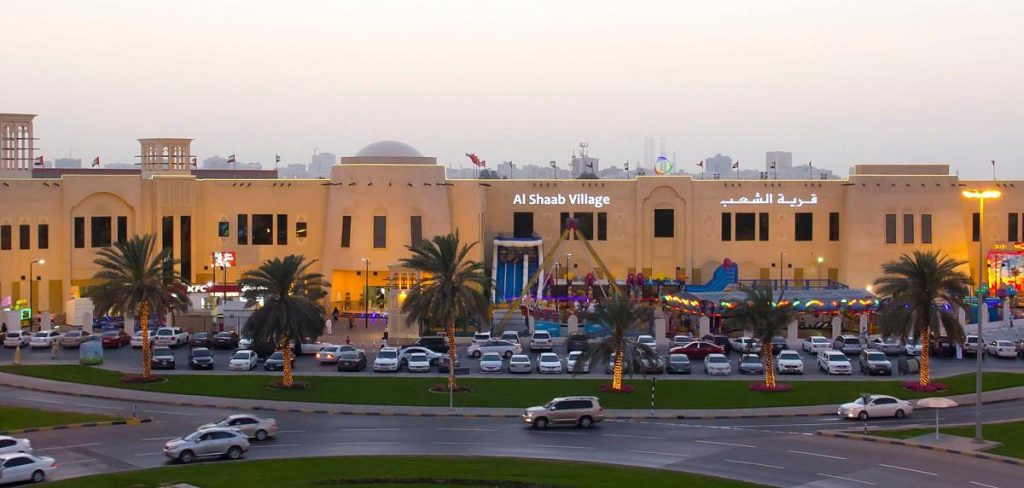 This shopping mall is famous in Sharjah for clothing, electronic stores and expensive real and artificial accessories. This mall is the best place to visit if you have kids because you will enjoy a wide range of indoor games along with outdoor activities at an amusement park. In this park, you can enjoy some unique rides and have a thrilling experience with your companions. The location in which the mall resides is so amazing. Even, a plethora of visitors get attracted by the location which convinces them to pay a visit to the Al Shaab Village.
Timings: Saturday-Wednesday: 11:00 AM-11:00 PM, Thursday: 11:00 AM-12:00 AM, Friday: 4:00 PM-12:00 AM
Address: Sheikh Khalid Bin Mohammed Al Qassimi Street, Al Hazannah
5) Safeer Mall
Just like other malls in Sharjah, Sfaeer Mall is also famous for its fashion brands, accessories and gadget stores. However, what is unique about this mall is the fitness center which you can hardly find at any other mall. The Kids Corner at the mall is the must-visit place if you are having kids along with you. Your kids will surely make some cherishable moments at this place. While exploring the stores and Kids Corner, you can enjoy some shakes, soft drinks and snacks available at the restaurants and cafes at the mall.
Timings: 10:00 AM – 10:00 PM
Address: Industrial Area 7, Al Ittihad Road
6) Zero 6 Mall
So, the next mall on the list is Zero 6 Mall where you can find amazing options, various activities to do and some renowned brands including H&M, Mothercare, Spinneys, Foot Locker and so on. If you are a movie lover, you can book a seat, get a ticket and watch a movie in a multiscreen cinema. The fun block and dining options will also gratify you. For foodies, there are a number of outlets such as Starbucks, Yogurtland, Godiva, Dip n Dip, Wagamama and many more. There is nothing to deny that this mall is a trendsetting mall in Sharjah because you will find every latest trend in this mall.
Timings: Saturday to Wednesday 08:00 AM to 11:00 PM, Thursday 08:00 AM to 12:00 AM and Fridays 08:00 AM to 11:00 AM & 01:00 PM to 12:00 AM
Address: Zero 6 Mall, University City Rd – Sharjah
7) Ansar Mall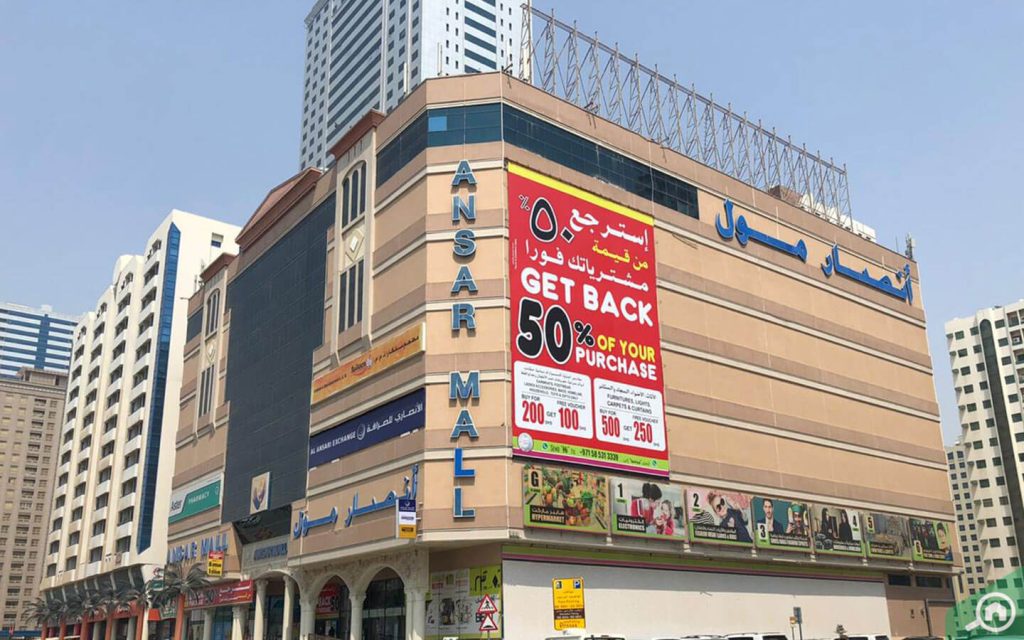 Ansar Mall is one more luxurious mall in the capital of the UAE that offers a great shopping experience to visitors. Although the mall is famous for its international and expensive brand outlets, you can also find some local brands as well if you want to shop in a pocket-friendly manner. Not only you will find fashion brands, but you can also purchase antique furniture from here. So, we can say that this mall is entirely established for shopaholics because they will have a rich shopping experience here.
Timings: 10:00 AM to 12:00 AM
Address: Sharjah Bridge, Sharjah, UAE
8) Mega Mall
As the name clears, it is one of the mega malls in Sharjah that more than 30,000 people visit on weekends. The mall was established in 2001 and got popular for its shopping experience. It is a four-story mall and there are a number of popular brand outlets on all the floors. You can find 150 retail shops and a number of popular brands such as Zara, Paris Gallery and many others. Moreover, you can find a number of dining options such as Coffee Shops, Food Courts, Restaurants and Shops for snacks and sweets. Visitors can spend their quality time in Antic's land which is an indoor family theme park. This is the best place to enjoy some activities with loved ones and has some fun, mystery and magical moments. The Novo Cinemas available in the mall are started for movie lovers. Not only this, it is near Al Noor Mosque. So, its a win win for both fun and religious people.
Timings: Sunday to Wednesday 10:00 AM to 10:00 PM, Thursday & Saturday 10: 00 AM to 12:00 AM, Friday 10: 00 AM to 12:00 PM & 2:00 PM to 12:00 PM
Address: Near Immigration Office – Istiqlal Street – Al Bu Daniq – Sharjah – United Arab Emirates
Summing Up
To sum up, if you ever visit Sharjah, UAE, don't forget to visit the above-mentioned complexes. These malls are not just established for shopping but you can do a lot of other activities which will make your entire journey stupendous.