Listen to this article
Kick-start the weekend the right way with idyllic atmosphere and unparalleled views of the Arabian Gulf on Friday 30th September, as Karma Kafé by Buddha-Bar is organising Karma Session 3 at Hampton by Hilton Marjan Island. Now on its third edition, Karma Kafé promises to bring an immersive night filled with energetic entertainment, delectable dishes, and free-flowing beverages starting at AED 199 per person.
Since its creation in 1996, Buddha-Bar Paris has been the precursor to a true 'Art of Living' concept, with confluent influences from the Pacific Rim.
At the Karma Session, the new hotspot in Marjan Island is offering a five-course set menu of Pan-Asian and International fusion, including Japanese favourites like Maki, Nigiris, and Tempura, Salmon Robata, Szechuan Beef, Green Curry Chicken, and more. With live entertainment from its resident DJ, percussionist, saxophonist, and flutist, Karma Kafé is bringing the true art of living to the island's nightlife by marrying the stunning beach views and Karma Kafe's opulent interiors. Guests can also avail of the exciting early bird discount rate of 20% till 26th September.
Guests may also avail of Hampton by Hilton Marjan Island's ongoing summer promo, which includes discounts of up to 20% across room rates, wellness facilities, and dining. Guests staying three nights or more will also receive two free tickets for Jais Sledder, a 30% discount on Jais Zipline, Jais Skytour & 1484 by Puro, and a complimentary shuttle bus to Jebel Jais attractions, unlocking a world of adventure in the UAE's nature-based emirate.
For 20 years, the Buddha-Bar concept has continued to grow and spread its positive energy throughout the world, with restaurants, hotels, spas, beauty care lines, music… today, it is found in over 20 countries and tomorrow… many more. Lyon, London, Dubai, Budapest, Prague, Monte-Carlo, Kiev, Manila, Saint Petersburg, Marrakech, Tbilisi, Baku and Caracas have already fallen in love.
Karma Kafe by Buddha bar
Friday, 30th September
from 7:00pm – 2:00am, 3 hours of your choice.
Packages Information
AED 199 PER PERSON
Including five-course set menu with free-flow of selected mocktails and soft drinks for three hours
AED 299 PER PERSON
Including five-course set menu with free-flow of selected cocktails, for three hours
AED 350 PER PERSON
5 course set menu with
5 course set menu with free flow of selected cocktails, wines, sparkling wine, spirits and beers for 3 hours
BOOK BY 26TH SEPTEMBER AND GET 20% DISCOUNT ON KARMA KAFE BY BUDDHA BAR, RAS AL KHAIMAH
About Karma Kafe RAK
With multi-influences from Chinese, Thai, Korean, Vietnamese and Japanese Culture, the famous Karma Kafé creation aspires to evoke energy, dignity, beauty and culture with its name. Karma Kafé brings a seamless blend of design, cuisine, mixology, and world-class entertainment programs that leaves nothing less than a temptation.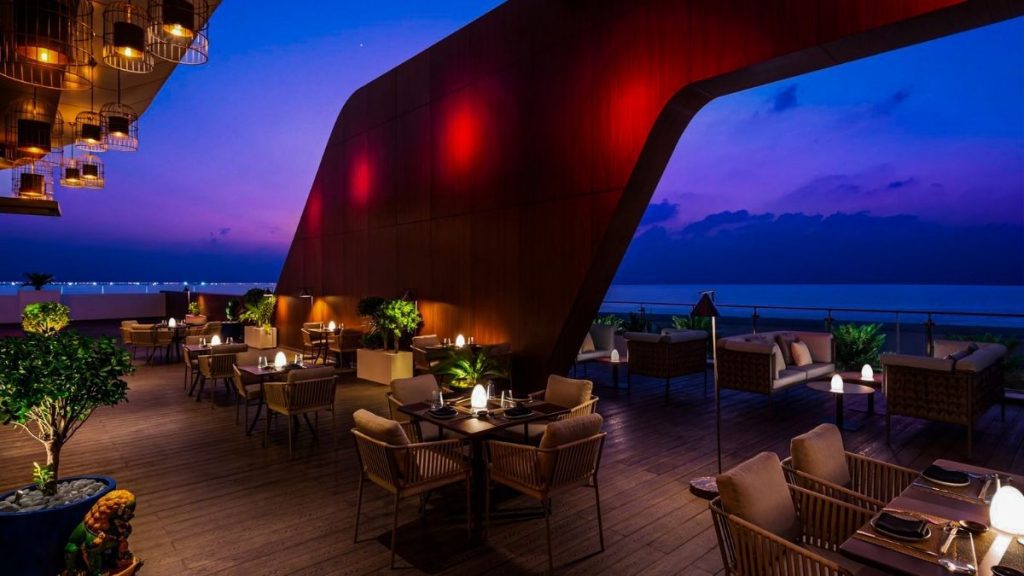 From the very entrance, guests are welcomed by a dragon that evokes a sense of movement, a curious and vibrant spirit that effortlessly flows from one space to another. A lounge and bar of masterfully blending colors and designs, with blushful sparks of the setting sun, Karma Kafé is tucked on the upper floor. Connected to Hampton by Hilton Marjan Island, it features an uninterrupted view of the sea from the terrace where the guests can gaze at stars or enjoy jaw-dropping sunsets while a resident DJ plays upbeat tracks for an unforgettable experience.
Contact and Location
Hampton by Hilton Marjan Island
Karma Kafe Reception
+971 7 209 0099