Listen to this article
Christmas is just around the corner, glamp to the most wonderful season of all time. Celebrate the rocking holiday in Ras Al Khaimah when you book a stay at Longbeach Campground from its starting price of AED 1,080 inclusive of buffet breakfast, dinner, and unlimited selected drinks inclusive of Christmas Gala Dinner by the beach on Christmas Eve, or get your seat for AED 199. Book Here
Shake up your Christmas holiday with a bunch of activities such as Santa meet & greet, magic show, live music, and Christmas cookie making, and there is so much more to experience.
New Year's Eve Offer at Longbeach Campground RAK
Wrap up your year-end adventure and celebrate a magical New Year with us with a stay starting from AED 1210 and a countdown by the beach. Can't stay? You can join us only for the New Year Gala Dinner for AED 399.
Welcome, 2023, with enthusiasm and a countdown under the stars. Features live performances at the year-end party performed by our talented resident artists. Before New Year steps in, witness the jaw-dropping magic show, dance show, duo band, DJ set music, and fire show.
About Longbeach Campground Ras Al Khaimah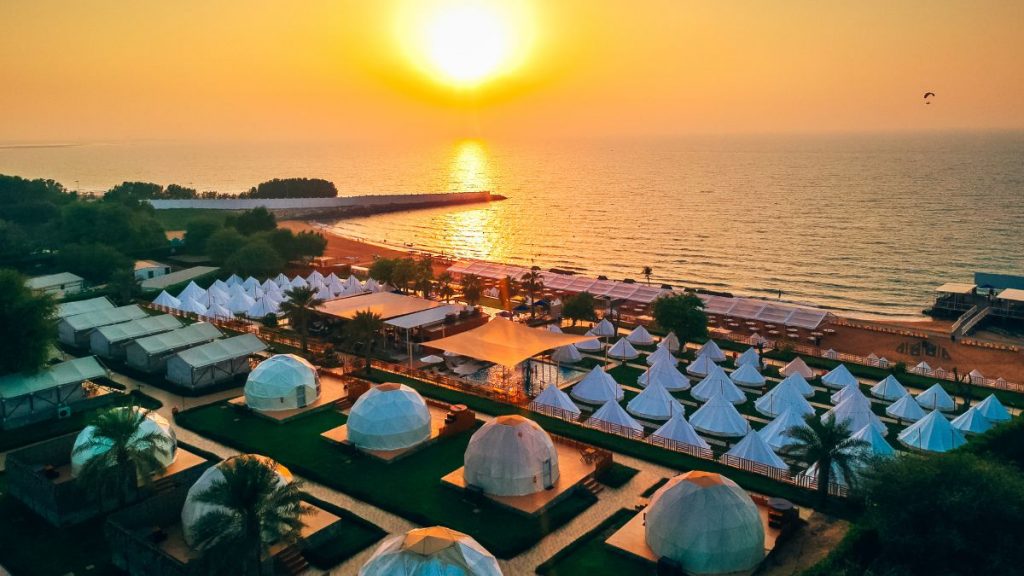 One of the first of its kind in Ras Al Khaimah, Longbeach Campground brings together a traditional camping ethos with luxurious amenities and engaging activities — creating an immersive "glamping" experience. Located along a 300 meter stretch of beach, the campground is perfect for staycations, families, romantic getaways, and groups of friends. Choose from a variety of elegant tent options and enjoy an all-inclusive activities package: packed with access to the beach, pool, outdoor spa, water sports, a floating theatre, and more. Book now to experience camping in comfort, the BM way.
Contact and Location of Longbeach Campground Ras Al Khaimah
For Inquiries and bookings, 600 566 600 | info@bmhotelsresorts.com