Yamanote Atelier brings to town the true "Ramadan Spirit" with a delightful range of Iftar offerings. Capturing the traditional Middle Eastern elements with a touch of Japanese indulgence, Yamanote has curated spectacular Ramadan specials for you to enjoy. Whether guests would like to break their fast or experience the festive spirit, Ramadan with Yamanote will be a moment to remember.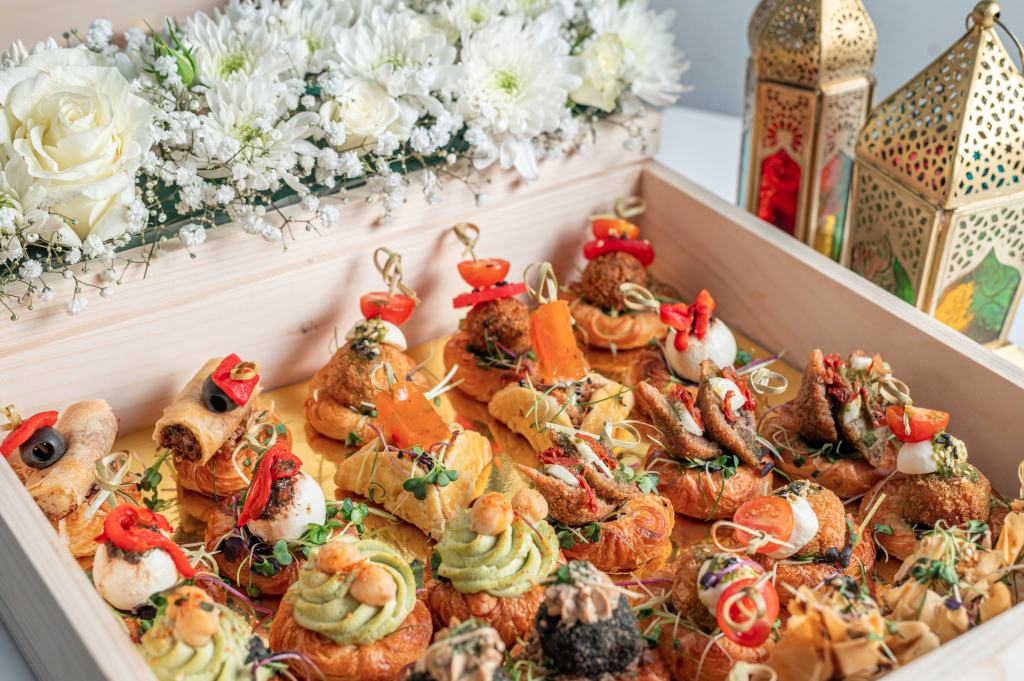 Among the selection of Savory bites, at AED 8 each:
EDAMAME HUMMUS BITES
Hummus with a Japanese touch, Paprika, Olive Oil and Sakura Green
LABNEH WITH BLACK GARLIC CHIMICHURRI
Dry Labneh, Chimichurri Sauce and Grilled Peppers
BRAISED BEEF CRISPY WRAPS
12hrs Braised Beef, Potato, Feta in Crispy Wrappers on our Mini Croissant
MEAT KEBBEH
Homemade Fried mini meat kibbeh, Piccolo Mozzarella, Sundried tomato, Pesto dip
SQUARE MEATBALLS
Beef, Black Panko, Japanese Mushrooms and Porcino Truffle Cream
If light snacks are what guests are seeking:
NABATI
Broccolini, Shitake, Grilled Peppers, Spinach, Goat Cheese
HALLOUMI CHEESE
Grilled Light Halloumi, Olive Paste, Tomato, Sundried Tomato, Cucumber
BEEF CURRY
Japanese Curry, Beef, Vegetables, Cheddar Cheese
CHEESECAKE QATAYEF
Crispy Arabic Delight filled with our Japanese Cheesecake
CHOCOLATE
Homemade Chocolate Lazy-cake, Peanut butter, Salted Caramel, Oreo
Sure, to leave a deliciously sweet after taste, at AED 7 each:
ASHTA CROISSANT
Mini croissant, Ashta cream with Rose Orange Blossom syrup. Topped with Gold Leaf and Pistachio
YAMANOTE ROSE CROISSANT
Mini croissant, Strawberry Rose filling. Topped with Rose icing sugar, Pistachio Rose Flower
YAMANOTE KUNAFA CROISSANT
Mini croissant, Homemade Kunafa. Topped with Pistachio, Rose flower candied rose leaves
HONEY WALNUT
Croissant bread, Homemade Honey Walnut, Orange Blossom icing sugar
HERDA ROLL
Dates paste, Tahini, Date's syrup and Roasted Sesame
Perfect for celebrating with family, Ramadan Boxes:
SAVOURY BOX – AED 275
35-piece Selection of Savory items
SWEETS BOX – AED 240
35-piece Selection of Sweet items
LIGHT SNACK BOX – AED 270
36-piece Selection of Mini Sandwiches
VIP BOX – AED 850
60-piece Selection of Savory, Sweets or Light Snack item
Ramadan items available at all Yamanote branches.
Pre-orders required 24 hours in advance.
To place an order for delivery, WhatsApp https://wa.me/message/WTVF4YHHTP7VI1