This Adventure Camp in Ras Al Khaimah makes you feel the spirit of the desert
There is a child in all of us that is always in pursuit of an adventure. Somewhere exciting to go and experience something new and fun. Sinbad, Ali Baba and the 40 Thieves, 1001 Arabian Nights are all tales made us dream of our own Arabian Nights adventure. The adventure that most may think of when coming to Arabia is to live like the Bedouins; in the desert and a tent, living with camels, and nights around the campfire telling stories and enriching ourselves with the culture of the people.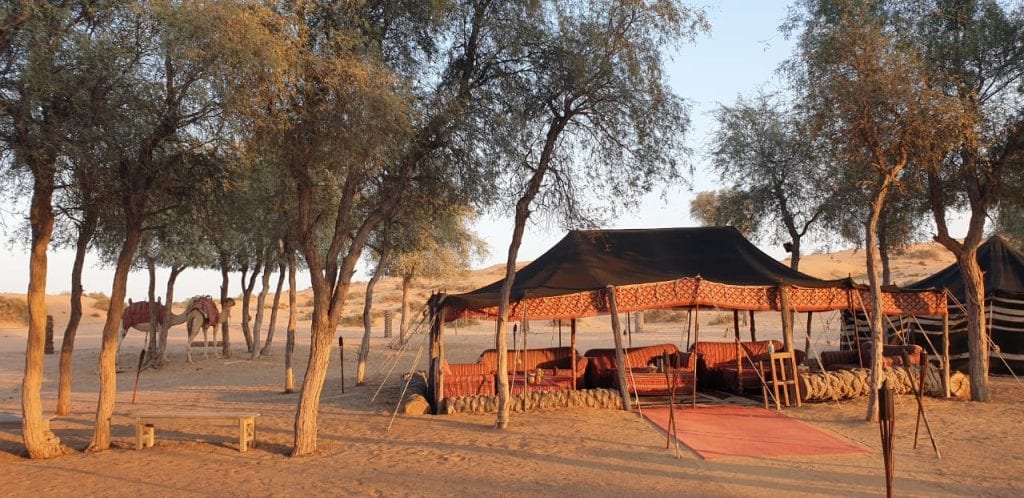 Bassata is an Arabic word for simplicity. Venture around the desert and you will find the entire camp reflecting simplicity. Bassata Village is a stretch of sand where you can enjoy adrenaline-fueled dune bashing and other exciting desert-based activities. The place has a wide range of tents where you can relax, soak up the sun and enjoy sunset views.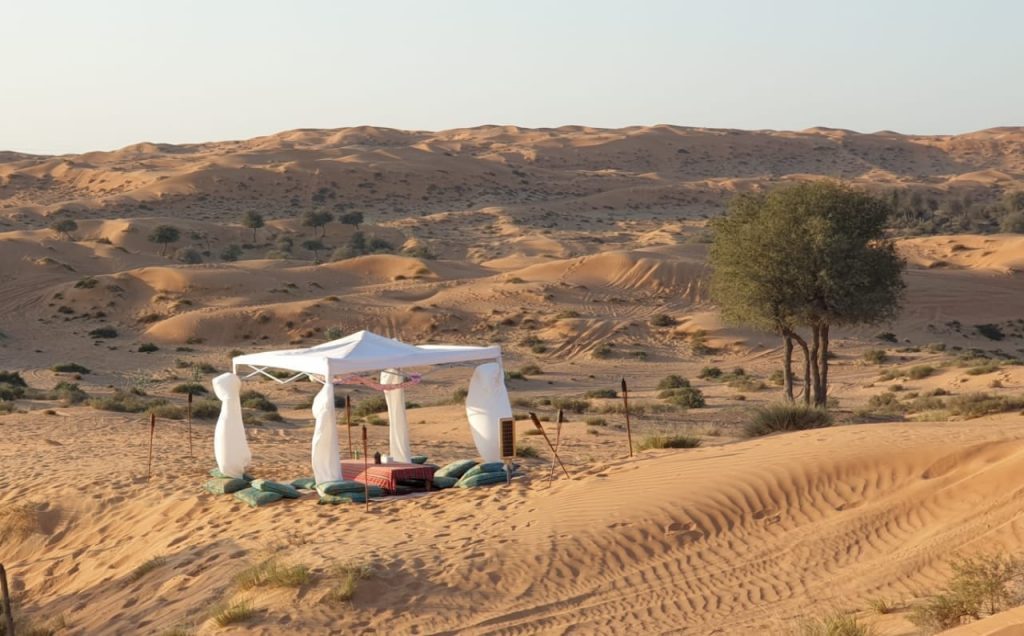 If you are in search of an amazing place to experience a traditional Bedouin lifestyle in the UAE, you will be happy to know about the Bassata Camp in Ras Al Khaimah, where you can explore more about the life of nomads in the UAE. You can explore the magnificent desert, spend time with the camels and enjoy the nights around the campfire.
Things to discover in Bassata Camp RAK:
Whether you are a local or tourist, there are plenty of things that you can do in the Bassata Camp. Live BBQ, Belly Dancing, Fire Shows, traditional Souq, etc.
Take a trip around the desert.
The first and foremost thing to do in Bassata Camp is to explore the vast and spectacular desert. Take an adventurous excursion with a Quad- / or Buggy Bike around the village, catch a stunning view of the sunset and gaze at the starry open sky as the night settles in.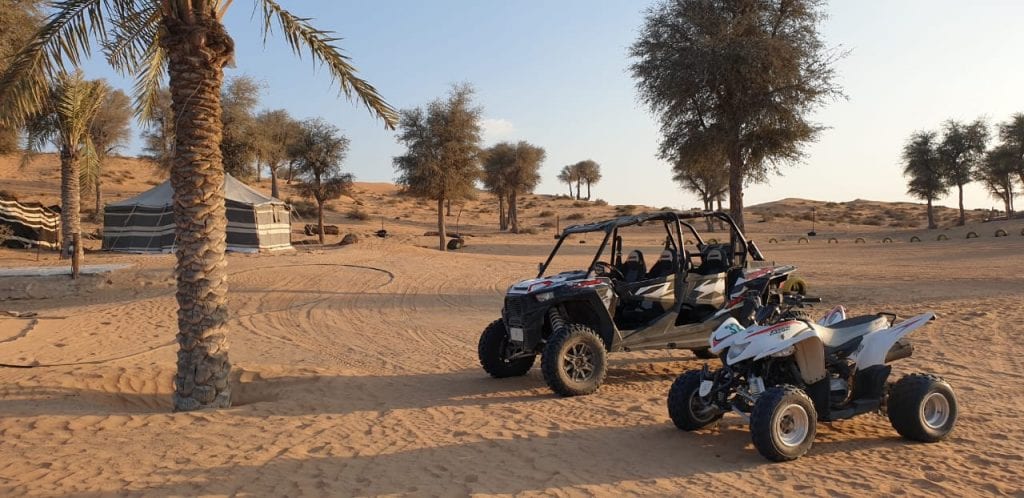 Indulge in Sandboarding
Amidst dunes of sand, experience the thrill of sandboarding in Bassata Camp. Sandboarding is an adventurous sport where you must ride across a desert while standing on a specialized board.
Enjoy a camel ride
Camels are an integral part of Arab heritage. Since the time of Bedouins, they have been an important part of the UAE's traditions and practices. They have been a source for food, transportation and even clothing. You can feel the true essence of Emirati culture while riding the camels at Bassata Camp
Go Camping
Bassata Village is the best place for camping. Feel the spirit of the desert in an overnight stay in stunning comfortable, fitted Cabin-Tents, enjoy stargazing and a stunning desert adventure with your friends.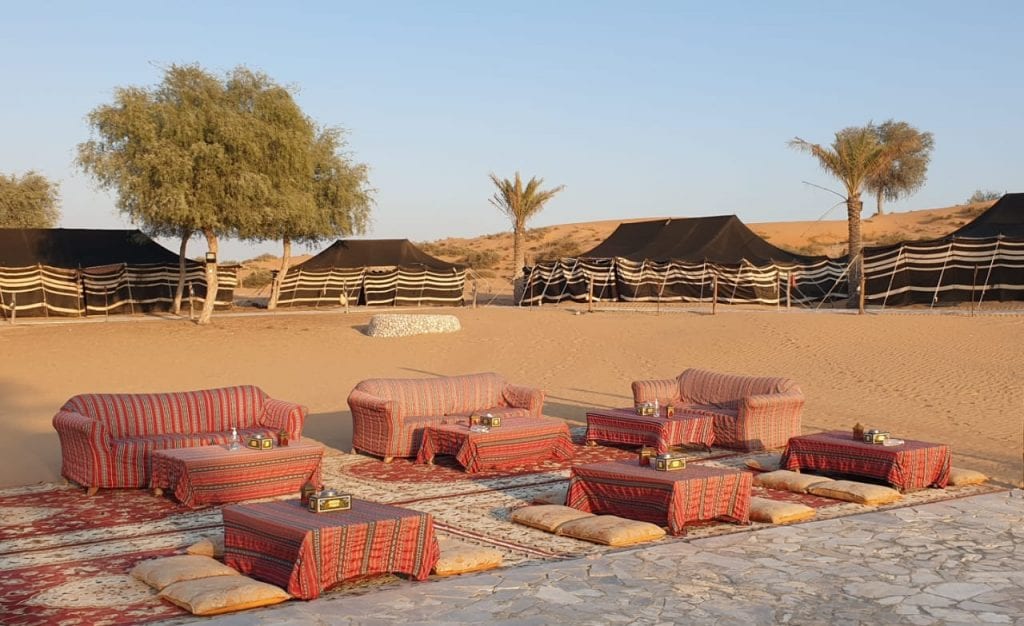 Offers at Bassata Camp Ras Al Khaimah
Sunset Desert Adventure
DAILY 5 pm – 8.30 pm, BASSATA CAMP RAK
Work out your LIMIT. Feel the SPIRIT of the Desert. Catch the SUNSET in the Dunes.
AED 300 – Quad (single person) – Sunset Safari only – 1 ½ hour, Water-Softdrinks incl.
AED 375 – Quad (single person) – 1 ½ hour Sunset Safari plus Desert Camp BBQ – Shisha -Softdrinks – Tea/Coffee – Sandboarding and short Camel ride inside the Camp
Surcharge for:
BUGGY Drive (higher speed), guided self-drive single driver or shared BUGGY, max 4 pax
Alcoholic Drinks at the Desert Camp Bar
Overnight Camping
Contact and Location
Information / Bookings: whats app +971 501046066 – Christina
You can also find the location here: https://maps.app.goo.gl/5b6uhG7ohC5trrAz8
---
---