The Historic Al Jazeera watchtower of Ras Al Khaimah restored
A historic Ras Al Khaimah monument is back to its former glory after a restoration work is completed
The century-old Al Jazeera Al Hamra watchtower has retained its commanding presence, with its restoration completion announced by the Ras Al Khaimah government.
Located just outside Al Jazeera Al Hamra – an ancient maritime village of Ras Al Khaimah renowned for its fishing, pearl diving and boat building – the watchtower is about 100 years old and was a crucial part of the area's defence system.
With the advent of civil development in the 1950's, the tower's role was gradually reduced. It was eventually rendered obsolete once the RAK island was connected the emirate's mainland in the 1970's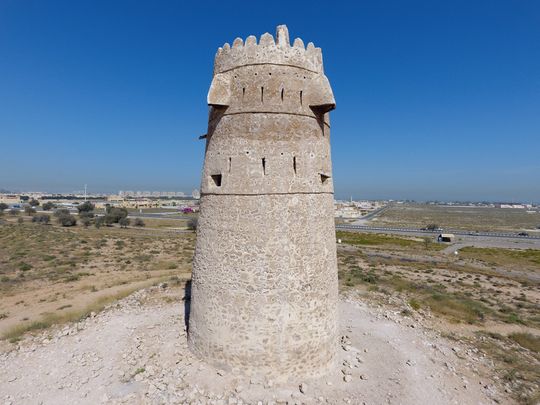 The last few years saw parts of the watch tower's roof collapsing and its stonework falling into decrepitude.
A four-week restoration project was underway in April to reform the tower.
The restoration used locally sourced material and traditional building methods, according to Ahmed Hilal, director of archaeology for the emirate's department of antiquities and museums.
How was it done?
"The traditional technique of wall-building leaves voids and gaps in the structure. The tower was built using the same technique, which is one of the reasons for its partial collapse," he said in a statement. "No chemicals or modern materials were used in the repairs to reflect the original process and maintain the tower's historical integrity…We have also tried to avoid material containing salt, which is a major problem in many structures because it can cause corrosion."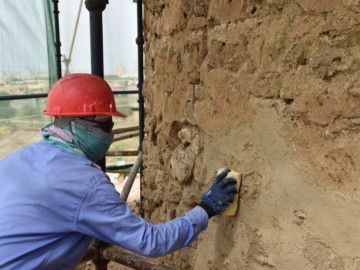 With plans already underway to have the tower open to tourists in the near future, it marks the rejuvenation of Ras Al Khaimah's latest traditional landmark.
The restoration is part of a wider government strategy to document traditional buildings across the emirates, with more than 1,600 structures already recorded.
The Al Jazeera Al Hamra Tower is one of 75 similar structures, with many historically used for defensive fortifications or civilian use.
Once all the information is collated, the department of antiquities and museums will then create an expansive digital database showcasing Ras Al Khaimah's rich and varied architectural wonders.
For more information on the program visit www.rakheritage.rak.ae.
Location
---
---