Listen to this article
Sonara lovers can rejoice as the Award-Winning, Glamourous Sonara Desert Camp Welcomes Guests for its Decadent Dining & Entertainment Experience in Ras Al Khaimah
If you're looking to dine in the desert environment, nobody could match the luxurious dining experience in Sonara Camp. Sonara Camp's fine dining restaurant is set in Dunes inside The Dubai Desert Conservation Area and offers the best in seasonal food and live entertainment.
Following the same award-winning concept as Dubai, Sonora Desert Camp is now set inside Ritz Carlton Resort Al Wadi in the beauty of the Arabian wilderness, with herds of Oryx and Gazelle, and the elusive Arabian Red Fox as dinner companions.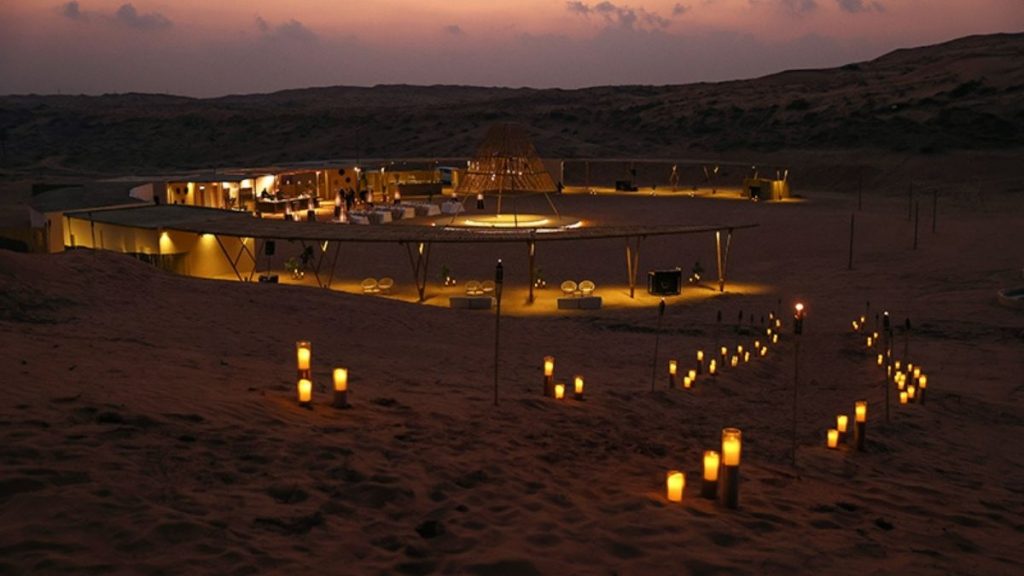 Ambiance of Sonara Desert Camp
Only an hour's drive away to Downtown Dubai, Sonara Camp Al Wadi is the ultimate dining experience for bucket lists that combines local cuisine and luxurious make for a memorable dinner in the dunes. The experience starts at the top with a bar that is spherical in shape. It serves a variety of drinks and the lounge seating covered in fairy lights offer the perfect sundowner ambience.
Dining options at Sonara Desert Camp
The guests can choose the Sunset Package, enjoying delectable snacks, soft drinks and an extensive range of activities and entertainment that ensure that every guest is catered for. From camel rides, sandboarding, volleyball, and an unforgettable evening Falcon spectacle, Sonara is sure to delight.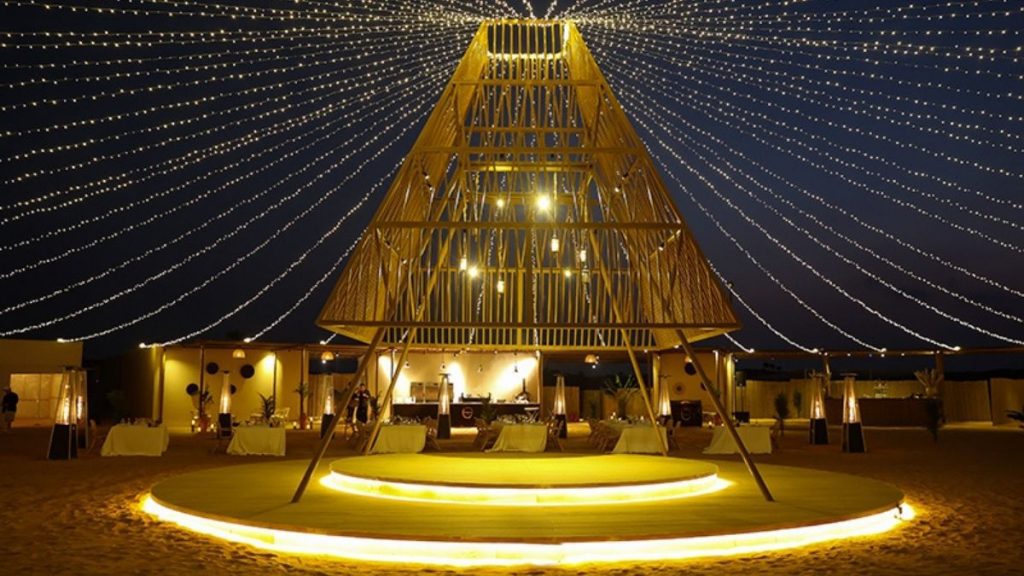 An epicurean experience awaits guests who opt for the entire dinner and sunset package with a thoughtfully-curated menu that incorporates the finest Mediterranean along with indigenous Arabic ingredients to make the most delicious food fusions. Sustainability is at the forefront of Sonara's mission. Guests can count on the finest seasonal ingredients that cater to any desire and dietary preference, from the wide selection of vegan dishes to the menu for children created to make the little foodies dance.
Sonara's exclusive and exciting live entertainment follows dinner, while younger guests can relax with a movie under the stars, whilst feasting on freshly toasted marshmallows.
Guests can enjoy a fine selection of alcoholic beverages at the camp, with a carefully curated collection of the world's best bubbles and grapes, alongside crafted cocktails.
Kids Activities at Sonara Kids Camp
Enjoy your evening while the kids are entertained at Sonara Kids Camp. They can play volleyball, soft archery and watch a movie under the stars.
The Sunset at Sonara
Enjoy the sunset at Sonara Camp's Lounge from 4:00 pm to 7:00 pm. Appetizers, soft drinks and mocktails.
Whats Included?
Shuttled to the camp in a club cart
Sand boarding, Volleyball, and Soft archery
Background music
Appetizers and soft drinks Sunset Lounge Menu
Owl show
Alcohol and Shisha is available for purchase at the camp.
Sunset photography is available at the camp at an additional cost.
Prices
High Season: October to April
AED 460 Per Adult and AED 160 Per Child
Low Season: May to September
AED 380 Per Adult and AED 120 Per Child
Complimentary for Toddlers up to 5 years old
Price excluding Tax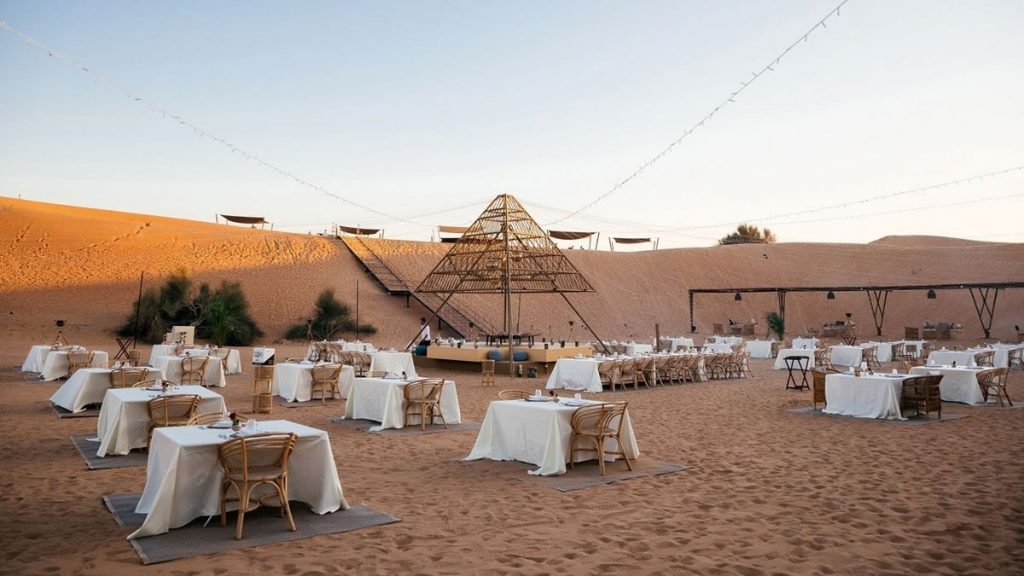 The Sunset and Dinner Experience
Prices
High Season: October to April
AED 690 Per Adult and AED 300 Per Child
Low Season: May to September
AED 640 Per Adult and AED 220 Per Child
Complimentary for Toddlers up to 5 years old
Price excluding Tax
Whats Included?
Shuttled to the camp in a club cart
A seasonal menu prepared by our resident Chef See Dining Menu
Soft drinks, tea and coffee
Live musician
Volleyball, Soft Archery, and Sandboarding
Owl show during sunset
Interactive Hawk show during dinner
Fire show
Exciting live entertainment
Movie under the stars Kids Menu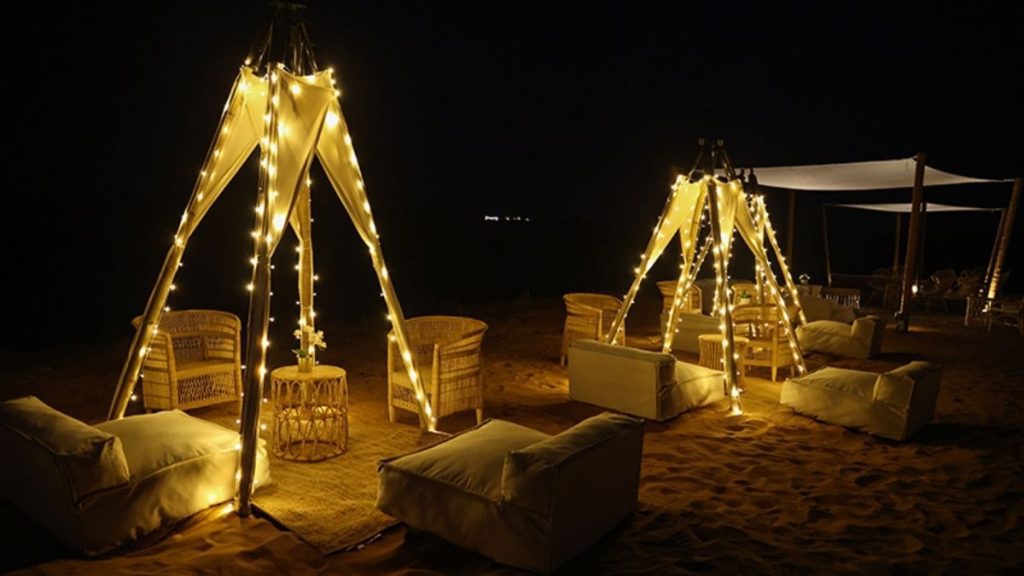 About Nara Escape
Nara Escape was founded in 2018.
Enamoured by nature, inspired by a love of the Saharan desert and unique experiences, Stephanie Danial, the Founder and soul of Nara, had the desire to share her passion for the desert in the form of bespoke and unforgettable desert experiences.
The name Nara was born from the initials of Stephanie's four sons, Neil, Adam, Ryan and Adrian.
In Arabic, Nara denotes a small, sparkling fire. Stephanie has successfully managed to combine her acute sense of organization with the raw beauty of the Dubai and Ras Al Khaimah deserts to create unique and bespoke experiences.
Contact and Location
Call: +971 50 336 0397
Ritz Carlton Al Wadi Desert, Ras Al Khaimah