Listen to this article
Bringing island vibes to Ras Al Khaimah, welcome to InterContinental Ras Al Khaimah Mina Al Arab Resort & Spa. Unwind on the private beach under the natural wicker tepees, gently swim in the azure waters of the Arabian Gulf, or sip on a specially crafted cocktail in the sparkling infinity pool.
Discover a range of offers across dining, spa and leisure and join us in experiencing island living in Authentic Arabia.
Dining Offers
Enjoy a whirlwind of flavours as you journey around the world with our 6 restaurants and bars. Indulge in creative cuisine, carefully curated wine lists, cocktails and refreshing mocktails at one of the six stylish restaurants & bars at InterContinental Ras Al Khaimah Mina Al Arab Resort & Spa.
Visit New York at NoHo Bar & Grill, travel to the heart of Constantinople at Levant & Nar, travel around the world at Saffar Kitchen Collective, satisfy your sweet tooth at Ramsa, enjoy a refreshing cocktail and light bites poolside at Shasha Pool & Beach Bar, or relax in speakeasy vibes at Amarbar. Wherever you choose, indulge in dining experiences that delight any palate, set in unique venues with distinctive design and identity.
Spa Offers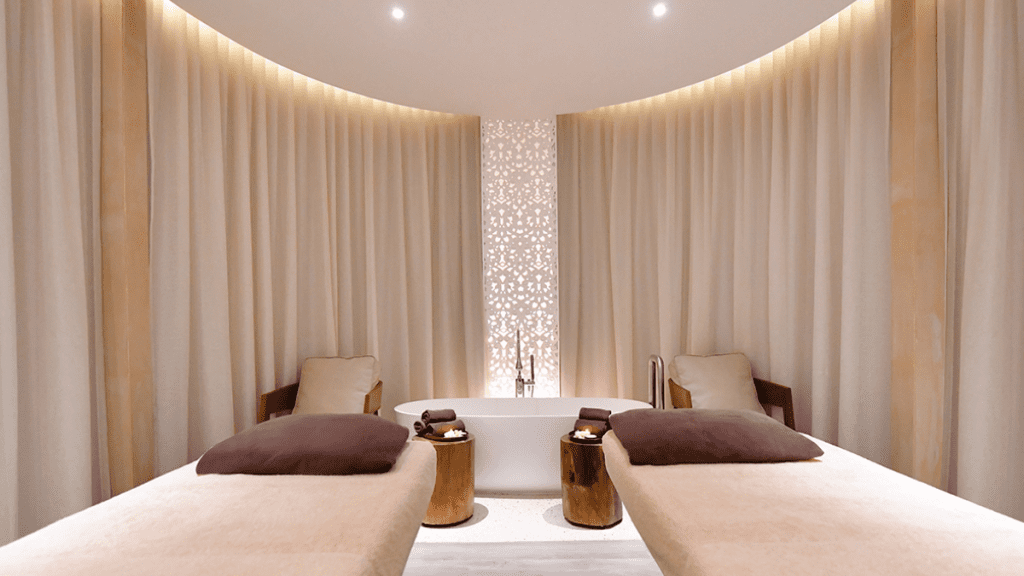 Relax, refresh and rejuvenate at the bespoke SPA InterContinental where 10 pearl-shaped treatment rooms offer a sanctuary of relaxation. Expert therapists await a selection of treatments combining Eastern and Western techniques with a selection of products from Maison d'Asa, Aromatherapy Associates and Proverb for a bespoke and luxurious experience.
Make the most out of your moment of relaxation at SPA InterContinental. Enjoy discounts and special offers for a well-deserved weekday treat.
Leisure Offers
At InterContinental Ras Al Khaimah Mina Al Arab Resort & Spa, you can choose to do as little or as much as they choose. The expansive infinity pool is perfect for lazing around and catching some sun. At the same time, the white sand beach offers a range of water-sports activities, from quiet paddleboarding across the azure waters to zipping around on jet skis.
Call 07 202 6788 to book a day-pass for AED125 on weekdays or AED200 on weekends or public holidays and start enjoying the #InterContinentalLife.
Contact & Location
Phone – 07 202 6788