Learn Painting by an Award-winning Artist in Ras Al Khaimah
Soraya Sikandar is one of today's leading contemporary South Asian artists proudly living in Ras Al Khaimah.
Recognition for her work has come through critical acclaim and sell-out exhibitions. She is also a TEDx art speaker. She has trained in fine arts through the London Atelier of Representational Arts, Slade Summer School (UCL), and Beaconhouse National University.
She is conducting art classes in Ras Al Khaimah for all levels. It's the only Art Intensive Program in RAK. Open to all levels. Learn drawing, painting, paint sea, objects, portraits and much more. Classes are conveniently scheduled on weekends. No art background necessary.
Students are required to bring their own paints.
First Week: Charcoal Drawing
Second Week: Soft Pastels
Third Week: Oil Painting
Schedule for Drawing and Painting Classes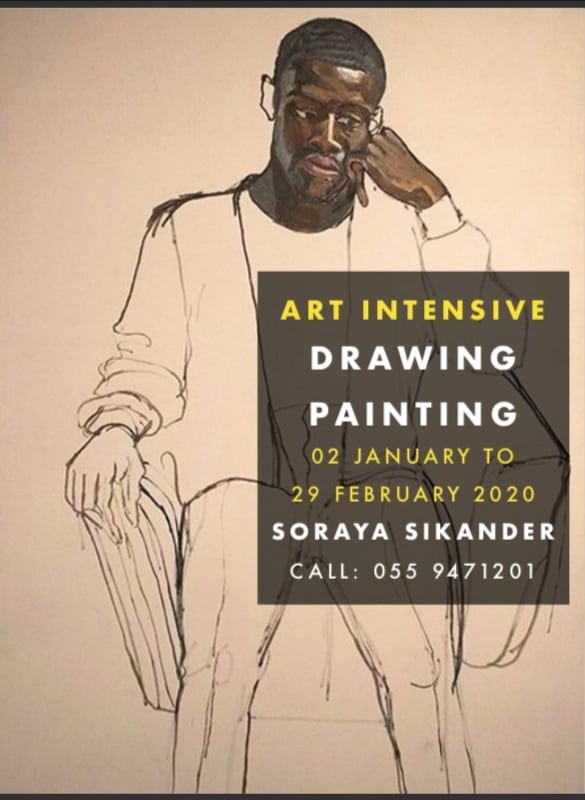 December 2019: Basic Drawing & Painting classes.
Start: 22 DECEMBER 2019 (Sundays 4 – 6 pm)
End date: 23 FEBRUARY 2020

An introduction to drawing in oil paints and developing still-life paintings, a starter course.
10 sessions every Sunday from 4 to 6 pm. All levels.
Location: Grove Village, Ras Al Khaimah
Course Fees: 1000 AED
January 2020: Advanced Drawing & Painting Art Intensive.
Start: 02 JANUARY 2020 (Thursday & Saturday 6:30 – 8:30 pm)
End date: 29 FEBRUARY 2020

9 weeks of Advanced Training in Drawing & Painting. Tonal drawings and painting of landscape & seascape over a duration of 2 months. Students will explore properties of oil paintings, using methods of old masters paintings such as sight-size, bargue & observational painting. Advanced level course.
18 sessions every Thursday and Saturday from 6 to 8 pm. All levels.
Location: Café Pacific, Al Marjan Island
Course Fees: 1000 AED
February 2020: Basic to Advanced Drawing & Painting training
Start: 01 FEBRUARY 2020
(Saturday 4 – 6 pm)
End date: 29 FEBRUARY 2020

Private Tuitions for one month. Students shall be introduced to the basics of light, shade, composition leading to advanced drawing style; developing their artworks first in charcoal as preliminary drawings, ultimately leading to dry pastel tonal paintings exploring light and shade. Training in the style of the old masters, in this 5-week intensive, students shall be introduced to techniques, styles, and approaches to realistic painting.
5 sessions every Saturday from 4 to 6 pm. Mid-level.
Location: Café Pacific, Al Marjan Island
Course Fees: 500 AED
Contact
Soraya Sikandar: 055 9471201 or email at info@sorayasikander.com
---
---