Listen to this article
Ramadan is a time for reflection, spiritual growth, and spending time with loved ones. And what better way to do that than over a delicious meal? DoubleTree by Hilton Resort and Spa Marjan Island Ras Al Khaimah is offering both iftar and suhoor options this Ramadan season, so you can break your fast and start your day in style.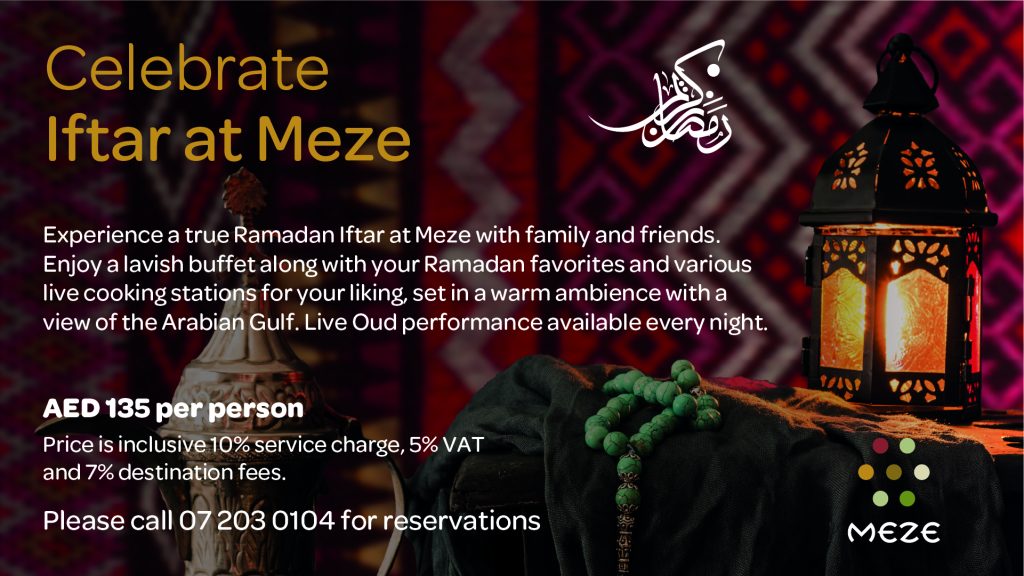 Let's start with iftar. Meze, the resort's restaurant, is the perfect place to enjoy a true Ramadan iftar with family and friends. The buffet offers a lavish spread of Ramadan favorites, with various live cooking stations to satisfy your taste buds. And with a warm ambiance and a view of the Arabian Gulf, you'll be transported to a world of luxury and relaxation.
But that's not all – Meze also offers live Oud performances every night, adding a touch of traditional music to the festivities. And at just AED 135 per person, it's an affordable way to enjoy a memorable iftar experience.
Iftar is available daily from sunset to 11 pm, so you can break your fast in style no matter your schedule. And with the price inclusive of 10% service charge, 5% VAT, and 7% destination fees, there are no hidden costs to worry about.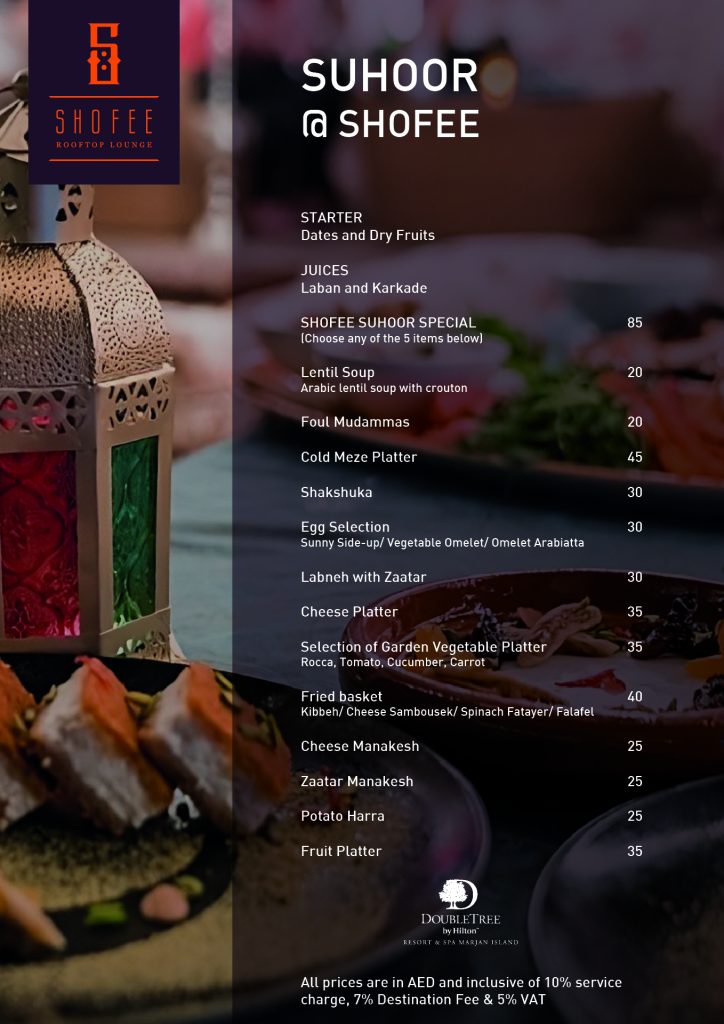 And if you're looking for a delicious way to start your day during Ramadan, ShoFee Lounge has you covered. Their suhoor specials are the perfect way to fuel up before the day ahead, with a stunning view of the Arabian Sea to enjoy while you eat.
Suhoor is available daily from 12 am to 3 am, so you can enjoy a late-night meal before the start of your fast. And with a variety of options to choose from, you're sure to find something to satisfy your appetite.
So whether you're looking for a memorable iftar experience or a delicious way to start your day, DoubleTree by Hilton Resort and Spa Marjan island has everything you need. Book your table today and experience the best of Ramadan dining in Ras Al Khaimah.
ABOUT DOUBLETREE BY HILTON RESORT & SPA MARJAN ISLAND RAK
Located at Marjan Island near the Al Hamra area of Ras Al Khaimah, the DoubleTree by Hilton Resort & Spa Marjan Island provides 650 m of private white sandy beach, villas with furnished balconies and views of the Arabian Sea.
Guests can enjoy the on-site dining with 13 restaurants & bars, including an all-day dining venue, 4 speciality restaurants, a rooftop bar, pool bars and a lounge and nightclub.
Contact and Location
For reservations, simply call 07 203 0104 and book your table today.