Fitness, Football and Fun for kids

Want to bend it like Beckham? Win like Ronaldo? Or just start to play the game? This football training in Ras Al Khaimah is perfect for your kids between Age 5 – 10 years. Suitable for boys and girls, they will get to learn new skills and tricks, tackle, dribble and so much more. Get ready to score a goal.
Advantages of Football for kids
Football is the most rewarding sport a child can play. There are lot of benefits of this sport.
Health Benefits: It is a physically demanding game that provides an opportunity for players to improve their speed, agility, strength, hand-eye coordination and overall cardiovascular endurance. 
Affinity: The friendship built amongest a team of football players is unlike any other sport due to high volume of teammates. With dozens of players working toward one common goal, the bond may kids develop with each other is priceless. This affinity is a lifelong benefit for children as they quickly appreciate the importance of developing close relationship with others.
Discipline: Football is a game of inches, and this margin of error requires a keen attention to detail from everyone on the field. One wrong step, one dropped pass or one mental error can negatively affect any given play. Kids who play football will learn the importance of being disciplined with everything they do
Work Ethic: Some days, putting on more than 10 pounds of pads and a helmet and lacing up the cleats just doesn't seem like fun thing to do, especially in UAE heat. But practice makes perfect, and preparation is needed to be successful in football. The strong work ethic football players develop is a vital asset they can carry with them for the rest of their lives.
Team work: Football is truly a team game. With 11 players on each side of the ball, everyone is counted on to play their individual role. There is a tremendous amount of accountability required from each player to do a specific job on everyday. This teamwork helps children become accustomed to working with others, a skill that is required in almost every profession.
Physical toughness: Football is one of the most physical sports. The risk of injury is greater than most sports, and bumps and bruises are nearly inevitable. These bumps and bruises heal over time, however player learn how to fight tough pain and give their best effort despite what limitations may be present.
Mental toughness: In addition to physical toughness, it takes a strong mind to play the game of football. Weather its battling through a minor injury or overcoming adversity after a turnover or a mistake, children often develop mental toughness they may never have discovered otherwise.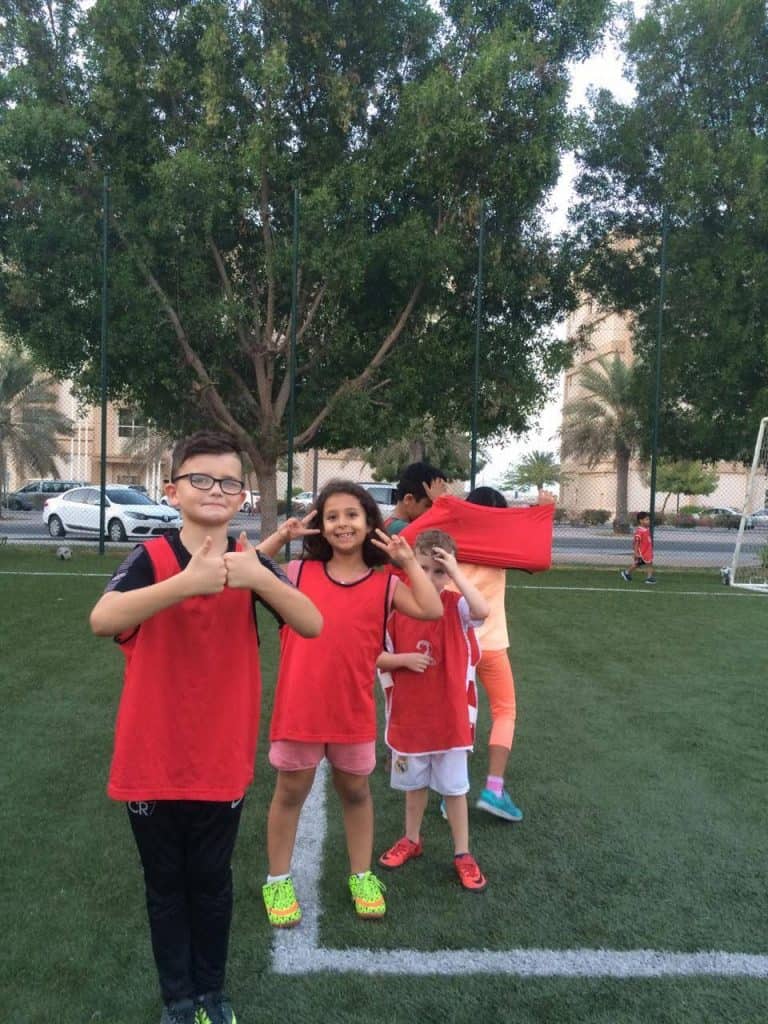 Cross training: Some kids have already identified their favorite sport, and may want to pursue it a higher level in future. For those children, playing football can become a great cross training activity in the off season. Several skills developed on the football field, such as hand-eye coordination, agility and vision, can translate to other sports.
Mina Al Arab Fitness
Our dear friend coach Chaouki has started a football and fitness training sessions for kids in Mina Al Arab, Ras Al Khaimah.  Kids from 5 till 10 years boys and girls both welcome. 
Their skill full team of trainers teach the basics of football and work towards improving the physical endurance( speed , agility, strength…) by using special equipment and athletic games.
Days and Timing
If your kid between 5 to 10 years old boy or girl  can join them in Mina Al Arab pitch every Sunday and Tuesday from 4:45 pm to 6:00 pm 
Fees
AED 400 per month for 8 Sessions
Contact
Call or Whats App Coach Chaouki : 0506109982 
Email: Chaouki_mechi@hotmail.com