Experience Iftar and Suhoor at this Extravagant Ramadan Tent in Ras Al Khaimah
Iftar and Suhoor have never been better! Savour the delicious buffet for Iftar or enjoy an à la carte menu for Suhoor at this extravagant tent by RAK Chambers in partnership with Kiwi events.
Catered by Mariott, The Al Khaimah Ramadan Tent is designed to grant the traditional Ramadan experience with a modern twist, the Tent will be open to the public throughout the holy month.
The Turkish and Moroccan inspired design of the Tent will take you to a warm, dreamy and relaxing Ramadan atmosphere.
Iftar Buffet
Relish a diverse Turkish and Middle Eastern buffet, with mouthwatering dishes that will delight and satisfy all tastes!
Time: During Ramadan from sunset till 9 pm
Suhoor à la carte
As the moon gets brighter in the Ramadan sky, à la carte menu for Suhoor with enchanting Oud music and traditional Arabic songs will certainly add brilliance to the nights of the holy month.
Time: During Ramadan from 10 pm till 3 am
Prices
Iftar buffet 135 AED per person. Group discount available
Kids from age 6-12 years for AED 67.5
Kids under Age 6 years are served for free.
Other facilities
Parents enjoy a calming Iftar while your kids get some fun colouring, or playing at the inflatables! Don't miss out on this great experience!
Moreover, the fascinating Oud music and traditional Arabic songs performed from 10:00 PM to 1:00 AM will endow the participants with memorable and magical Ramadan nights in their lifetime.
Enjoy your favourite flavour Shisha from 7:00 PM to 3:00 AM
Private dining and special cabins available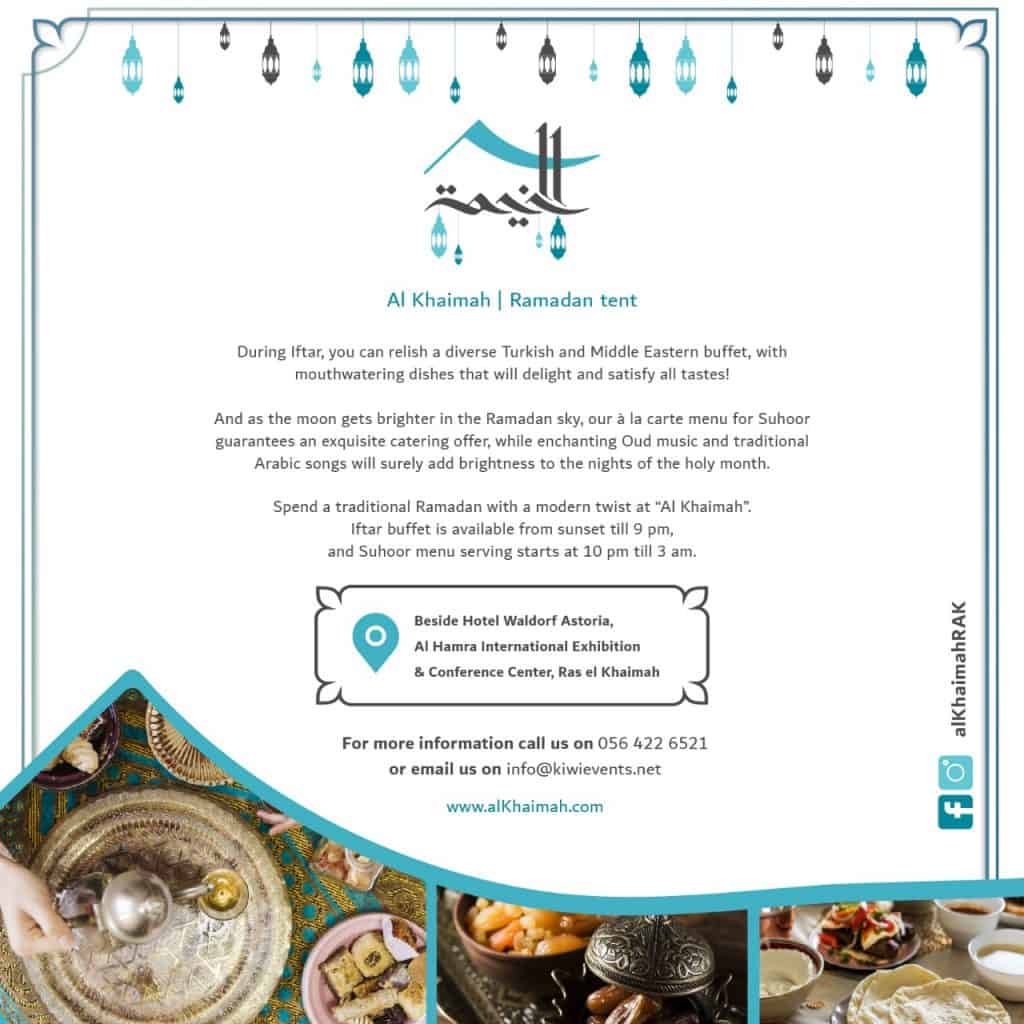 Contact and Location
Phone: 0564226521
Address: Al Hamra International Exhibition and Conference Center beside Waldorf Astoria
Ramadan Kareem! The holy month of Ramadan is that time of the year to revel in the spirit of the occasion and treat yourself and your loved ones to a fabulous meal (eat and drink) after a long day of fasting. Ramadan is, after all a time to spend time with your family and introspect. The aromatic and delicious Iftar spreads are a bonus.
Many restaurants in and around Ras Al Khaimah are waking up to the Islamic calendar (moon sighting) fasting period and offering special menus for Iftar, as in the time you break your fast at sundown. They may also have different working hours during Ramadan till Eid al Fitr (Eid).
If you're looking for the best iftar and Suhoor options in Ras Al Khaimah, WOW-RAK has compiled a comprehensive list just for you.