Listen to this article
This Valentine, Anavrin Equestrian Retreat is makes waves with their extensive ultra-romantic offers. Cupid runs amok across the over 20 acre property, with all day programs, fine dining, movie night and an 'out of this world' stay experience, designed towards wellness, happiness and developing soulful couple habits.
Day programs include extensive live entertainment, romcom and macabre movies, fine dining and romantic tents, starting from just 250 AED a couple.
Residential program called 'You, me and horsery' is a one day horse adoption program, which includes engagements such as 'walking drum', rain showers and 'horse guided meditation', called Gallop2Success. Experience a unique love triangle as you and your partner share a horse for a day, and bask in the high energy of the majestic animals, designed to elevate your love life and high spirits.
Sound healing and couple yoga programs complete the offerings, designed for couples looking forward to deeper engagement, with love vows that are designed to wow your partner. Expect redecorated love rooms, splashed with red, the color of love.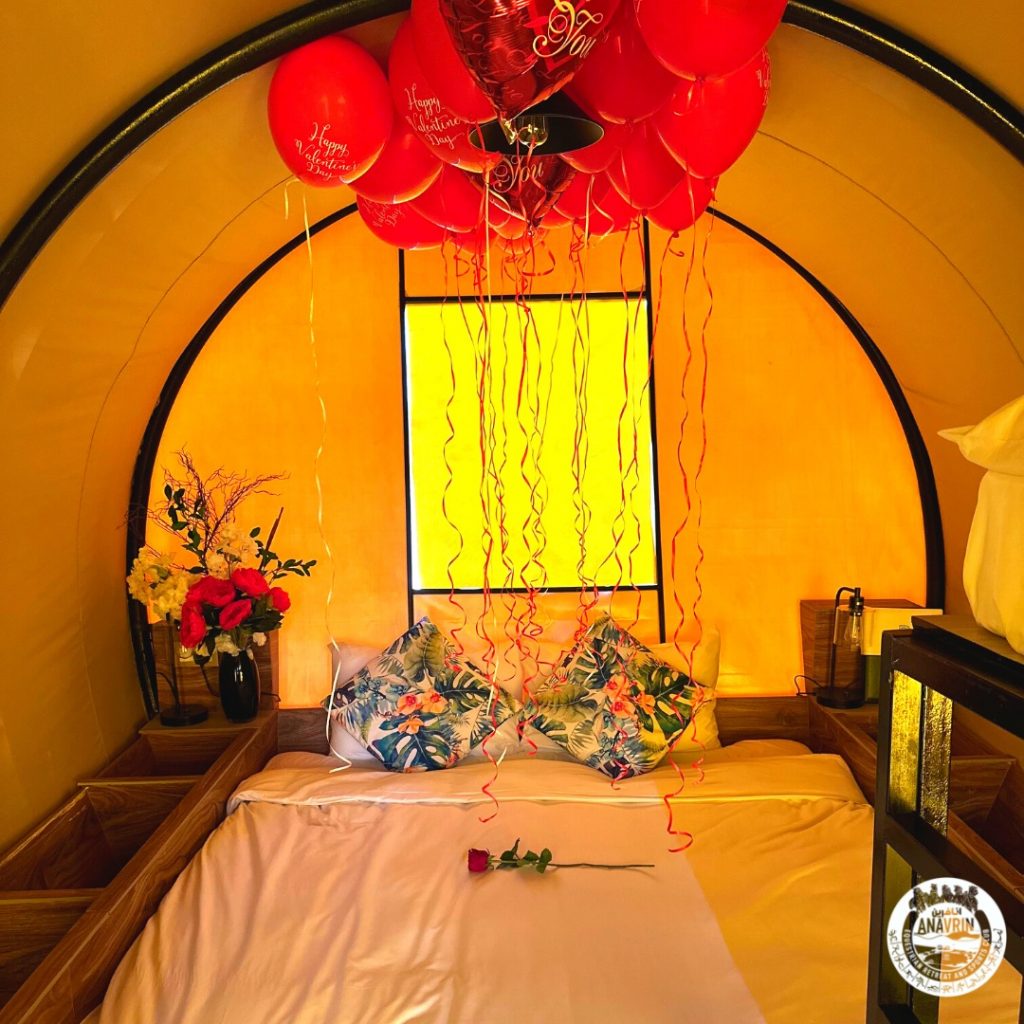 Anavrin Equestrian Retreat is a wellbeing retreat that celebrates life and freedom. Come. Connect. Heal.
Book in advance to avoid disappointment. The stay program is limited to only 40 couples, and the day program to only 30. Going.. Going…
About Anavrin Nirvana and wellness resort
The Anavrin Equestrian and Sports Club Resort is located on the grounds at the AlMatar Farms near Ras Al Khaimah airport. Including world class horse guided empowerment programs for individuals, corporates and couples, Anavrin is a unique residential rejuvenation center, offering various custom developed programs, ranging from basic 'back to nature' to advanced 'detox', 'rejuvenate' and 'recover' programs, where a unique scientifically proven methodology is used to achieve a 'feel good' factor for both visitors and guests.
It is almost surreal that horses exude unique energy patterns when around humans, and they are able to sense the negativities that surround us. It is these segments of energy and association with horses we focus on. We try to get to the root cause, and neutralize the negative energies. Our programs are rooted in the ancient science of trust and undying friendship between horses and humans, a science that has been a little lost since the automobile revolution.
Contact and Location
Please reserve your Entry / Table at https://anavrin.ae, or contact Anavrin +971564303993 for more information.