Listen to this article
Get Merry With Santa Claus
Santa Claus is, without a doubt, the most famous inhabitant of Lapland. This year, Hilton Garden Inn offers guests an audience with Santa to spend special bonding time with him. Families can look
forward to being greeted by Santa and receiving festive treats whilst joining in the Christmas tree lighting, carol singing and enjoying a mug of hot chocolate and cookies.
Venue: Hotel lobby
Date: 10th Dec 2022
Time: 7:00pm onwards
CHRISTMAS EVE BUFFET BY THE POOL
Prepare your appetites ahead of the big day and indulge in a festive buffet by the pool. Spend Christmas
Eve with family and friends indulging in a delicious feast. Diners can enjoy seasonal favourites, including
traditional roasts with all the trimmings, Christmas pudding, yule cakes and desserts. Enjoyed with the family will put you right in the festive spirit.
Price: AED 140 with soft beverages and AED 175 for soft and house beverages
Kids below 6 enjoy free buffet | Kids between 6 to 12 enjoy the buffet at half price
Venue: Pool Side
Date: 24th December 2022
Time: 18:30pm – 22:30pm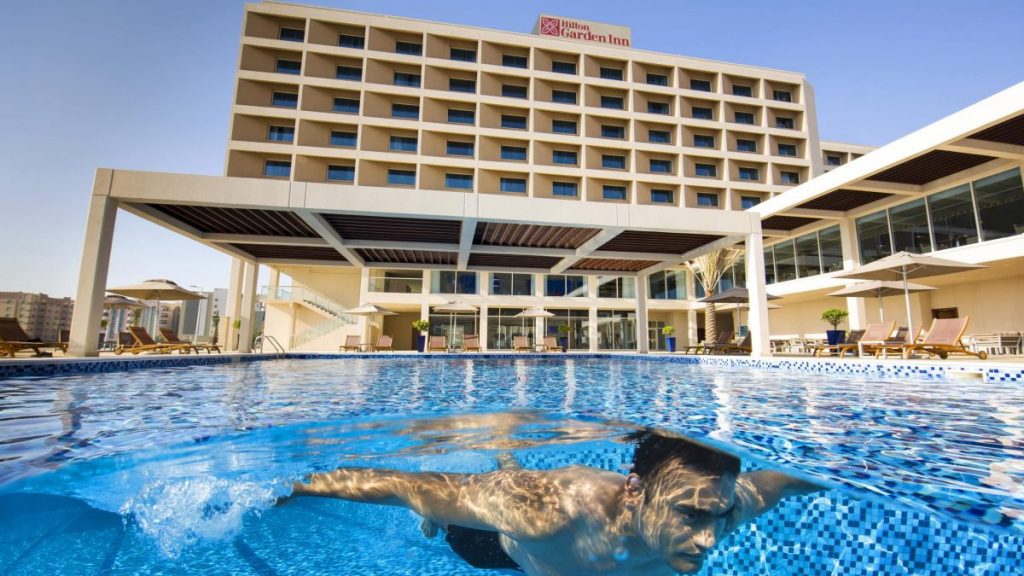 CHRISTMAS DAY TRUNCH WITH POOL ACCESS
Guests can continue with the festivities and celebrate Christmas Day with a seasonal menu at the
Garden Grille. There's nothing better than taking a dip in the pool and basking in the winter sun while enjoying this special day with loved ones.
Price: AED 140 for soft beverages and AED 175 for soft and house beverages
Kids below 6 enjoy free buffet | Kids between 6 to 12 enjoy the buffet at half price
Venue: Pool Side
Date: 25th December 2022
Time: 1:00pm – 3:30pm
CHRISTMAS DAY DINNER AT THE GARDEN GRILLE
Round off the celebrations by indulging in a grand Christmas Day dinner. Feast upon an international buffet featuring a range of festive favourites
Price: AED 140 with soft beverages and AED 175 with soft and house beverages
Kids below 6 enjoy free buffet | Kids between 6 to 12 enjoy the buffet at half price
Venue: Garden Grille
Date: 25th December 2022
Time: 18:30pm – 22:30pm
Contact & Location
Phone – +0566832433