Listen to this article
New Year's Eve is a time for celebration, and what better way to welcome the Year 2024 than by attending the breathtaking fireworks exhibition in Ras Al Khaimah? Known for its two Guinness World Records, Ras Al Khaimah promises a spectacular show that will leave you in awe. Prepare for an unforgettable evening at BM Beach Resort, where the beach, delicious dinner, and fantastic entertainment await. In this article, we'll take you through all the details of this extraordinary New Year's Eve celebration.
Fact Box
Date: 31st December
Time: 19:00 – 01:00
Early Bird Rates (Till 30th November):

AED 449 for Adults
AED 199 for Children (6-11) years of age
AED 59 for Children (3-5) years of age

Regular Rates:

AED 499 for Adults
AED 249 for Children (6-11) years of age
AED 99 for Children (3-5) years of age
Marvelous Fireworks Display
Witness a World Record Holder in Action!
Ras Al Khaimah's Guinness World Records
Mesmerizing Fireworks Show
The Magic of Pyrotechnics
Prepare to be dazzled as Ras Al Khaimah, a two-time Guinness World Record holder for its stunning fireworks displays, takes centre stage. The night sky will come alive with brilliant colours and patterns, creating an awe-inspiring spectacle that will leave you speechless.
Beachside Celebration at BM Beach Resort
Dinner, Drinks, and Dancing by the Shore
BM Beach Resort: The Perfect Venue
Delectable Dinner by the Beach
Unlimited Soft Drinks and Selected Alcoholic Beverages
BM Beach Resort provides the ideal backdrop for this unforgettable evening. With its pristine beachfront location, you'll enjoy the soothing sound of the waves as you celebrate the arrival of the new year. Indulge in a sumptuous dinner served right by the beach, with unlimited soft drinks and a selection of alcoholic beverages to toast the occasion.
Captivating Performances
Entertainment That Will Keep You Mesmerized
The Thrilling Fire Show
International Dance Acts
Mesmerizing Belly Dance
Enchanting Tanoura Dance
Live Singers and a DJ
The night's entertainment promises to be as spectacular as the fireworks. Prepare to be enthralled by a thrilling fire show that will leave you on the edge of your seat. International dance acts will showcase their talents, and a mesmerizing belly dance performance will captivate your senses. The enchanting Tanoura dance, with its colourful spinning skirts, is a sight to behold. Live singers and a DJ will keep the energy high, ensuring you dance the night away.
Countdown to 2024
Welcome the New Year with Excitement
Exhilarating Countdown
Join the Festive Atmosphere
Create Lasting Memories
As the clock strikes midnight, join the exhilarating countdown with fellow revellers. The festive atmosphere, crowd cheers, and dazzling fireworks will create an unforgettable moment. It's a perfect opportunity to make lasting memories with friends and family.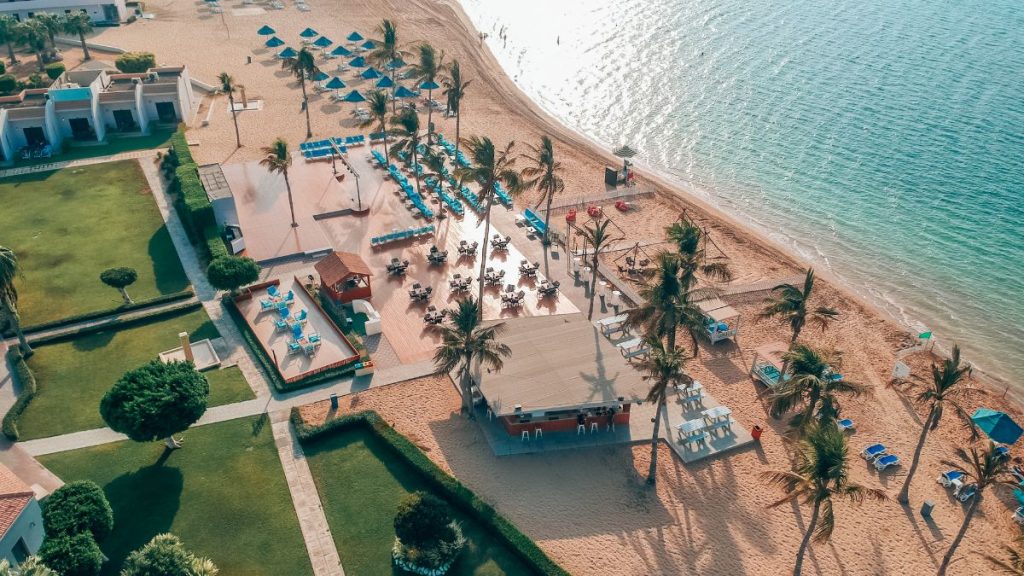 FAQs
Q: What makes Ras Al Khaimah's fireworks special?
A: Ras Al Khaimah holds two Guinness World Records for its stunning fireworks displays, making it a world-renowned destination for New Year's Eve celebrations.
Q: Is the dinner at BM Beach Resort included in the ticket price?
A: Yes, the ticket includes a delectable dinner by the beach, offering a fantastic dining experience.
Q: Are there age restrictions for the event?
A: The event is open to all ages. There are special rates for children, making it a family-friendly celebration.
Q: Can I book tickets in advance?
A: Yes, you can secure your spot by booking in advance. Early bird rates are available until November 30th.
Q: What should I wear to the event?
A: We recommend dressing in festive attire suitable for a beachside celebration. Comfortable footwear is also advised for dancing the night away.
Q: Is there parking available at BM Beach Resort?
A: Yes, the resort offers parking facilities for your convenience.
Conclusion
Prepare to bid farewell to the old year and welcome the new one in style at Ras Al Khaimah's New Year's Eve celebration. With its record-breaking fireworks, beachside dining, captivating performances, and an electrifying countdown, this event promises to be an experience you'll cherish forever. Book your tickets early, gather your loved ones, and prepare for a night of magic and memories on December 31st, 2023!
Contact & Location
Phone – +971 56 414 1085