Listen to this article
Luxury Train Experience Connecting Abu Dhabi, Dubai, Ras Al Khaimah, Fujairah, and Oman
Hold onto your seats, folks, because Etihad Rail is about to revolutionize the way you travel through the UAE! Get ready to embark on a one-of-a-kind luxury train experience that combines opulence, Emirati culture, and breathtaking scenery. From connecting Abu Dhabi and Dubai to venturing into Fujairah and Oman, this train ride will take you on an unforgettable journey. Buckle up and join us as we dive into all the exciting details of Etihad Rail!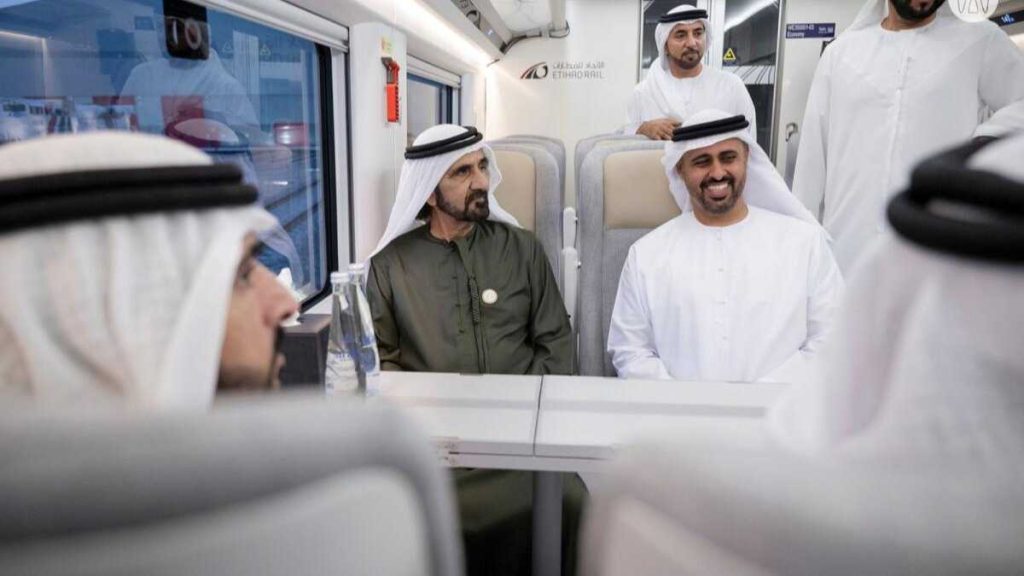 Luxury Train Experience Celebrating Emirati Culture and Heritage
Etihad Rail has recently signed an agreement with Arsenale, an Italian luxury hospitality company, to introduce a luxury train experience that immerses passengers in Emirati culture and heritage. This collaboration highlights Etihad Rail's commitment to driving economic and social growth in the UAE through the National Rail Network.
The luxury train will travel across the UAE, beginning from Abu Dhabi and Dubai, venturing into the nature destinations of Fujairah, with its stunning mountains bordering Oman, and passing through the captivating Liwa Desert and its famous oasis near Mezeiraa train station. The train will also extend to other GCC countries once the GCC Railway is operational, creating a seamless travel experience throughout the region.
Etihad Rail and Arsenale: A Match Made in Railway Heaven
Prepare for a groundbreaking partnership as Etihad Rail, the visionary UAE National Rail Network developer and operator, joins forces with the renowned Italian luxury hospitality company Arsenale. Together, they are set to deliver an extraordinary luxury train experience that celebrates Emirati culture and heritage while providing an unparalleled travel adventure.
This collaboration serves as a testament to Etihad Rail's commitment to driving economic and social growth in the UAE through the development of the National Rail Network. By introducing a luxury train experience, they aim to offer a world-class offering that elevates the region's tourism sector to new heights. Not only will this venture showcase the country's diverse heritage and beauty, but it will also create a unique and memorable experience for visitors from around the world.
Etihad Rail's partnership with Arsenale signifies a fusion of expertise, creativity, and innovation. Arsenale, with its extensive experience in the luxury hospitality market, is well-positioned to craft a train experience that exudes grandeur and immerses passengers in Emirati traditions.
Exploring the Route: From Cosmopolitan Cities to Natural Marvels
Get ready to embark on an enchanting journey as the luxury train winds its way through the heart of the UAE. The route encompasses a blend of cosmopolitan cities, picturesque landscapes, and hidden gems that will leave you in awe.
As the train glides through the gleaming skyscrapers of Abu Dhabi and Dubai, passengers will be treated to panoramic views of these vibrant metropolises. The captivating skyline will serve as a backdrop to a truly luxurious travel experience.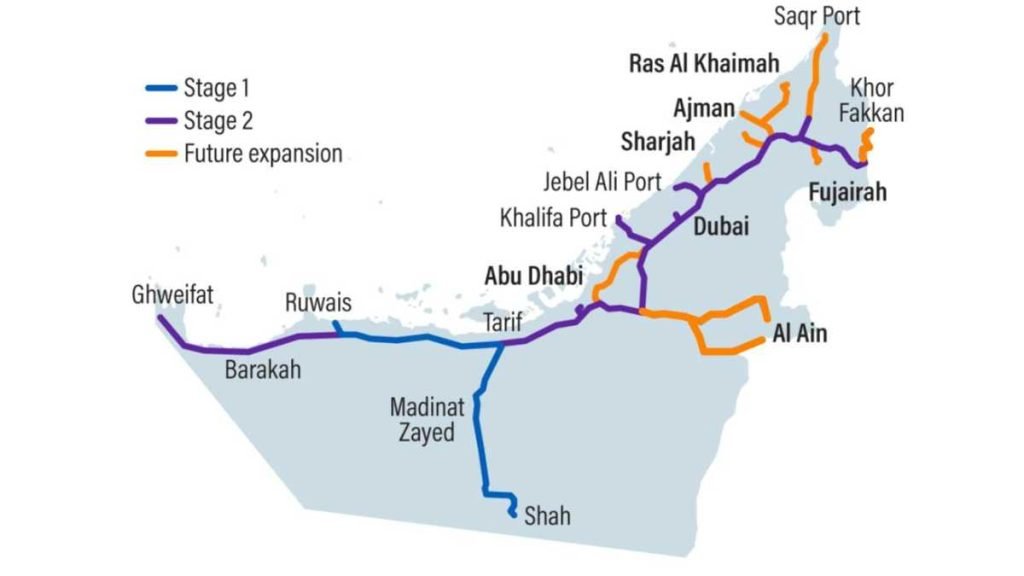 Leaving the urban landscape behind, the train will venture into Fujairah, where magnificent mountains await. These natural wonders, located on the border with Oman, provide a breathtaking spectacle that showcases the UAE's remarkable topography.
Continuing its journey, the train will traverse the mesmerizing Liwa Desert, renowned for its vast golden sands and pristine oasis. Passengers will be captivated by the allure of this mystical landscape, allowing them to connect with the essence of the UAE's heritage and natural beauty.
But the adventure doesn't end there! Etihad Rail has even grander plans for the future. Once the GCC Railway becomes operational, this luxury train experience will extend its reach to the wider GCC region, creating an interconnected network of luxury travel experiences.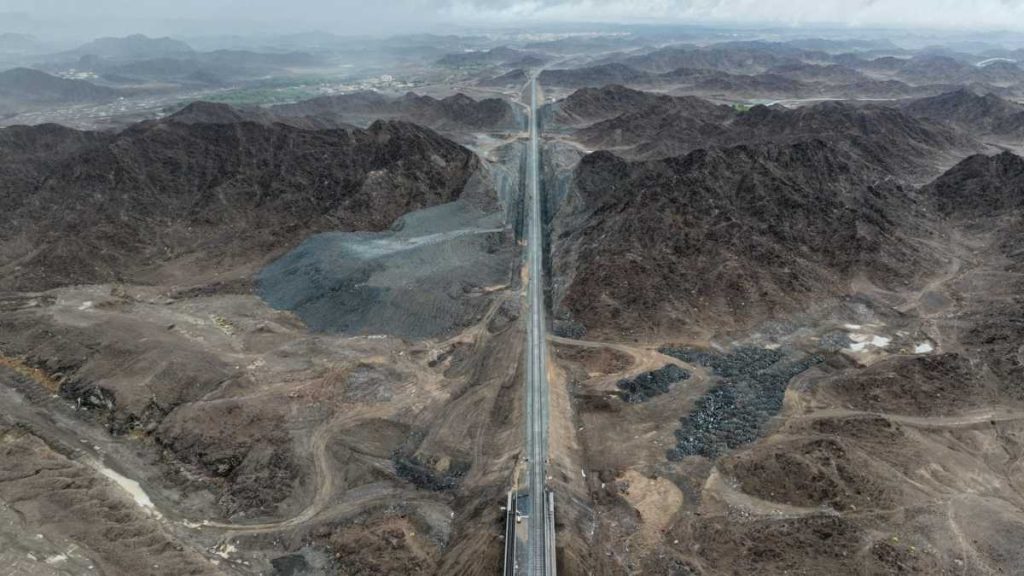 Stay tuned for an extraordinary voyage that seamlessly blends modernity, natural beauty, and the rich cultural tapestry of the UAE. Etihad Rail and Arsenale are ready to transport you to a world where luxury and heritage merge in a truly unforgettable way.
All Aboard the Lap of Luxury: The Exquisite Train Experience
Step into a realm of elegance and sophistication as you board the Etihad Rail luxury train. This remarkable locomotive is set to redefine opulence, offering passengers a truly indulgent experience from start to finish. Here's what you can expect:
Fully Customized Train:
Etihad Rail and Arsenale are sparing no expense when it comes to creating a train that exudes luxury and refinement. The train will feature 15 meticulously designed and refurbished carriages, each offering a unique glimpse into Emirati culture and heritage. The attention to detail and craftsmanship will be unparalleled, ensuring an extraordinary journey for every passenger.
Italian Excellence:
When it comes to the production, interior design, and onboard services, the expertise of Italy shines through. Specialized factories located in Puglia and Sicily will breathe new life into the train carriages, infusing them with the Italian touch. Prepare to be amazed by the fusion of Emirati traditions and Italian artistry, resulting in a truly world-class travel experience.
Etihad Rail's Recent Agreements and Future Plans
During the Middle East Rail Exhibition and Conference in Abu Dhabi, Etihad Rail signed a total of seven agreements to further drive the development of its freight and passenger services. These agreements include partnerships with DHL Global Forwarding, MICCO, Morocco's national railway operator ONCF, global technology company Uber, drone cargo specialist SkyGo, and the Fujairah Natural Resources Corporation (FNRC). These partnerships will enhance Etihad Rail's capabilities and ensure a seamless and efficient operation of the railway network.
Etihad Rail Network and Passenger Travel
The Etihad Rail Network, inaugurated earlier this year, connects all emirates, establishing a vital link between residential, industrial, and commercial centers. The network spans 1,200km, connecting the UAE, Oman, and Saudi Arabia. The railway line will include nine tunnels and 593 bridges, traversing mountains, wetlands, and deserts, promising passengers a picturesque and memorable journey.
Once the passenger train service is operational, it will connect 11 cities and regions across the UAE. Commuting between Abu Dhabi and Dubai will take just 50 minutes, while traveling to Fujairah will only require 100 minutes. This efficient mode of transportation is expected to reduce car commutes between Emirates by 30 to 40 percent.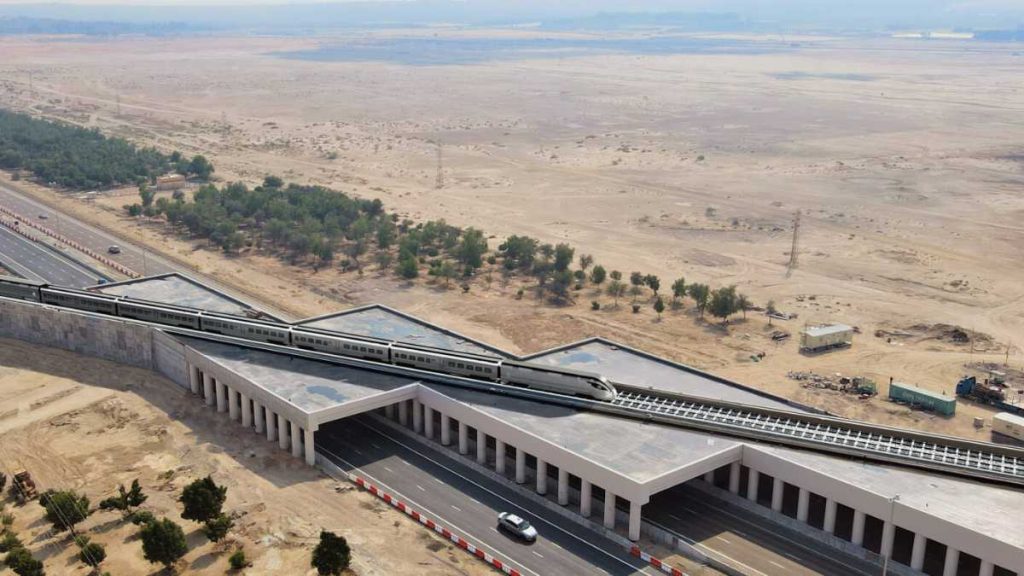 Etihad Rail's Significance for Ras Al Khaimah: Unlocking New Opportunities
Ras Al Khaimah, often referred to as the "Rising Emirate," is poised to reap the benefits of the Etihad Rail project. The inclusion of Ras Al Khaimah in the extensive rail network opens up a world of opportunities for the emirate. Here's why Etihad Rail is of utmost importance for Ras Al Khaimah:
Enhanced Connectivity:
With the integration into Etihad Rail's network, Ras Al Khaimah will enjoy seamless connectivity with other key cities and regions across the UAE. This enhanced transportation infrastructure will facilitate the movement of goods, people, and ideas, bolstering economic growth and development in the emirate.
Boost to Tourism:
Etihad Rail's luxury train experience will attract tourists from far and wide, providing them with a unique way to explore Ras Al Khaimah's natural wonders and cultural heritage. The emirate's magnificent mountains, pristine coastline, and rich history will be easily accessible, positioning Ras Al Khaimah as a must-visit destination on any traveler's itinerary.
Trade and Commerce:
Efficient rail connectivity translates into enhanced trade opportunities for Ras Al Khaimah. The seamless transportation of goods across the UAE and beyond will strengthen the emirate's position as a regional trade hub. Industries such as manufacturing, logistics, and agriculture will benefit from streamlined supply chains and increased market reach.
Job Creation and Economic Diversification:
The construction and operation of the Etihad Rail network in Ras Al Khaimah will create job opportunities across various sectors. From skilled labor required for infrastructure development to professionals in tourism, hospitality, and logistics, the project will contribute to employment generation and economic diversification in the emirate.
Ras Al Khaimah is poised to embrace the transformative power of Etihad Rail, leveraging its strategic location and natural assets to become a vibrant hub for trade, tourism, and investment.
It is important to note that the specific impact of Etihad Rail on Ras Al Khaimah will depend on various factors, including the integration of RAK into the rail network, the utilization of the railway for freight and passenger services, and the overall success of the project. However, considering the potential benefits, it is reasonable to expect that Etihad Rail will have a positive influence on Ras Al Khaimah's economy, tourism sector, and overall development.
Frequently Asked Questions (FAQs) about Etihad Rail:
Q1: When will the luxury train experience by Etihad Rail be launched?
A: The exact launch date for the luxury train experience has not been announced yet. However, Etihad Rail and Arsenale are working diligently to bring this extraordinary travel adventure to life.
Q2: How many carriages will the luxury train have?
A: The luxury train will consist of 15 fully refurbished carriages, each offering a unique glimpse into Emirati culture and heritage.
Q3: Where will the train carriages be crafted?
A: The train carriages will be completely refurbished in specialized factories located in Puglia and
Sicily, Italy, infusing them with Italian artistry and expertise.
Q4: Will the Etihad Rail network extend beyond the UAE?
A: Yes, Etihad Rail has plans to extend the luxury train experience to the wider GCC region once the GCC Railway becomes operational, creating an interconnected network of luxury travel experiences.
Q5: How will Etihad Rail benefit Ras Al Khaimah?
A: Etihad Rail's integration into Ras Al Khaimah will enhance connectivity, boost tourism, facilitate trade and commerce, and contribute to job creation and economic diversification in the emirate.
With the forthcoming luxury train experience, Etihad Rail is set to redefine travel in the UAE. This remarkable project is an ode to Emirati culture and heritage while offering an unforgettable journey through the country's stunning landscapes. The luxury train promises to be a marvel of design and comfort, opening up new horizons for tourism and transportation in the region. Stay tuned for more updates on this exciting development!