Listen to this article
Located in the heart of Ras al Khaimah. Al Dahaisa Stables is a riding school for children and ladies. A beautiful and tranquil spot boasting a picturesque landscape with the stunning Hajjar Mountains set as a backdrop.
Al Dahaisa is truly a hidden gem for horse lovers.
The friendly staff, the beautiful surroundings, well-trained horses, the educated coaches, the close proximity to Ras al Khaimah city and the lovely countrified atmosphere are what make Al Dahaisa Stables unique.
We look forward to seeing you at the stables where we can share our love of horses with you.
Location: https://goo.gl/maps/rCiz4ywxdjG2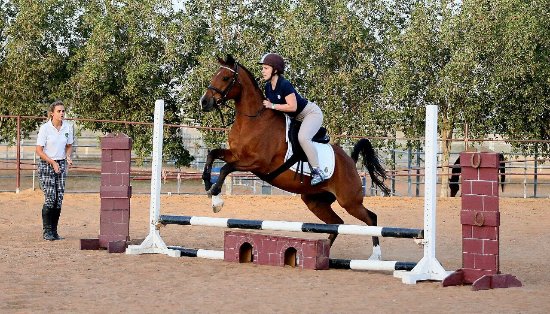 Updated 2022: Al Dahaisa Stables has been converted into a private Stable and is not available to the public.
Al Dahaisa Stable Estate is also home to Homely petz: A British pet care service in Ras Al Khaimah. Set 10 acres of land, Homely Petz specialises in beginner to advanced Dog Training and Behavioural support.
The Estate also has a camping site called RAK Glamping: an eclectic "boutique" Glamp Site embraces traditional Arabic Bedouin Tents, A-Frame Wood Cabins and cozy Lodge together with English hospitality and quality care to create a down-to-earth experience.
Other Horse riding experience options in Ras Al Khaimah
Ritz Carlton Al Wadi
All the residents staying at the Ritz Carlton Al Wadi Desert and Ritz Carlton Al Hamra have access to one of the finest riding facilities in UAE, where for experienced horse riders this is the chance to ride with the wind and enjoy a thrilling ride across the dunes. Feeling the thrill of the ascents and descents of the rolling dunes, this is an experience not to be missed.
Experienced riders will take you across the magnificent reserve where views of the red and golden sands are a sight to behold, riders encounter some of the many local inhabitants like Arabian Oryx, Gazelles, etc of this richly populated area along the way, and enjoy the full array of flora and fauna.
For the new riders, riding classes are also available upon request at the Al Wadi Equestrian Center.
Contact: +971 7 206 7777
Email: rc.rktrw.experience@ritzcarlton.com