Billions of people across the world will be looking to bring this year down in fine style on New Year's Eve. If you are one of those who wish to host a private party at a fancy luxury beach with a mind-blowing view of Ras Al Khaimah's epic fireworks, we have just the right venue for you.
A scenic Private location on the beach. Check
Open sky overlooking the Arabian Gulf. Check
Finest culinary delights to celebrate with your group. Check
Mind-blowing views of epic Fireworks. Double-check
A brand new Venue has just opened up at Rotz Carlton Al Hamra Beach Ras Al Khaimah
The Beach Deck outlet
The Beach Deck is one of the few places you can truly relax whilst enjoying delicious dishes & a glass of your favourite wine, or maybe just a nice pot of tea with a slice of cake. Located directly on Ritz-Carlton Al Hamra Beach's seafront, with stunning views of the sea from every table inside & out.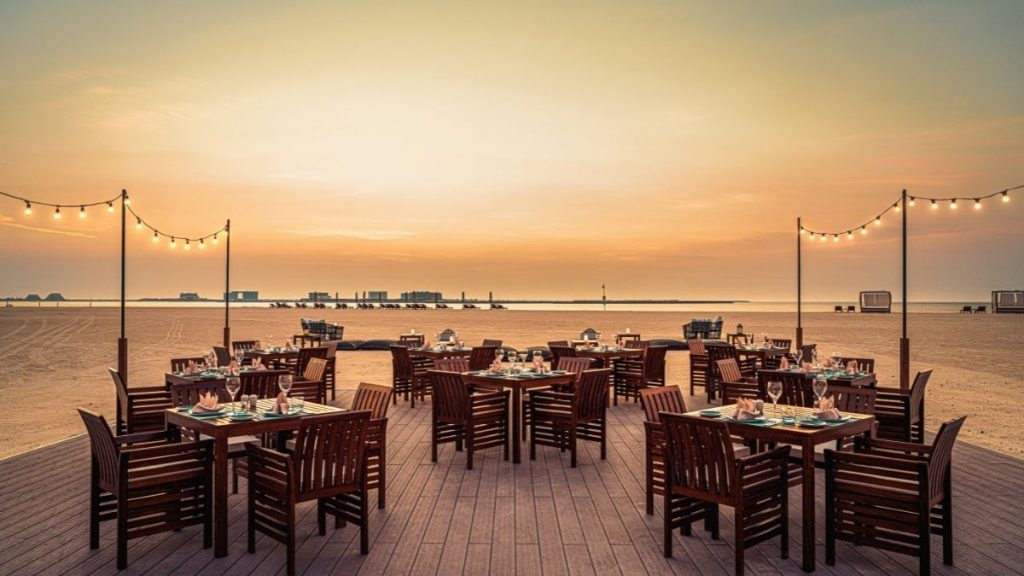 New Year's Eve, Friday December 31st 2021
From 8.00pm to 11.30pm
4-course set menu (see below)
Private location on the beach
Entertainment with Saxophonist
Record-breaking fireworks at midnight
AED 1,899 per person (inclusive of food and premium beverages – cocktails, wine & champagne by the glass, beers)
Minimum 20 pax
Each guest to receive a complimentary Day Pass (1 sunbed on the beach from 9 am to 6 pm) to be redeemed in January 2022
About Ritz-Carlton Ras Al Khaimah, Al Hamra Beach
A secluded oasis set along the Arabian Gulf, The Ritz-Carlton Ras Al Khaimah, Al Hamra Beach celebrates natural beauty and cultural heritage.
With 32 private villas, each with its own pool and direct beach access, The Ritz-Carlton Spa, Shore House restaurant offering poolside dining, ocean views and beach activities include archery, watersports, yoga classes – private or group session, and Ritz Kids activities, the resort offers seclusion and luxury in equal measure.
Blending traditional elements with modern luxury, the hotel offers a collection of experiences including outdoor adventure, bespoke dining and sea-facing spa treatments.
Contact and Location
For bookings contact Ritz Carlton Al Hamra Beach at 07 204 8888