Deep Dive Dubai is the world's deepest diving pool located in Nad Al Sheba, Dubai. An hour drive from Ras Al Khaimah and 25 minutes from Dubai International Airport. The pool has a staggering depth of 60 metres (196 feet). This is officially the world's deepest pool and largest underwater attraction in Dubai. To celebrate UAEs heritage as a pearl-diving nation, the building was designed to look like an oyster.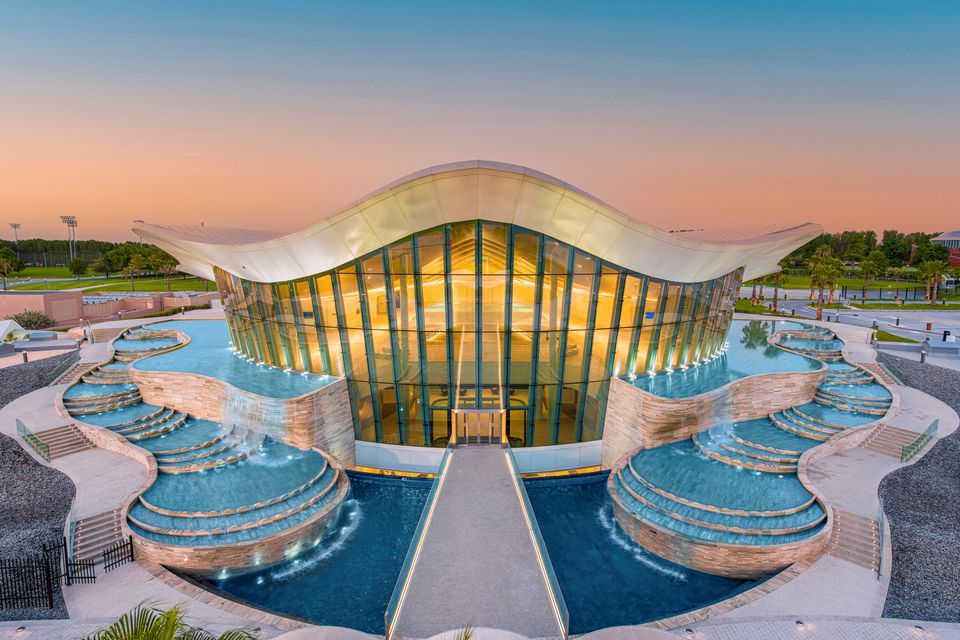 Deep Dive Dubai also has the ability to block all-natural sunlight, creating a daytime "night dive" experience, as well as a hydrophone system from which music, soundscapes, and announcements can be broadcast to divers underwater.
This underwater attraction allows novices to explore in the safety of a controlled diving environment. It is filled with 14 million litres of warm water, it opens up new adventures for experienced divers and thrill-seekers who want to go deeper and explore further. To be precise, the pool is equivalent to six Olympic-sized swimming pools. The water temperature is maintained at a comfortable 86 degrees Fahrenheit, so divers can jump in wearing a thin diving suit or a swimsuit.
Deep Dive Dubai offers a variety of experiences but it should not be mistaken for an aquarium. The experiences include discovery dives for first-timers, scuba dives, freedives, and diving courses and workshops on all levels of diving from beginner to technical instructors.
Built around the pool is a three-story facility from which spectators can watch divers swim down to about 39 feet. The facility houses restaurant and gift shop for visitors and classrooms and conference rooms for training and events. One can also enjoy juices, coffee, snacks, sandwiches, and other treats in the cafe on the B2 level while appreciating a spectacular view of the sunken city and many activities through the large windows.
Once under, visitors will discover an underwater metropolis that conjures up the lost city of Atlantis with graffiti, crumbling facades and a giant portrait of Marilyn Monroe hanging on the wall. There's also a library and even an arcade featuring games including a table football, a pool table, as well as a vintage Pac-Man machine. The diving complex also features an 80-seat restaurant equipped with large windows and TV screens, which non-diving visitors to peek inside the pool as divers swim by.
The pool is equipped with 56 cameras to monitor divers and keep them safe. The cameras cover the entire pool and are monitored so lifeguards can react to potentially dangerous situations. There is also a hyperbaric facility — or oxygen-therapy chamber — to treat divers in the event of accidents.
With the capacity to hold events for up to 100 people and onsite catering options, it is also being positioned as a MICE venue.
The pool's fresh water is filtered and circulated every six hours through siliceous volcanic rock, NASA-developed filter technology and UV radiation, according to Dubai Media Office.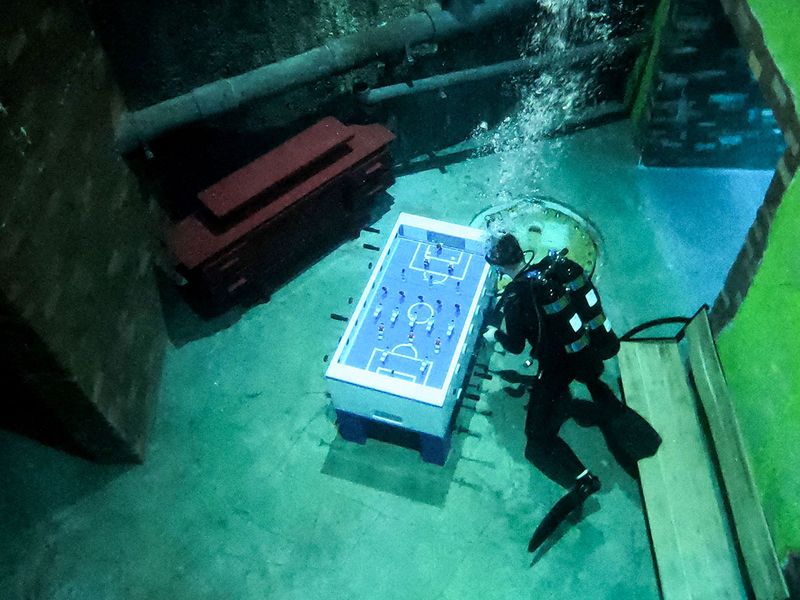 Diving courses by Deep Dive Dubai
Deep Dive Dubai offers courses across three categories. First is the "Discover category" which includes those people who want to try a single dive or take their initial step towards the certification as a diver.
However, the "Dive category" allows people to dive but within their certification limits. The "Develop category" is for training to help develop skills and gain scuba diving and freediving certifications from entry-level to the technical level and lastly instructor level.
Freediving and scuba diving experiences- and courses are offered to all ability levels by a hand-picked team of international diving experts.
Contact and Location
Visit: https://deepdivedubai.com/