Oh, how we love Christmas. That time of the year we're all looking forward to – and what's not to love about it?
It's a time to celebrate with all your closest family and friends, and also a time to enjoy giving back to those that you love by showing them all how much you care.
Turkey season is here and you can now book and enjoy a special bird for you and your family. Treat your family and friends to a whole-roasted turkey from the comfort of your home. This delicious festive hamper includes perfectly cooked turkey stuffed with roulade, complete with all the trimmings such as brussels sprouts, broccoli, beans, parsnips, celeriac, carrots, chestnuts, mashed potatoes and cranberry sauce.
If you're looking for the absolute best Christmas cakes to buy in 2021, then we don't blame you!
With a delicious selection of handcrafted Christmas cakes to order in Ras Al Khaimah, and made locally in
at CityMax Hotel's kitchen, you can be sure the whole family will be in for a treat.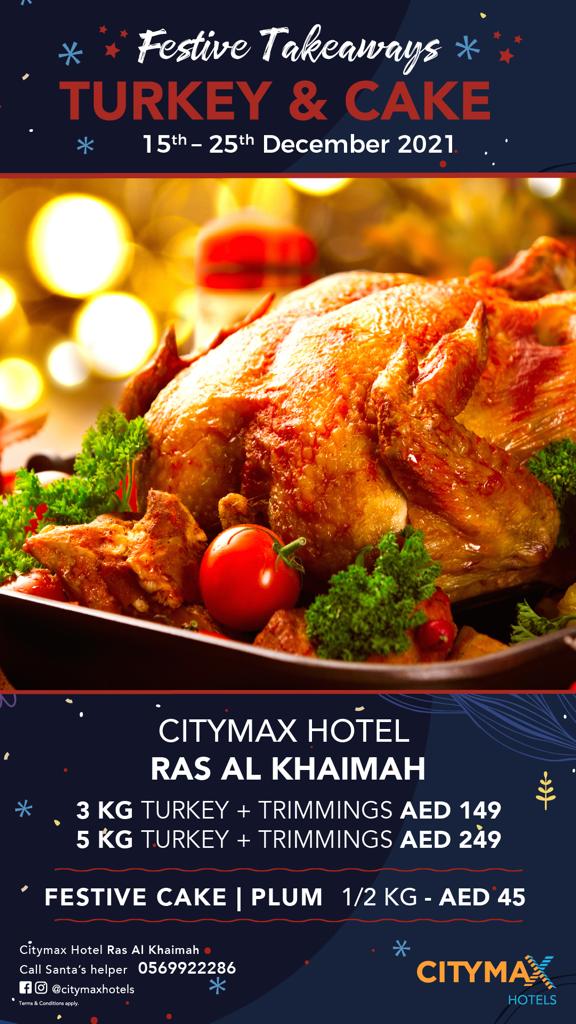 Contact and Location
Citymax Hotel Ras Al Khaimah
Call: +971569922286