Escape the daily grind and enjoy the cool and breezy atmosphere on one of Ras Al Khaimah's top beaches at The Cove Rotana Resort. The exclusive Raqi Beach is a unique combination of music, dining and entertainment, which offers the chance to unwind and be pampered on 600 meters of perfect white sand in sumptuous surroundings.
The Cove Rotana Resort, Ras Al Khaimah is offering a mind-blowing RAQI beach daycation offer. Experience summer fun without leaving your city with an exciting daycation offer fully redeemable on food and drinks.
RAQI Beach offers a menu from Breakers Beach Bar & Lounge where you can feel the sand beneath your feet and admire uninterrupted sea views while you sip a cocktail or dine on a range of international cuisine from our wide-ranging menu. Relax in the sun or watch it set in the distance as the gentle waves lap on the shore in this barasti-style setting featuring a novel traditional Arabian boat as a seating option.
Starters and Quick Snacks Available
Alcohol Available
Shisha Available
RAQI Beach Daycation prices
Sunday-Thursday: AED 100 per person for a sunbed or AED 250 per couple for a luxury cabana
Friday and Saturday: AED 150 per person for a sunbed and AED 350 per couple for a luxury cabana.
The above fees are fully redeemable on F&B within the same day.
Only for Adults
Daily DJ from 2.30 pm till 6:30 pm (except Sundays)
This offer is limited to Raqi Beach and Breakers Beach bar only. Pool and Gym access not included.
The offer is valid until the 30th of September 2021.
Membership at Raqi Beach
AED 1,500.00 – 3 months membership
AED 2,200.00 – 6 months membership
AED 3,000.00 – 12 months membership
25% discount on Food & Beverages
25% discount on SPA and Beauty Center
25% discount on Watersport activities
Private beach access with personalized VIP service
Exclusive use of luxury sunbeds and cabanas
A choice of delicious food and beverage packages
Variety of beach entertainment activities
DJ and live band performance
Free entrance on our Sunset Pool Live Shows and Live band at night.
Unprecedented sea, beach and resort views
Timings and Bookings
Opening hours: daily from 9:00 to 21:00
For more info contact: 072066341 or WhatsApp 0504637216

About Cove Rotana Resort Ras Al Khaimah
The Cove Rotana Resort where the traditional charm embraces the uniqueness of the Arabian culture is located on an idyllic water inlet of Ras Al Khaimah beachfront overlooking the Arabian Gulf with 2 restaurants, 4 bars and 600 m of private beach.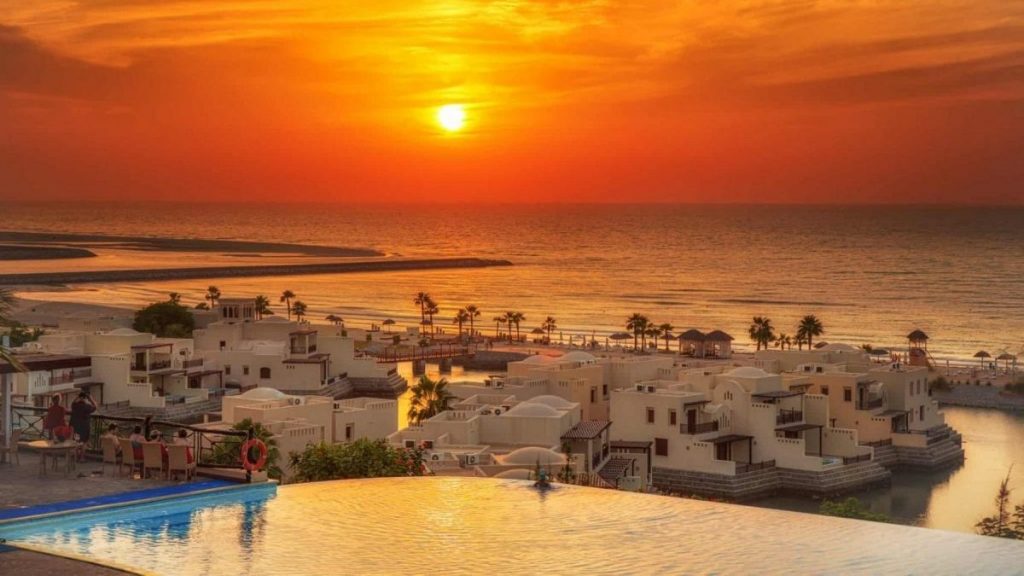 The Cove Rotana Resort is one of Ras Al Khaimah's most sought-after dining destinations with six exciting venues offering a range of international cuisine and inspiring locations, some with beach and sea views. Guests and visitors to Ras Al Khaimah can experience Mediterranean specialities at Basilico, casual meals at Breakers Beach Bar & Lounge and Laguna Bay Bar, shisha and sundowners at Breeze Bar & Lounge and a wide range of refreshing beverages at Sunset Pool Bar.
Bodylines Fitness & Wellness Club features state-of-the-art gym and fitness classes. A wide range of water sports is available and fishing and golf trips, and Flippers Kids' Club will look after the little ones.
The Cove Rotana Resort is located just a few minutes drive from Ras Al Khaimah Airport and 45 minutes from Dubai
Contact and Location of Raqi Beach Ras Al Khaimah
For more info contact: 072066341 or WhatsApp 0504637216
ALSO READ: Check out these summer offers at Hilton Garden Inn Ras Al Khaimah