Get ready to scrum down! In a first of its kind event, on 16th April, Rugbyfest 2022 is kicking off at Al Hamra Rugby Pitches.
Sanctioned by RAKTDA, the tournament is hosted by RAK Rugby and supported by RAK Insurance
Visitors are welcome to come along and watch for free, eleven UAE rugby teams with over 220 players engage in battle for glory and silverware, as well as enjoy pitch-side dining and a cash bar throughout the day. To keep the whole family happy there will be loads of fun to be had in the kid's zone.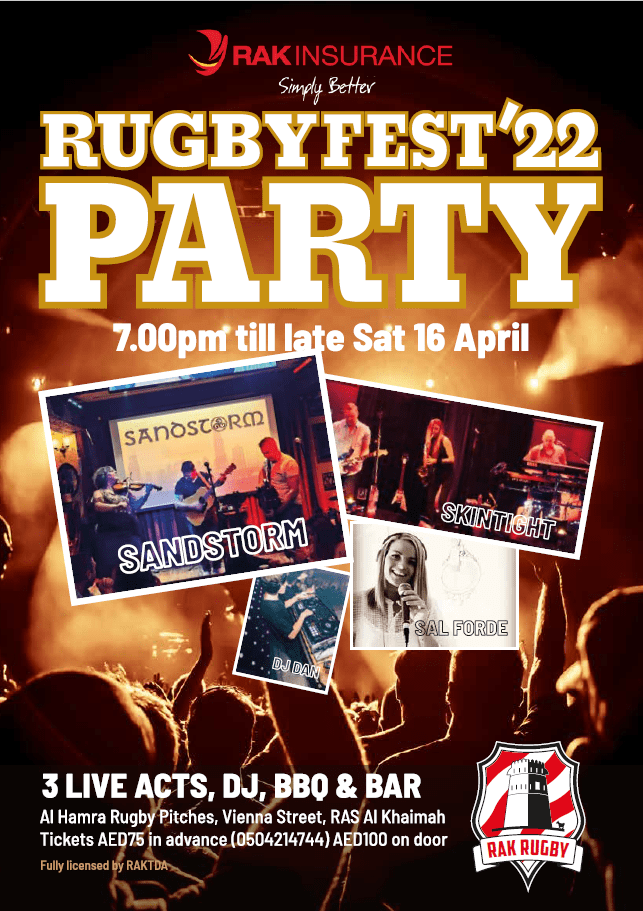 Apart from the sporting spectacle, the day will conclude with a mega six-hour pitch-side 'after party' from 7.00 pm till very late featuring Sarah Forde, Skintight and headlined by  Sandstorm together with sets in between by DJ Dan.
After Party Ticket
After party tickets can be reserved in advance for AED 75 (050 421 4744) or purchased at the door for AED 100.
About RAK Rugby
RAK Rugby Club (formerly known as RAK Goats) was officially established back in 1981 in honour of the indigenous mountain goats that were found in the local mountain range and the team has played under this name ever since.
Rugby in Ras Al Khaimah has been reported to have been played in the region since 1969 in various forms and after 7 years of inactivity, the team was revived in 2013 by a group of rugby veterans.
Following their revival, RAK Rugby Club has won local tournaments and is aiming to be a force to be reckoned with in the UAE Division 2 league.
Contact and Location
For more information contact: +97150 421 4744 or WhatsApp https://bit.ly/3M2jDTI