Ravi Shastri appointed as RAKEZ Corporate Ambassador
Ras Al Khaimah Economic Zone (RAKEZ) has welcomed Ravi Shastri, Head Coach of the India National Cricket Team, former India Cricketer and TV commentator, as its exclusive Corporate Ambassador to the Indian business community. As the face of RAKEZ, Mr Shastri will be representing RAKEZ in networking events, business forums and seminars, to build and sustain business relationships with key accounts and brands.
"This is the first time that we have appointed a Corporate Ambassador, and we're very happy to have the right man on-board. Mr Shastri was a natural choice given that he's not only an iconic Indian figure that possesses the admiration of cricket fans globally; he's also a coach who leads teams to victories. I'm confident that he's going to do the same for us by taking our relationship with the Indian business community to the next level – a relationship we started building almost two decades ago," said Ramy Jallad, RAKEZ Group CEO.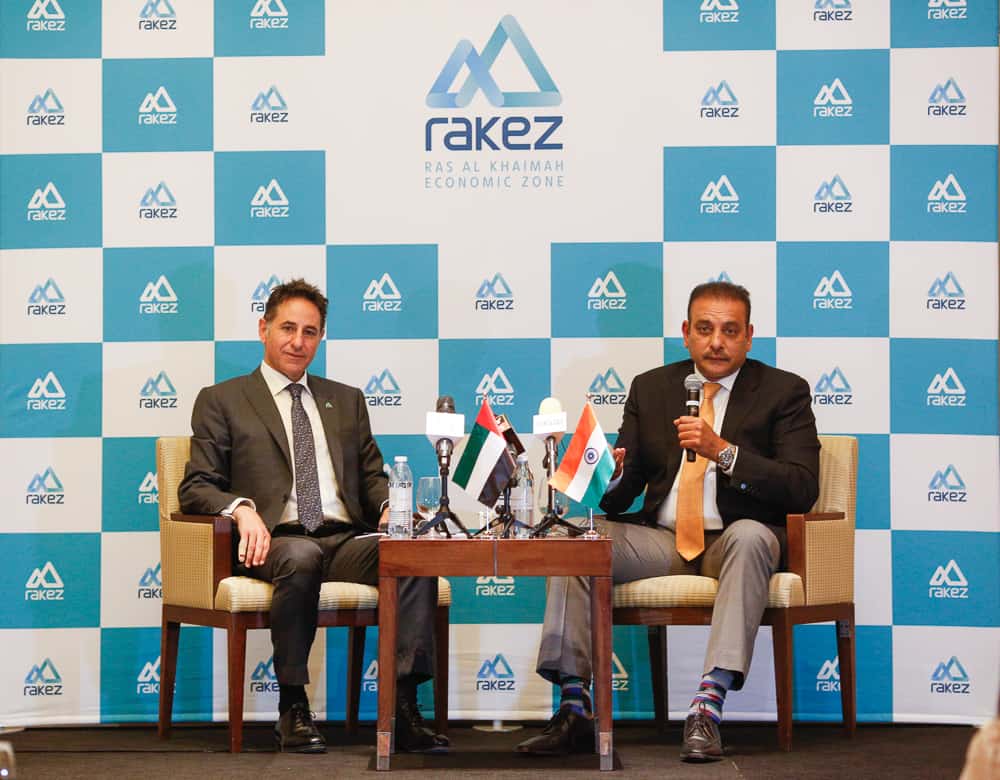 Commenting on RAKEZ's commitment to the Indian market, Mr Jallad shared: "Indian businesses have greatly contributed to Ras Al Khaimah's economic diversification as well as the increase of employment opportunities, hence our dedication to support them. Throughout the years, we have launched numerous initiatives for the Indian investors, opened an office in Mumbai in 2006, and conducted roadshows in India to share the benefits of expanding to the UAE. Our efforts have led to over 3,300 Indian companies choosing RAKEZ as their business destination. That's 23% of our total company population. With Mr Shastri joining Team RAKEZ, we're positive that he'll be influencing more Indian business leaders to set up or expand their operations to the United Arab Emirates though RAKEZ."
Indian companies in RAKEZ are operating across various industries with over 1,600 flourishing in the commercial field; nearly 1,000 in services; more than 350 in general trading; and around 100 in the industrial sector. The rest are spread across media, e-commerce, educational, and more. Due to the growing demand from Indian investors, RAKEZ has relocated its Mumbai office to a bigger and more central location in Bandra Kurla Complex in 2018.
Expressing his views on the collaboration with RAKEZ, Mr Shastri said: "I'm very excited and proud to be the Corporate Ambassador of RAKEZ to the Indian business community. It is one of the leading business and industrial hubs in the Middle East region, and home to many famous Indian brands. I've heard nothing but positive feedback from Indian companies about RAKEZ, so I am confident that I am associating myself with the right organisation that has been consistently helping Indian companies go global. My goal here is to coach more Indian investors to choose the right track and play it right when it comes to their business."
This first-of-its-kind approach is one of the many other initiatives that RAKEZ will be launching in the future to attract more investors from all over the world and boost the economic growth of Ras Al Khaimah.