Listen to this article
19 entities of the Government of Ras Al Khaimah have received the prestigious ISO 50001 energy management certification, making the Ras Al Khaimah Government the first in the world to have all its entities certified. This achievement was announced at the World Future Energy Summit 2023, which is part of Abu Dhabi Sustainability Week.
These certifications recognize the Ras Al Khaimah Government's ongoing efforts to improve energy efficiency and promote sustainability. They are the result of a multi-year program that included asset retrofits and capability upgrades, as part of the Ras Al Khaimah Energy Efficiency and Renewables Strategy 2040.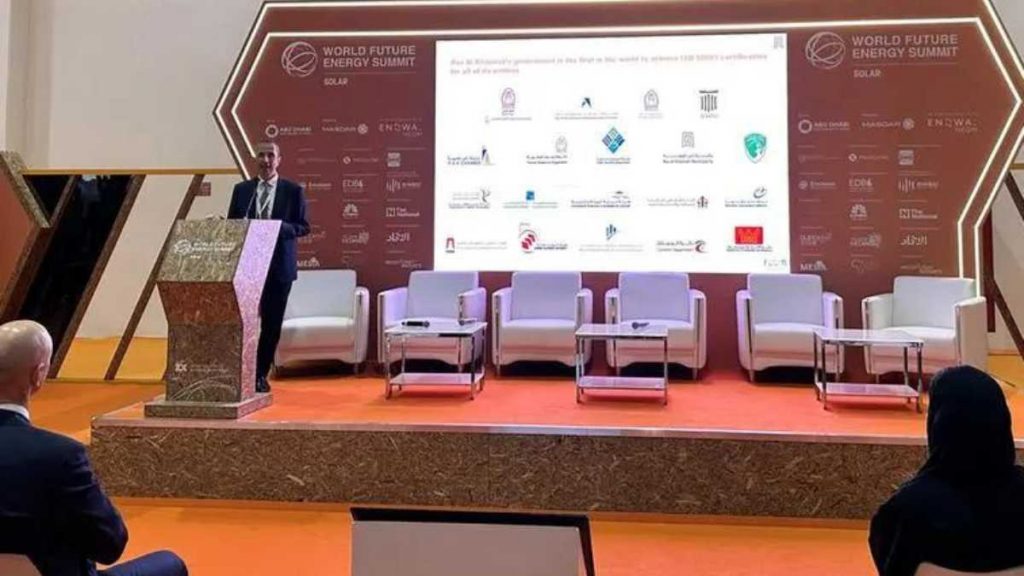 Upon becoming the first government in the world to have all its entities certified with ISO 50001, H.E. Dr. Mohammed Abdullatif Khalifa, Secretary General of the Executive Council and Director General of the Department of Human Resources said, "We are thrilled with this achievement, which is a direct outcome of our commitment to the vision and guidance of His Highness Sheikh Saud bin Saqr Al Qasimi, UAE Supreme Council Member and Ruler of Ras Al Khaimah, to make our emirate more sustainable and set a global example in energy efficiency and renewable energy."
H.E. Dr. Mohammed Abdullatif Khalifa further added, "We are proud of the energy teams and managers across all the entities that have accomplished this milestone and we encourage them to continue to strive for such high levels of ambition to make Ras Al Khaimah a global center for energy sustainability."
On this occasion, H.E. Munther Mohammed bin Shekar, Director General of Ras Al Khaimah Municipality, said, "This accomplishment is a testament to the Ras Al Khaimah Government's dedication to the energy transition. The energy management systems we have put in place will help government entities in launching new projects and developments that will support the UAE's net-zero ambitions."
A comprehensive retrofit of government buildings was carried out between 2018 and 2022 using energy performance contracting. The upgrade of four Ras Al Khaimah Municipality buildings in 2018 was followed by a larger project, resulting in the retrofit of 50 buildings by December 2022. These retrofits are now bringing guaranteed savings of 26% on electricity and water bills.
During the same period, a centralized approach was adopted to enhance organizational capabilities to manage energy consumption, with the goal of further increasing these savings over the long run. The Energy Efficiency & Renewables Office of Ras Al Khaimah Municipality (Reem) has supported all government entities in implementing best practices in energy management, and taking advantage of synergies such as scale in green procurement and training through the Upskill program. Collaboration mechanisms have been established among nominated energy teams in each entity to ensure effective results.
At the start of the Covid-19 pandemic in 2020, this coordinated approach resulted in the implementation of quick-wins in consumption behaviors, leading to approximately 10% energy savings with minimal investment. The success of these efforts encouraged the teams to take more long-term steps, such as the implementation of complete energy management systems according to the internationally recognized ISO 50001 standard. These include, but are not limited to, energy policies, targets, monitoring and reporting tools, periodic audits, and management meetings to ensure that the pursuit of energy optimization opportunities are integrated into the planning and management processes of each organization.
The energy management initiative of the Ras Al Khaimah Government is a component of the Energy Efficiency and Renewables Strategy 2040 of the emirate, which aims to achieve 30% energy savings, 20% water savings, and 20% contribution of electricity from renewable sources by 2040. This strategy supports the UAE's commitments to climate change mitigation as part of the United Nations Framework Convention on Climate Change.