RAK set to host Special Olympics 'Flame of Hope'
The Torch #FlameofHope will be welcomed in Ras Al Khaimah at the Al Qawasim Corniche on 5th March followed by Umm Al Quwain, Ajman and Sharjah, spending a day visiting iconic locations in each of the four Emirates including Jebel Jais.
Residents have been urged to join the ceremony at the Al Qawasim Corniche from 17:30 pm to 19:30 pm.
Under the patronage of Lt. General HH Sheikh Saif bin Zayed Al Nahyan, Deputy Prime Minister and Minister of Interior, the Special Olympics World Games will be held in Abu Dhabi 2019 in the Year of Tolerance.
Torch The flame of hope reached Abu Dhabi after flying from Athens to the UAE capital on the Boeing 787-9 Dreamliner of the Etihad Airways, the official partner of the World Games, which has a special design for the owners to promote the biggest sporting and humanitarian event.
The torch relay got under way from the Wadi Al Wurayah Waterfalls in Fujairah and will be carried around the UAE for 10 days with a strong message of courage, celebration of diversity and pledge to unite communities in UAE and around the globe.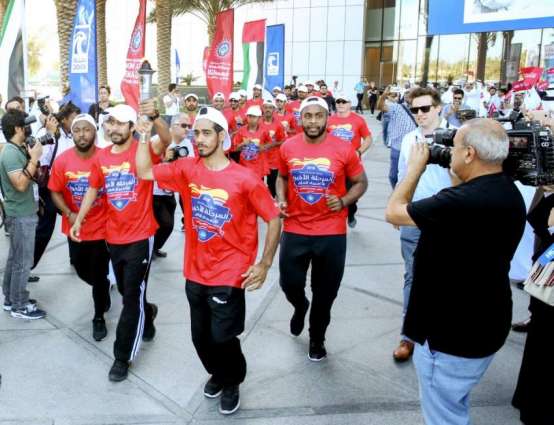 The flame would then reach the Zayed Sports City Stadium on March 14 where following a glittering opening ceremony, 7,500 athletes and 3,000 coaches, representing more than 190 countries, will take part in the biggest Special Olympics Games in history.
They will participate in 24 officially sanctioned Olympic-style sport in world-class venues throughout Abu Dhabi and Dubai.
Special Olympics World Games Abu Dhabi 2019 reflects the values of inclusion, co-existence, and humanity that are embedded in the very core of the UAE.
Hosting the games in the Year of Tolerance reinforces the UAE's ethos of active inclusiveness and our wise Leadership's vision to build a society where people of all cultures and abilities are welcomed and celebrated.
Calendar event
[ai1ec tag_name="Special Olympics"]