More Adventure Activities are coming to Ras Al Khaimah
A further six zip lines, a bungee jump and close to 80 kilmetres of hiking trails are planned in emerging tourist destination Ras Al Khaimah over the next 12 months.
Ras Al Khaimah in the United Arab Emirates, which already houses the world's longest zip wire, revealed details about its tourist development plans at this year's Aito overseas conference, which is being held in the destination.
The emirate recently launched a marketing campaign 'I Found Ras Al Khaimah' and announced its target of three million international visitors by 2025. By the end of this year it will have exceeded its one million arrivals target.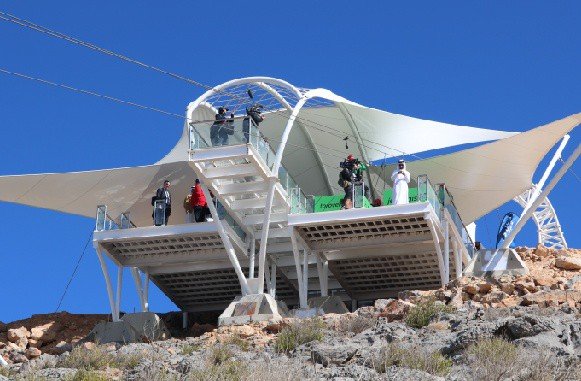 As part of this expansion, the emirate plans to have 20,000 rooms available by 2025, with 5,000 set to be on offer in the next three years as more hotels build properties in the country. It is currently inviting more developers to invest in building hotels in the destination.
The six new zip lines, planned from February 2019 in the Jebel Jais mountains, will also allow younger children to take part and attract more families, said Ras Al Khaimah Tourism Development Authority chief executive Haitham Mattar.
"Around 70% of our visitors currently are families and we want to continue to build that as well as grow our repeat visitors," said Mattar, who described the emirate as a "hidden gem".
To go on the current two connected zip lines, with a third planned, there is a minimum weight of 45 kilograms which means most children under eight years old cannot go on them.
Also in the pipeline is a 'controlled' bungee jump, in which the fall is controlled to make it safer than traditional bungee jumps, by next March, and a 650 metre luxury camp with 47 tented villas with fire pits, a pool, outdoor spa and gym.
This will not have wi-fi and will be intended as a place where holidaymakers can get away from technology to experience the 'real outdoors' and connect with nature.
The first of the new hiking trails, of around 10km to 15km, will be open to the public from the start of next year in an area called Shawka. The authority says it will promote guide-led hikes as they will pass through traditional Bedouin villages. All the trails should be open by the end of 2019.
Mattar also described Ras Al Khaimar as a "liberal" emirate with a very different culture to neighbouring Dubai.