Listen to this article
For most golf courses the day is over after the sun sets. After all, no sunlight means no golf. But for Al Hamra Golf Club the fun starts as the sun goes down with fully lit by floodlights. A pretty cool experience – and we're about to give the good news about the Midnight Madness night golf offer.
What is night golf?
Night golf is basically playing your round at night time while the course is being lit by floodlights. Night golf courses can usually be found in areas where the temperature is still pleasant enough to play when the sun sets, for example in the Middle East.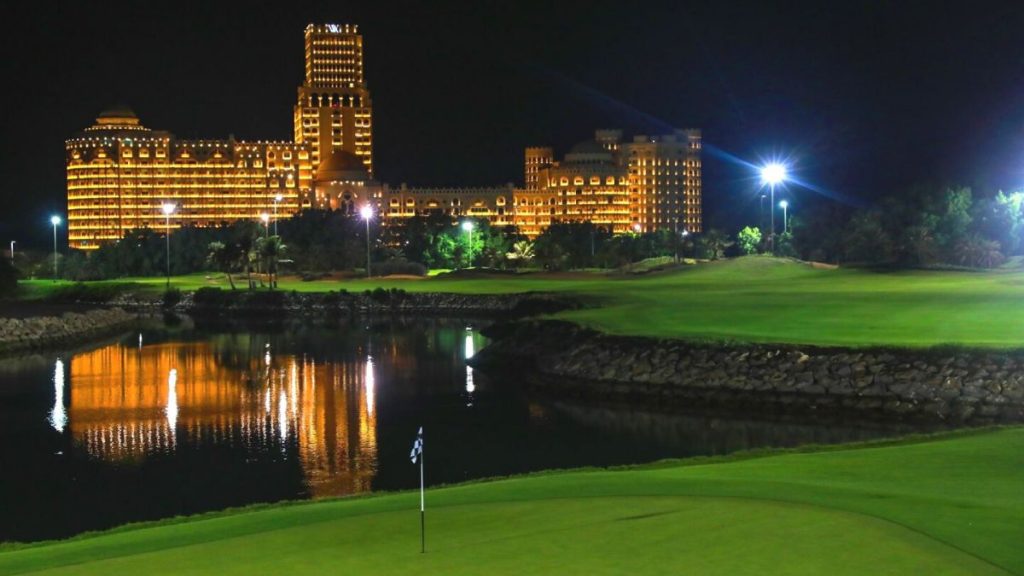 Is night golf different from 'normal' golf?
Have you ever played night golf? If you're a fan of the game during daylight hours, you're gonna love playing under the floodlights. Some say that your shots are more visible when playing at night than in daylight. The floodlights are bright, but they only light up the fairway and just a small part of the rough. So are you currently suffering a big slice? Just keep your driver in the bag and play it safe while playing golf at night.
So try to make the game setup more friendly: play some nice side bets with your friends or play with two balls when you're playing alone. And most of all: enjoy it. Because let's be honest, playing golf at night is just really cool.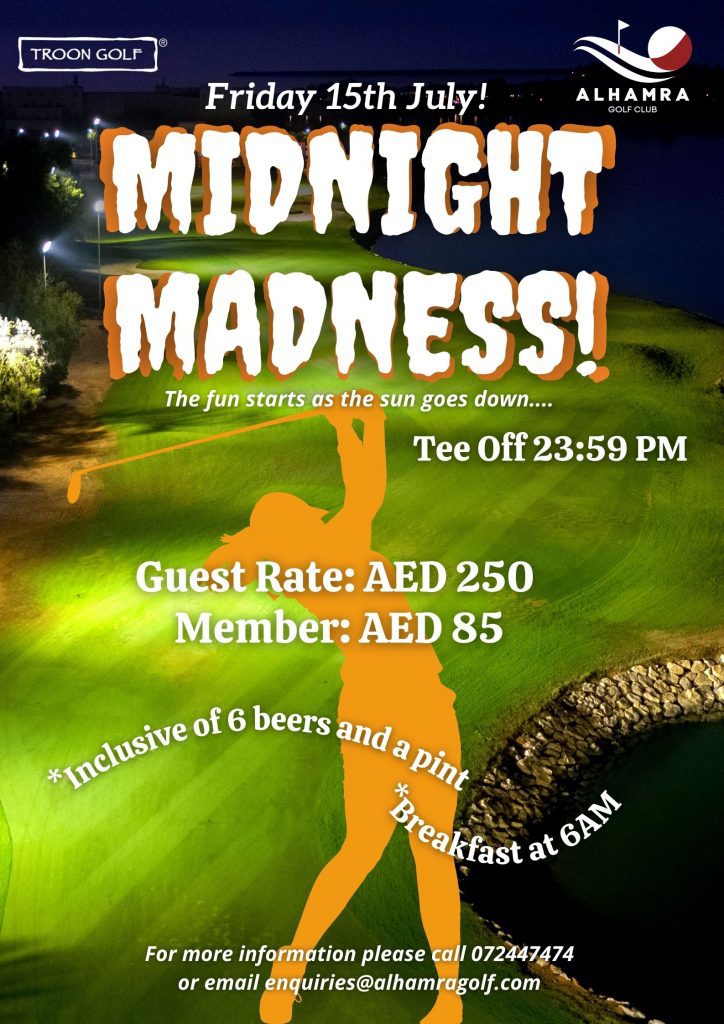 Offer: Interested in a round of night golf?
Tee Off 23.59 PM
Guest Rate: AED 250
Member Rate: AED 80
Inclusive of 6 beers and a pint
Breakfast at 6:00 AM
For more information Contact: 072447474
About Al Hamra Golf Club, Ras Al Khaimah
Al Hamra Golf Club's par-72 18-hole championship golf course lends itself perfectly to all levels of golfers, providing the fledgling novice or the most accomplished of players with an enjoyable and interesting golfing challenge.
As part of Troon, the world's largest golf management company, Al Hamra Golf Club delivers superior guest services, the finest playing course, and outstanding amenities. With uncompromising attention to detail and a pursuit for perfection in overall guest satisfaction, the premium golf club, maintained under the expertise of Troon, offers an unparalleled golfing experience.
Contact and Location
Email golfdesk@alhamragolf.com or call +9717 244 7474