Join the World's Fastest Half Marathon in Ras Al Khaimah
Last date for registration extended till 22nd January
Ras Al Khaimah is gearing up for the 2019 edition of world's top winter and fastest half marathon.
Join this premier running event in the UAE, get in shape, stay healthy and help worthwhile causes at the same time while having a lot of fun and meeting new people.
Whether you want to run, jog or walk the course be sure to take part and live the Experience in the UAE's only international, world-record breaking running event that caters to ALL levels of runners.
World's fastest Half Marathon
The Ras Al Khaimah Half Marathon is the 'world's fastest half marathon' because if you take the top 10 fastest times recorded in RAK for men (and the same for women) and find the average (for each) and then do the same with the top ten fastest recorded times across all races (you can refer the IAAF for this), the faster average time for both men and women will be for RAK; making it the world's FASTEST half marathon!
2019 Half Marathon
In terms of the race itself, participation can be as individuals in teams of four.
You can opt to run either the 21.0975 km Half Marathon or get 3 friends organized and with yourself you'll make a team of 4 to enter the Team Relay Challenge where you will each run approx 5 km.
[ai1ec tag_name="half marathon" events_limit="1″ ]
Date: Friday, 8th February, 2018
Time: 6:00 AM
To register visit – www.rakmarathon.org
Mini Races for Family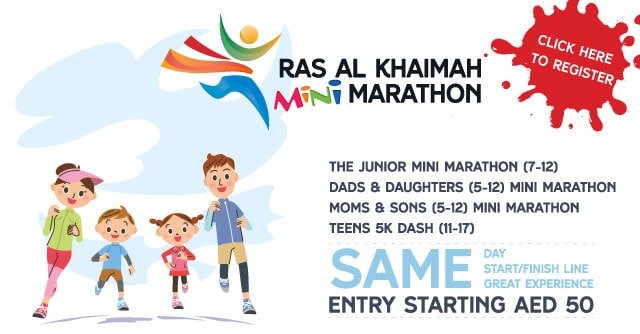 There are also some mini-races for family participation called the 'Ras Al Khaimah MINI Marathon' , which will happen after the main event.
The Junior MINI Marathon (7 – 12yrs) , 2.3 KM distance
Dads & Daughters (5-12yrs) MINI Marathon , 2.3 KM distance (The child and the parent will be running together!)
Moms & Sons (5-12yrs) MINI Marathon, 2.3 KM distance (The child and the parent will be running together!)
Teens 5K Dash (11-17yrs), 5 KM distance
In case you don't want to run, the event will also have fun activities for the entire family to enjoy!
The location of course