Heads up for Carrefour Shoppers in Ras Al Khaimah
Majid Al Futtaim, the retail chain behind supermarket giant Carrefour, has announced plans to phase out single use plastic by 2025.
As part of their plastic-free commitment, they'll stop giving out plastic bags to customers at all of their Carrefour stores, of which they have nearly 300.
The move hopes to encourage shoppers to bring their own reusable and recyclable bags when shopping at Carrefour.
Once fully implemented in 2025, the initiative will eliminate single-use plastic bags as well as all other unnecessary plastic, executives confirmed. This will include removing single-use plastic straws, cutlery, containers and trays from all Carrefour stores and the company's business units, according to a report by Gulf News.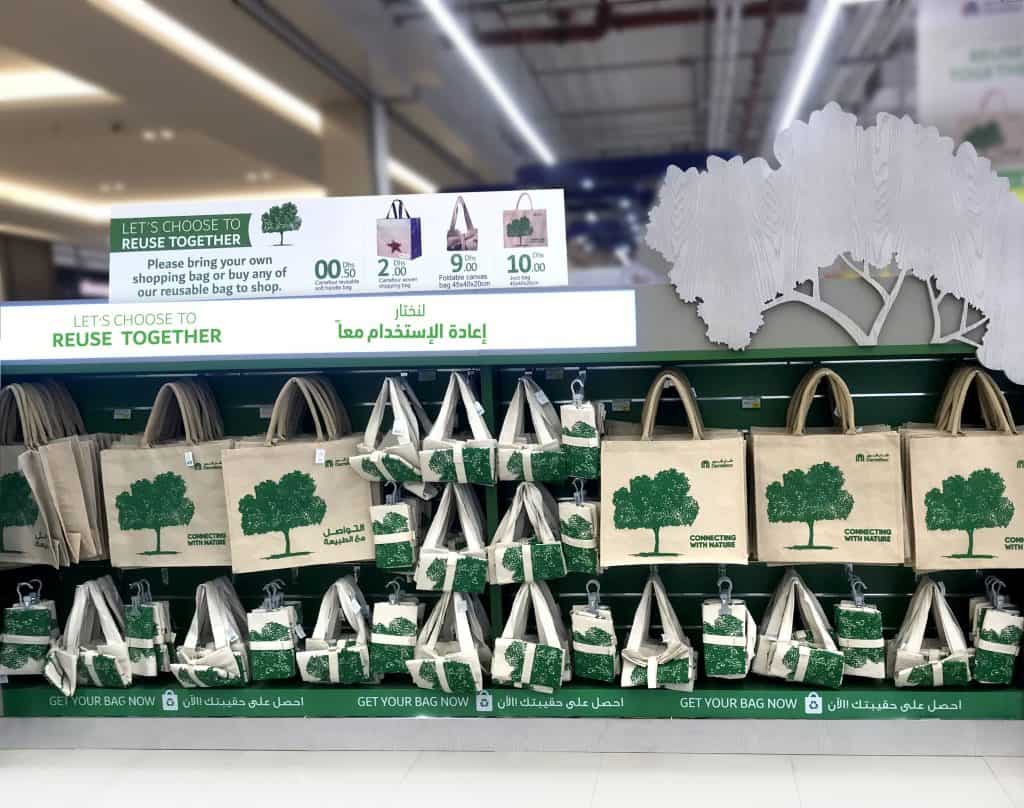 Merchandise made from plastic such as garbage bags and cleaning products will still be available to buy in Carrefour stores.
Majid Al Futtaim (MAF) announced the launch of its group-wide commitment to phase-out single-use plastics across its operations by 2025. The decision will affect 26 malls, 13 hotels, 46 VOX Cinemas and nearly 300 Carrefour stores.
800m plastic bags will be out of circulation each year from Carrefour
Customers are encouraged to sign up for Maijd Al Futtaim's new lifestyle rewards programme, 'Share'. Each re-usable bag bought between November 6 and 7 will be credited back in 'Share' points, with plans for issuing more rewards in the future.
Trade plastic bottles for NoL cards
The group also launched a plastic bottle recycling initiative to incentivize customers in cooperation with the UAE Ministry Climate Change and Environment and Dubai Roads and Transport Authority.
"Customers who deposit 50 plastic bottles at the recycling station will be issued a Nol card loaded with Dh25. The first 500 customers will be provided these Nol Cards. After that we will be linking the incentive scheme with our loyalty programme and will issue points to those who deposit plastic bottles," said Ibrahim Al-Zu'bi, Chief Sustainability Officer, MAF-Holding.
Reusable cotton bags
Notice boards will be displayed urging customers to bring their own bags or buy any of the reusable bags with prices ranging from 50fils to Dh10. The new reusable cotton bags for fruits and vegetables is priced at Dh2.50.
While the plastic-free plan will be rolled out over the next few years to be fully implemented by 2025, Majid Al Futtaim didn't confirm exactly when they would stop giving out plastic bags at Carrefour.
---
---