UAE is known as one of the prominent cultural melting pots in the world. Some of the many benefits to sharing our city with people from all walks of life can be found within another pot…one used for cooking in South African restaurants. You don't have to go to Timbuktu (where is that anyway?) to get a taste of South Africa.

This colourful cuisine is on the up and up and you should also get hang of it due to the generally healthy methods of cooking and the ridiculously flavoursome results this produces.
Good News! The Bay Sports Bar at the Al Hamra Golf Club in Ras Al Khaimah is going to be serving South-African cuisine every Sunday
This neighbourhood bistro tucked away in the greens of par-72, 18-hole championship golf venue, Al Hamra Golf Club, offers a laid-back atmosphere and is a great venue to relax and meet friends before or after a round of golf.
You can enjoy the delicious dishes every Sunday from 6 pm. The appetizing menu will consist of servings of Bunny Chow, to Slapchips and enjoy a crispy 900g Eisbein with 30AED Klippies all night.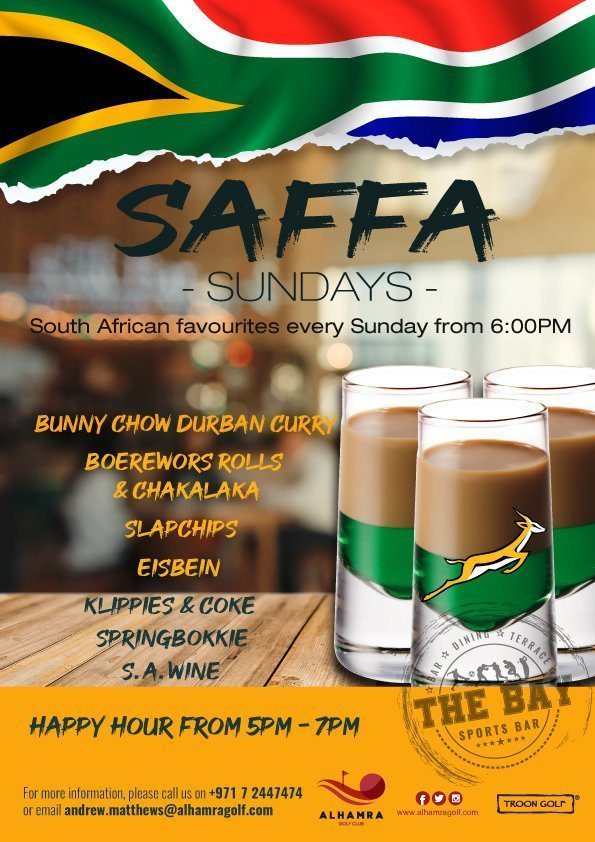 Happy Hour
Happy Hours will be from 5 PM to 7 PM.
ABOUT THE BAY SPORTS BAR
Located in the clubhouse of the stunning Al Hamra Golf Club, The Bay Sports Bar sits at the heart and soul of an effervescent local community – a truly social hub. Having recently been renovated with a vibrant new interior, The Bay is now a buzzing dining outlet where family and friends can meet, relax and experience the lively brand of hospitality from early morning through to the small hours.
CONTACT AND LOCATION
For more information or reservations, please call +97172447474 or email Andrew.matthews@alhamragolf.com
or visit: https://www.alhamragolf.com/the-bay/