Al Hadheerah, the Arabian Nights-inspired desert restaurant at Bab Al Shams is all set to add some sizzle to your evenings with their new summer offer and bringing back of live entertainment.
Explore the sights, sounds, and tastes of Arabia set amidst the enchanting dunes of UAE's most beloved desert resort. Immerse yourself in true Arabian culture within the walls of a traditional fort where dazzling falconry displays, camel caravans, horse shows, and Tanoura dancers come together for your entertainment. Enhancing the experience further are a live DJ, mesmerizing belly dancers who weave their magic underneath the starry night sky to soulful performances from live singers accompanied by Oud instruments and a percussionist.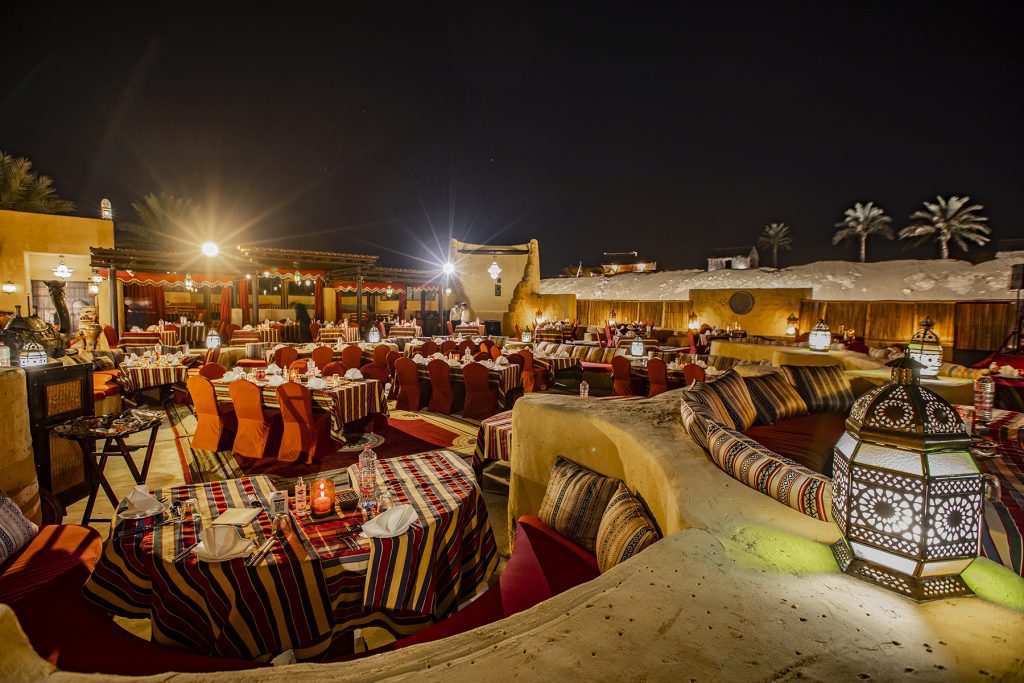 Al Hadheerah has also revamped its menu by adding mouthwatering new flavours such as the Emirati Lamb Ouzi, ten live cooking stations, sizzling grills with five delicious varieties of meats, buffet stations offering Emirati, Moroccan and Egyptian cuisine, set amidst socially distanced surrounds. Amplifying the experience further is a relaxed shisha experience, that you and your loved ones can enjoy during the after-hours.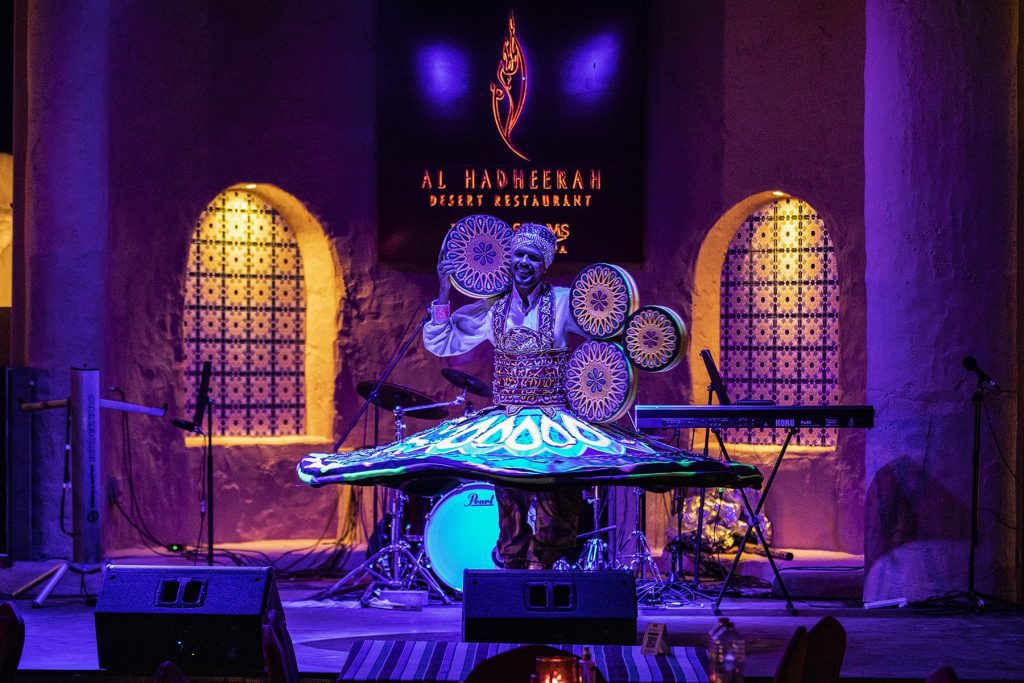 Al Hadheerah Restaurant is open daily from 7 pm till midnight at Bab Al Shams Desert Resort.
AED 325 per person inclusive of soft beverages
AED 162.5 per child from 4 to 11 years old.
Children 3 years and below won't be charged
FEATURES
Alfresco seating
Live entertainment including singers, belly dancers, DJ, Oud player and Percussionist
Extensive shisha menu available for guests aged 21 and above
For reservations, please email [email protected] or call +971 (0)4 809 6194!
About Bal Al Shams Desert Resort
Bab Al Shams resort is the world's favourite choice for dream desert getaways. This oasis of tranquility combines rustic charm with top-tier hospitality and luxury to bring to life an authentic desert experience.
Though isolated from the busy world around it, Bab Al Shams remains easily accessible and is a mere 45-minute drive from both Dubai and Abu Dhabi airports. Within, a world of sumptuous cuisine, nature walks, camel rides, and desert adventures awaits you. From temperature-controlled pools to archery ranges and falconry exhibitions, Bab Al Shams offers all the elements required to create memorable stays. Outside, the resort's desert ecosystem hosts gazelles, birds, geckos, and a cornucopia of wildlife. 
Al Hadheerah Restaurant is a centerpiece of the Bab Al Shams experience. Delicious Arabic fare rules the root here, with a generous buffet accompanied by a la carte options. Every visit is an adventure, with riders on horses and camels putting on spectaculars, and tanoura dancers twirling their own beats. Falconry demonstrations and enthusiastic belly dancers complete the scene.