Dawaran Finale: An overnight desert music party in Ras Al Khaimah
DAWARAN FINALE is the next edition of an overnight, nonstop, 20 hour party in the magic of the desert, with a murderous line-up to keep your bodies moving and vibes flowing all through day and night.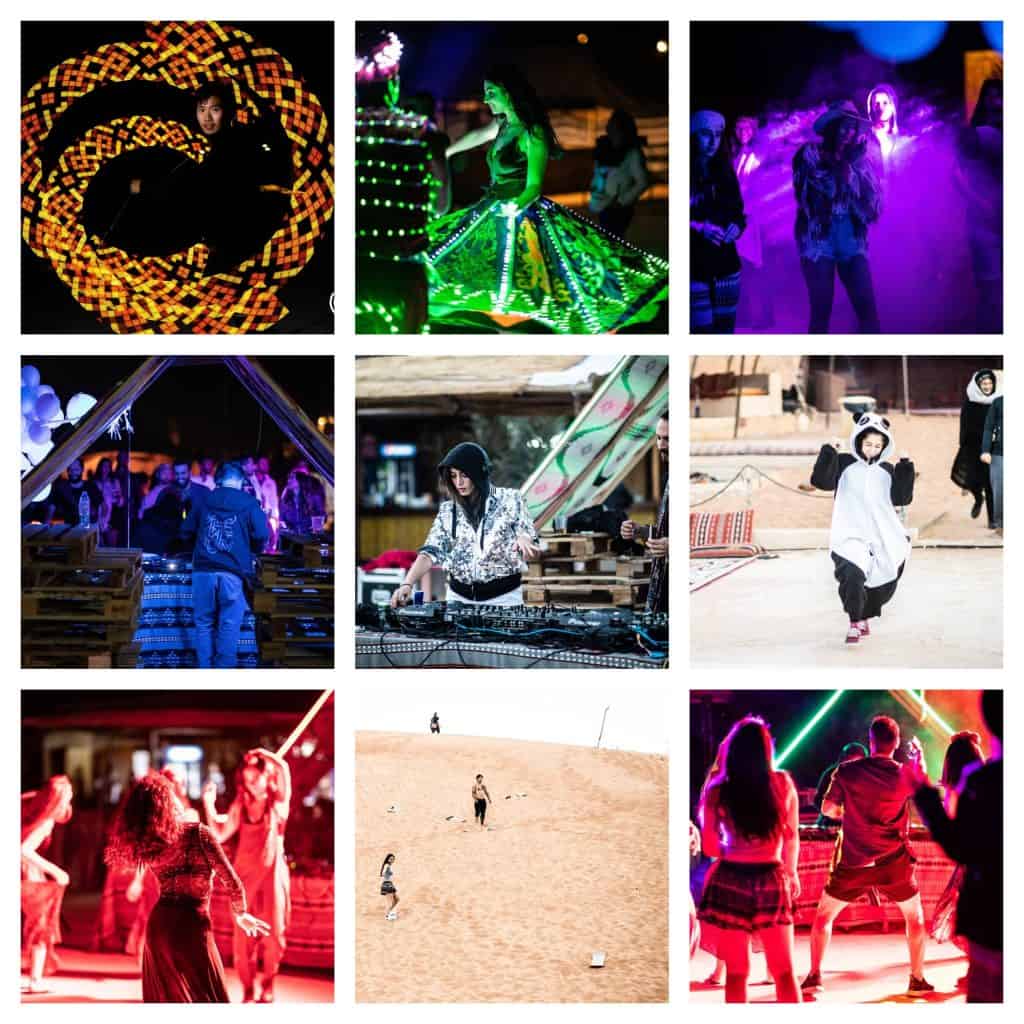 Once again we've got 5 killer DJs headlining the festival. Check ignition and prepare for take off because ROD LEE WINTERS, DJIIVA, RAYA, MADLOU, and AYN will send you up and away from the dancefloor to electronic heaven! Non-stop from 5 pm till 11 am !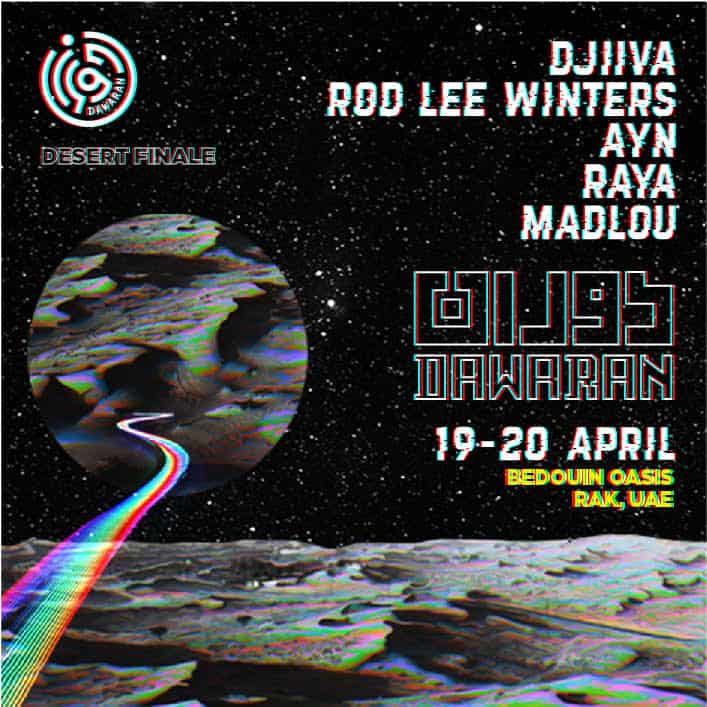 Block your calendars for April 19&20 and evade all other commitments because our desert finale is going to be one hell of a threequel!
Dawaran is a world within a world with cozy cabins and tents, dynamite music at the main stage, smooth tunes at our chillout tent Havalina, FREE WATER (bring a cup), firepits, a telescope (APRIL 19 IS A FULL PINK MOON AAAHH) and more. In case that isn't enough (it should be you heathens), we're upping our game with a LOUDER sound system guaranteed to bass your face and we're even creating a couple of original interactive installations to add to the experience.
Also starring: more food for less including SHAWERMA, the lovely Soul Artists in all their trippy circus glory, and Gypsy Heart (in association with Tattva Yoga) bringing you everything from sound healing to coffee cup reading and handmade jewelry. Plus, our fabulous bartenders and bar are back with an updated menu at our traditionally ridiculously cheap prices.
As always, just bring yourselves for the ultimate hassle-free rave experience and forget about spending another weekend in Dubai.
Nice, clean, homey tents and cabins are available, complete with beds/mattresses, pillows, blankets, privacy, and extra comfort for when you need it. Check out these photos and make your selection when buying your tickets: www.dawaran.me/tickets
We've got you covered. Just bring yourselves.
Unfortunately, no pets are allowed in this installment of Dawaran. Party babies/children are welcome.
This is not a BYOB event, and we appreciate your support of our bar to help keep Dawaran going.
Tickets
| | | |
| --- | --- | --- |
| Ticket Type | Includes | Price |
| Sunrise Cabin for 2 | 2 entrance tickets, 1 cabin with private bathroom, beds & bedding, common area, sunrise view | AED 760 |
| Premium Community Hut for 4 | 4 entrance tickets, 1 with private bathroom, beds & bedding | AED 1400 |
| Community Hut for 2 | 2 entrance tickets, 1 hut with shared bathroom, bed & bedding | AED 600 |
| Double Tent for 2 | 2 entrance tickets, 1 tent with shared bathroom, mattresses & bedding | AED 500 |
| Solo Tent for 1 | 1 entrance ticket, 1 tent with shared bathroom, mattress & bedding | AED 280 |
| Entrance Only | 1 entrance ticket | AED 200 |
Save this event in your Calendar
[ai1ec tag_name="bedouin"]
Schedule and Location
Date & Time: 19th April 2019 3:00 PM Onwards to 20th April 2019 till 11:00 AM
Location: Bedouin Oasis, Ras Al Khaimah
About Bedouin Oasis Camp
The first Bedouin-style desert camp in Ras Al Khaimah provides visitors with the perfect opportunity to explore desert living. With only traditional and natural materials, the Bedouin Oasis Desert Camp is a step back into the days when tent roofs were made from goat hair, and only a fire or an antique gas light provided heat and light.
This Arabian sanctuary is nestled between two of the most beautiful dunes in Ras Al Khaimah, in a secluded area of the desert landscape. It is one of the most sought-after locations for special occasions, distinctive events, themed travel and gatherings with family or friends. Many programmes are organised for visitors, and many activities are available. These include camel rides, henna painting, sand boarding and off-road activities. Guests are offered drinks, snacks and a great line-up of popular movies.
For the ultimate oasis retreat, overnight stays under a canopy of stars are also available, for an unforgettable experience.
Contact: Call 0505705853 or email farah@carnivalism.com