COVID-19: Where to get your Sinopharm vaccination for free in RAK
The Ministry of Health and Prevention (MoHAP) has announced a number of vaccination centres across the UAE for the Sinopharm COVID-19 vaccination free — of-charge and without any prior appointments.
In a series of tweets from MoHAP under the hashtag #Togetherwerecover #covid18 #mohap_uae, it has announced the timing and location of vaccination centres, both in the public and private health care facilities across Sharjah and other Northern Emirates where the COVID-19 vaccine is being provided to all residents. Residents of the same emirate will be provided the vaccination in their respective emirate and are required to carry their Emirates ID.
In Dubai, the Sinopharm vaccine is made available by the Abu Dhabi Health Services Company (Seha). For all other Emirates, MoHAP has provided a detailed directory.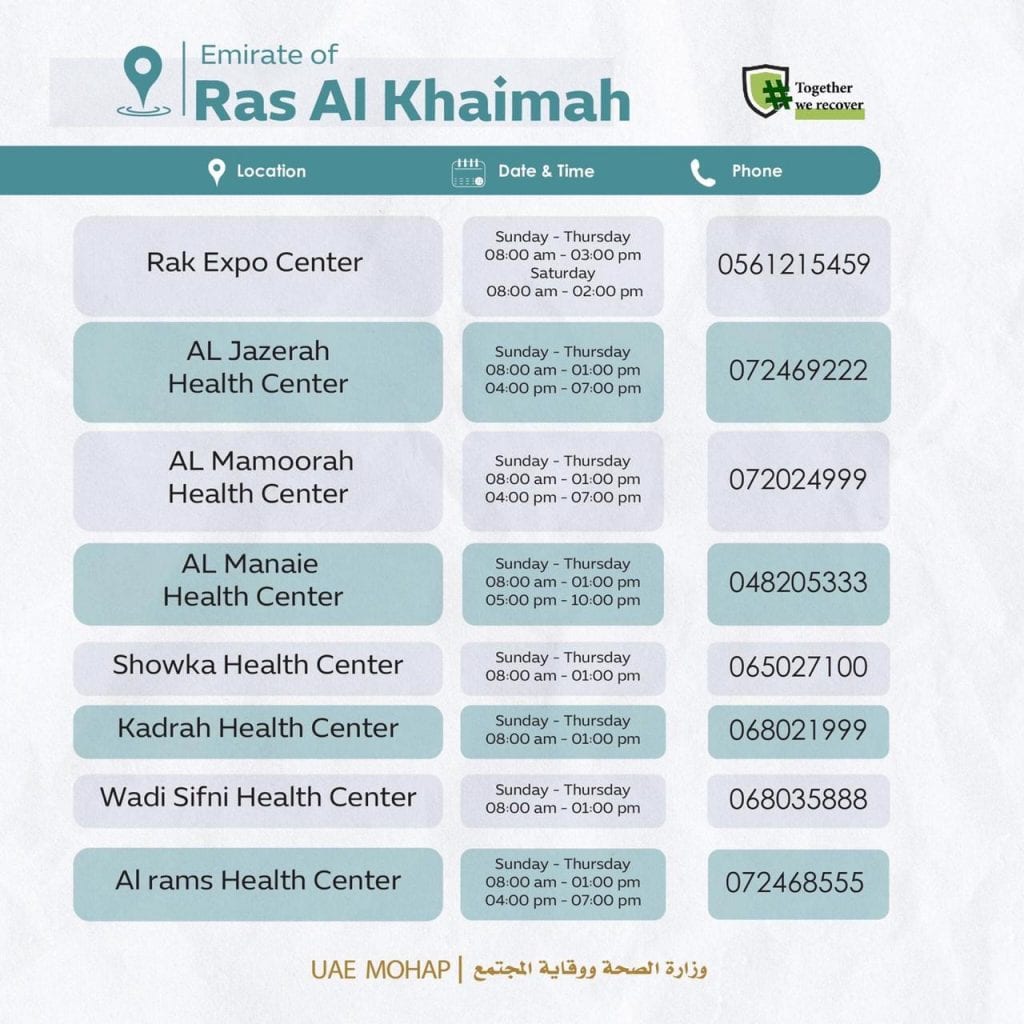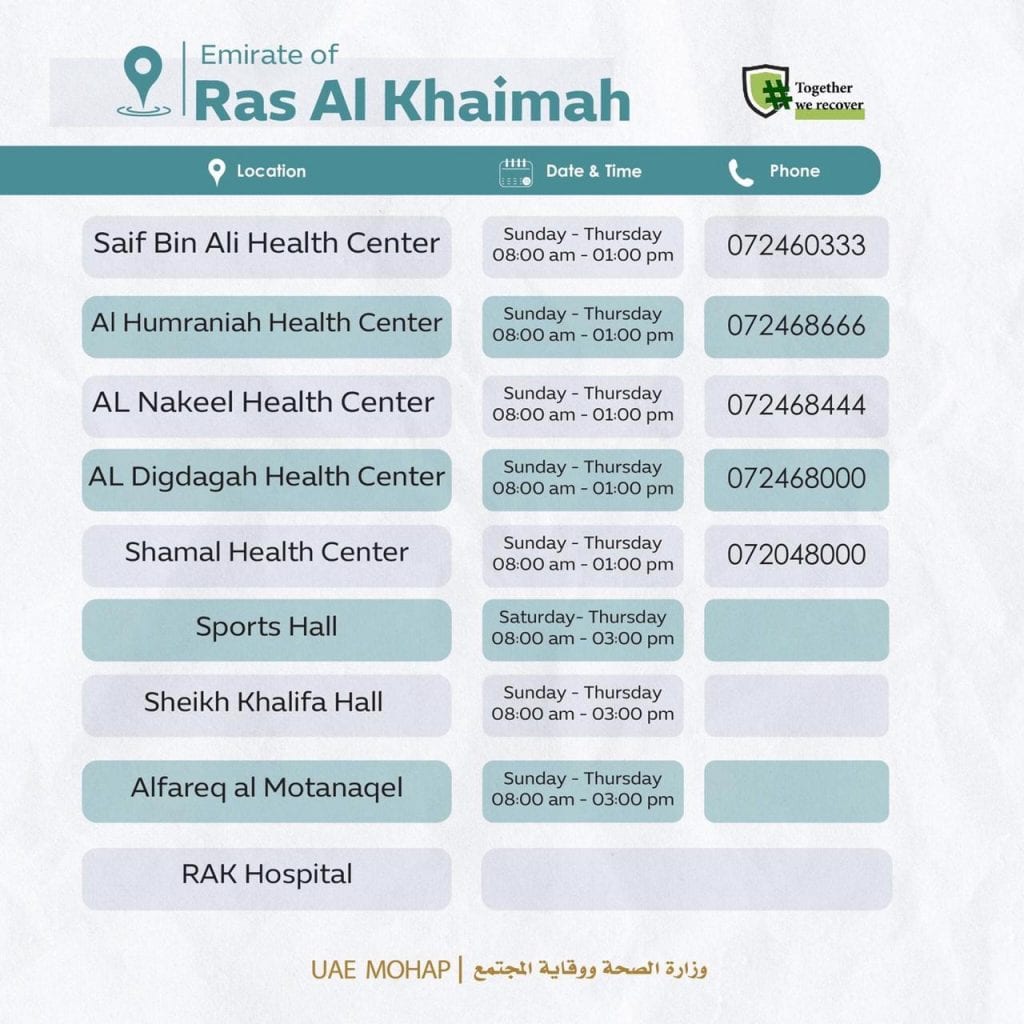 The list is as follows:
• Saif Bin Ali Health Centre: Sunday — Thursday 8am-1pm; phone 07-2460333
• Al Humraniah Health Centre: Sunday-Thursday 8am-1pm; phone 07-248666
• Al Nakeel Health Centre: Sunday-Thursday 8am-1pm, phone 07-2468444
• Al Digdagah Health Centre: Sunday to Thursday 8am-1pm 07-2468000
• Shamal Health Centre: Sunday-Thursday 8am-1pm; phone 072048000
• Sports Hall: Saturday-Thursday 8am-3pm
• Sheikh Khalifa Hall: 8am-3pm phone 06-7069267
• Al Fareq Al Motanaqel: Sunday-Thursday 8am-3pm
• RAK Hospital
• RAK Expo Centre: Sunday — Thursday 8am-3pm, Saturday 8am-2pm,; phone 056121549
• Al Jazerah Health Centre: Sunday — Thursday 8am — 1pm and 4pm -7pm; 07-2469222
• Al Mamoorah Health Centre: Sunday-Thursday 8am-1pm and 4pm-7pm, 072024999
• Al Manaie Health Centre: Sunday-Thursday 8am-1pm and 5pm-10pm; phone 04-8205333
• Showka Health Centre: Sunday — Thursday 8am-1pm; phone 06-5027100
• Kadrah Health Centre: Sunday-Thursday 8am-1pm; phone 06-8021999
• Wadi Sifni Health Centre: Sunday-Thursday 8am-pm; phone 06-8035888
• Al Rams Health Centre: Sunday-Thursday 8am-1pm and 4pm-7pm; phone 07-2468555
---
---