Coronavirus: Drive-thru COVID-19 screening centre in Ras Al Khaimah
As part of intensified efforts to combat the coronavirus, a drive thru covid-19 screening center has been open in Ras Al Khaimah.
This centre is built by Abu Dhabi Health Services company, or Seha, on the orders of Sheikh Mohamed bin Zayed, Crown Prince of Abu Dhabi and Deputy Supreme Commander of the Armed Forces, following the success of the first facility in Zayed Sports City.
More than 300 employees and volunteers helped build the testing centres, which span a total area of 23,000 square metres, over a period of 10 days. The facilities are staffed by 630 qualified medical, nursing, technical and administrative workers who have been trained to test drive-through patients in less than five minutes.
Open from 10:00 am to 6.00 pm Sunday to Thursday for both nationals and expatriates, the centre enables members of the public to do a five-minute test without having to leave their car. Test results will be available in 48 hours.
The centre caters to senior citizens; pregnant women; people of determination; people with chronic diseases; and people with COVID-19 symptoms.
How to get the covid-19 test done in RAK?
To book a Covid-19 test, people must call 8001717 or use the Seha mobile app. Priority will be given to those with symptoms, the elderly, pregnant women and those who suffer from chronic diseases.
The test involves a temperature check and a nasal swab. Those being tested must present proof of their appointment and bring their Emirates ID.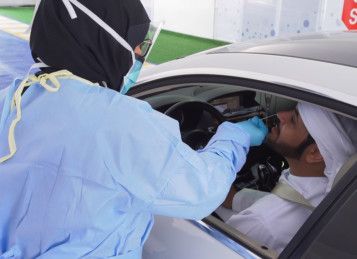 Price for Covid-19 test in Ras Al Khaimah
Tests are free of charge to those who meet certain criteria, which is confirmed in advance over the phone. Priority is given to the elderly, pregnant women, people with underlying health conditions and those having symptoms of COVID-19.
Precautionary examinations cost Dh370, and payment is processed through the Seha app. Results take up to 48 hours to receive.
The Ras Al Khaimah screening centre has a capacity of conducting 500 coronavirus test per day.
Contact and location
To book appointment for coronavirus test in Ras Al Khaimah Call 8001717 or use the Seha mobile app
National Screening Center Ras Al Khaimah
Eid Prayer Ground, Near Al Quawasim Corniche Road
---
---