Colourful Mural art project 'Sky meets Sea' beautifies this RAK property
RAK Properies' Mina Al Arab is decked up with mural artworks to delight visitors and residents
Themed to reflect Ras Al Khaimah's rich heritage and exciting growth
Artists and designers from Art Painting Lab will be giving a creative spin to the facades of 14 Lagoon Walk buildings in Mina Al Arab community.
A series of customized paintings and superimposed artworks are expected to adorn these buildings bringing to life some visually exciting narratives.
Inspired by the waterfront surroundings, the project's designs highlight marine life, sea and sky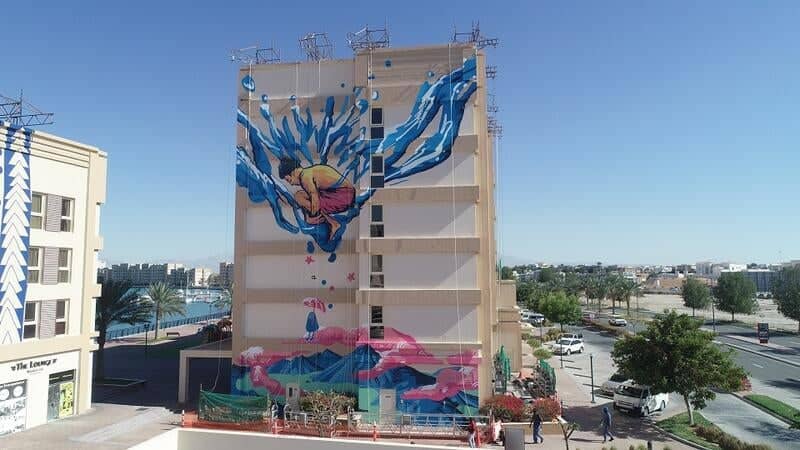 Curated, designed and executed by resident artists at Art Painting Lab, a Dubai-based art studio specializing in art for social establishments and outdoor public art, murals and environmental graphics.
The interactive theme is aims to support and enhance the offering of public art in Ras Al Khaimah and the UAE.
Three out of the 11 murals are ready to view, with the project due to be fully completed in February.
A surrealistic theme is chosen to capture the many beautiful natural elements that can be experienced in Ras Al Khaimah.
By placing objects found in the sky into the ocean, and vice versa, we envisioned whimsical, interesting narratives that were both visually exciting and enchanting," says Sam Saliba, founder of Art Painting Lab.
Murals are visually playful , inspirational and cartoon-like
Max Lawrence's The Pearl Huntress, which shows a young girl carrying a basket of fruits containing what the artist says is magical surprise.
Homar Tamares's Rainbow Puppets fuses local henna designs with a vibrant colour palette, showing hands playing across a building facade.
Melvin San Miguel's Cannonball, depicting a young man jumping into a neon lake below.
Amna Basheer's A Big Catch, which will depict an Emirati woman reining in a fantastical fish creature.
A strange creature can also be seen 'parachuting' into the water with an umbrella.